The numerous teams at Direct Supply pride themselves on bringing fresh, new ideas to Senior Living care every day. They're the end result of weeks, months and even years of meticulous idea incubating, planning and solution testing. And at the start of and behind most of these ideas is one constant: Direct Supply customers and the unique insights they bring from years of caregiving and working directly with our nation's seniors.
The DS smart™ EMR connectivity solution is no different, and a true testament to Senior Living innovation in action. Now available as an easy-to-use app, it connects clinical equipment, including vital signs monitors and scales, directly to a patient's EMR.
Discovering the challenge
Several years ago at Direct Supply's annual Clinical Leadership Conference, a group of clinicians from various Long Term Care corporations worked through an exercise to map out how they build clinical programming (e.g., cardiac care, fall prevention, etc.). At each stage of the building process, they detailed where they would want help from someone outside their organization and where they thought they added their unique value that gave them a competitive advantage.
Customers identified numerous areas of concern and opportunities, but by far the biggest area of need lay with caregiver staffing challenges, including:
Task Responsibility Shift
While we were able to identify some helpful products and services already in use, nothing in our offering could meet these challenges head-on. It was a big problem for caregivers, and one we immediately knew we had to help solve.
Getting started
We assembled a skunkworks group at Direct Supply's Innovation and Technology Center, our own ideas incubation lab, and started work on what would become the DS smart solution. What began on the back of a napkin turned into an engagement with a Silicon Valley development group with deep experience in both user interface (UI) design and clinical workflows within the acute space. Their expertise allowed us to get a jump on solving this problem in a unique way for the Long Term Care industry.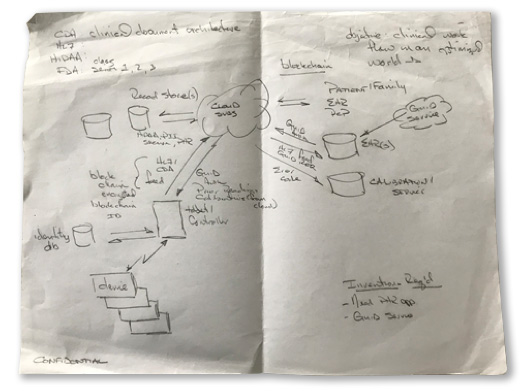 Checking in
Over the course of the next year, we built a technology platform in tandem with customers that could connect any piece of clinical equipment to a patient's electronic medical record (EMR). At major milestones in development, we would share our design and ideas with that same group of clinicians that articulated the need at the start to ensure we were on track to solve the problems they tasked us with. We also shared the design with several CIOs to make sure they had input into the design, especially around the security of HIPAA data and potential Wi-Fi outages.
Rolling out
By beta-testing the minimum viable solution in four Long Term Care facilities (two in Milwaukee, one in Chicago and one in Maryland), we were able to take away numerous valuable insights to continuously remake and refine the solution, including:
Connections needed to be Bluetooth, not hardwired, as wires got worn, broken or lost within a month

The initial design choice to only include the vitals that a vital signs monitor reports (temperature, blood pressure, pulse rate, and pulse ox) were not sufficient to deliver all potential time savings; based on that, we added a way to manually add respiration

A "train the trainer" approach worked best with 90% of caregivers being comfortable after being trained by their nurse educator for less than 5 minutes

Ways to improve the usability of the vital signs monitor
These in-the-field findings prior to a full launch enabled us to deliver a more robust solution that best met the needs of facility-level caregivers with minimal disruptions to their normal workflows. As a result, the easy-to use DS smart EMR connectivity solution provides a 40% time savings in taking and documenting vitals for caregivers and a reduction in transcription errors to help with better outcomes for residents.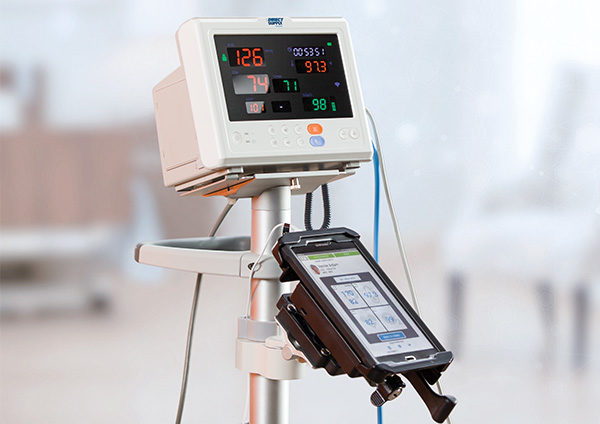 The DS smart EMR connectivity solution is available as an app connecting both vital signs monitors and scales to a patient's EMR. More brands and types of clinical equipment are continually being developed and added, while working in tandem with customers to pay careful attention to the workflows associated with each task. Senior Living innovation starts with those on the front lines of care, and Direct Supply is proud to work alongside our customers to help them meet the unique challenges they face every day.