The equipment you have available can impact the quality of care you're able to provide for your residents. Without the right tools for the job, it is nearly impossible to get the most desirable outcomes. We know that you want only the best for your resident population, but your decisions also have to make sense for your business, especially in tough times.
Big ticket items like air mattresses, bariatric equipment and oxygen concentrators often come with the option to rent instead of buy. To be clear, there is no hard and fast answer to the "Rent vs. Buy" question. Every community operates differently, but all operate under the chief goal of resident wellness – and we want to help you make the best decisions possible.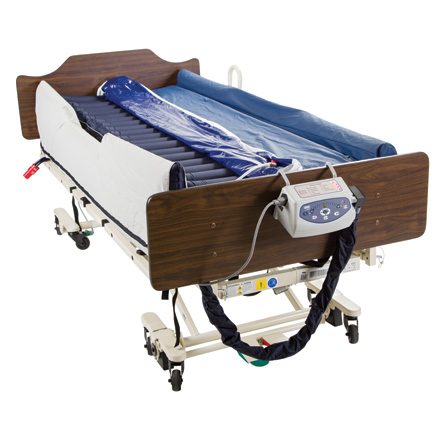 Below you'll find the pros and cons of renting and buying your air mattresses. It is not meant to be the final answer for your questions, but rather a starting point in a larger conversation to determine what is best for your unique community.
Pros
Immediate availability and quick delivery

In-person service and support, including pump and mattress maintenance

Lower cost for a short period of time

Hits a monthly budget
Cons
The product available is not always the right solution for the resident

The rented product may not properly fit your bed

Products can be outdated

Staff may not know what products are in the building or how to use them properly
Pros
You decide on the product styles, features

 

and benefits that are right for your residents

Your community can standardize on mattresses that have been approved by your clinical team

Required maintenance is minimal and simple to perform
Cons
You can't purchase every type of mattress to suit every need

You are responsible for training your team and maintaining your equipment

Air mattresses that are purchased may take days to get to you

There is often no in-person service

Purchasing may require special order approval
Clearly, much of this decision comes down to the financial picture for your community. In many cases, you can see a return on your investment in air mattresses within a few years. Of course, this is dependent on how many mattresses you are renting, the rental charges and the mattress you choose to purchase.
If you decide owning is right for you, the next step is looking at what products are in the market and what features are most important to you and your community.  You can learn more in our article: How to Select the Right Air Mattress.
When you are ready to shop, check out Direct Supply's vast offering of air mattresses to meet the diverse needs of your residents.