From special gatherings to heart-to-heart chats, common areas are the social hub of Senior Living communities. Here are three Senior Living furniture trends for common areas that will make an impression:
#1. Cleanability in Senior Living Furniture
Residents, families and staff want peace of mind knowing that everyone is doing what they can to keep each other safe. Support safety initiatives throughout your building by including furniture in common spaces that are easy-to-clean. 
Chairs with removable seat decking, like the Kellex Everhart Lounge Chair, maximize cleanability and support a long lifespan for the furniture. All of our collections come standard with moisture-barrier seat decking, which resists moisture and spills.
Add furniture selections to your common spaces that are made with easy-to-clean materials like vinyls, crypton fabrics and hard surface arms. We partner with fabric manufacturers that keep the cleaning demands of senior housing and Healthcare top of mind, and our wide selection of on-trend fabrics is designed to resist stains and clean up easily. 
Common Area Furniture: Senior Living Chairs
#2. Using Flexible Furniture in Senior Living
Consider flexible amenities that provide beautiful and adaptable spaces. Investing in seating that offers the ability to reconfigure to the demands of the space is critical in common areas. Furniture such as the Maxwell Thomas® Bartlesville Collection offer a modular design that allows configuration into any space while looking sleek and seamless.
In a multi-purpose room or common area, consider adding furniture that offers flexible storage as well. The Kenner Hydration Station, for example, offers a stylish beverage station that features water resistant tops as well as adjustable drawers and shelves, providing additional storage for any space.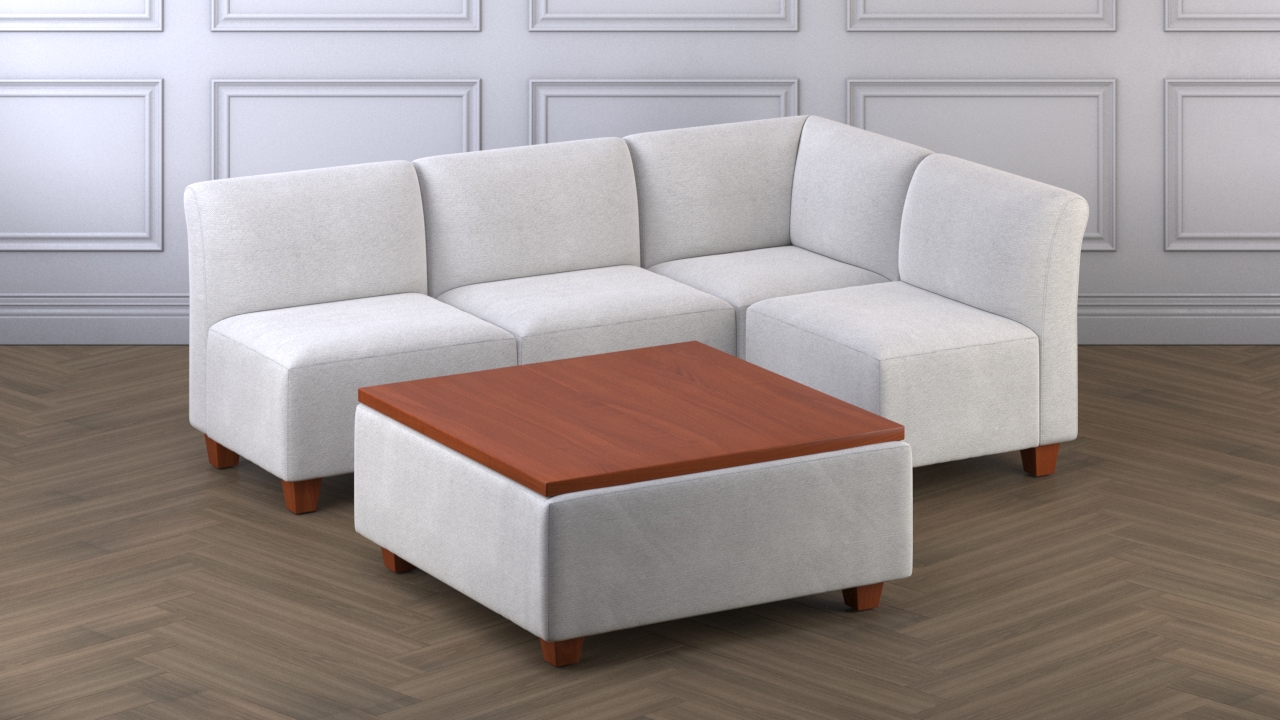 #3. Incorporating Technology in Senior Living Furniture
Make a great first impression with elevated design and be ready for the future with the latest technology. Adding tech-infused pieces in common spaces will impress families and meet the demand of the Baby Boomer generation. Residents and guests expect to easily use personal electronics in your building. Furnishings with built-in USB ports in your living spaces allow residents to easily charge their portable devices.
Ensure safety and engagement for all of your residents with built-in phone charging and sanitizing technology. Your residents can comfortably relax in community living rooms while promoting infection prevention in the Fairfield Paterson Swivel Glider. The built-in charging unit for iPhone and Android utilizes ultraviolet disinfection technology.

Motion seating with products such as the Maxwell Thomas® Cedarburg Power Recliner provide optimal comfort while featuring both manual and powered options to accommodate any resident while maintaining a consistent look. The easy-to-use reclining mechanism boosts resident relaxation, making it a functional addition to any common room. 
Throughout your common rooms, help residents and guests stay connected with reliable Wi-Fi.
In addition, ensure safe air quality with cutting-edge solutions such as Needlepoint Bipolar Ionization (NPBI™), HVAC filtration and air purifiers. Currently, 81% of buildings have inadequate ventilation and air circulation. Our designers can help you incorporate these technology solutions and improve common area spaces. Learn more about air quality improvement.
Senior Living Furniture with Innovative Technology
*
Inactivation results based on sensitivity testing conducted by an independent third-party testing laboratory using control chambers. Multiple data points are used to formulate performance validation statements. The technology is used in a wide range of applications across diverse environmental conditions. Results in non-lab environments will vary; clients should evaluate their individual application and environmental conditions when making an assessment regarding the technology's potential benefits. For all independent laboratory results, contact your TELS Representative at IndoorAirQuality@Directs.com. The use of this technology is not intended to take the place of reasonable precautions to prevent the transmission of pathogens (including COVID-19). Comply with all applicable public health laws and guidelines as well as CDC guidance (
https://www.cdc.gov/coronavirus/2019-ncov/prevent-getting-sick/prevention.html
).
The Bottom Line: Senior Furniture Common Area Trends
Eye-catching design mixed with cutting edge, innovative materials and technology is sure to encourage engagement in common areas. Our design experts offer complimentary consultations to help you get started. Contact us today to start refreshing your common areas.
Are you an interior designer? Check out senior-centric design tips.