Robotics in Senior Healthcare may help solve staffing issues and consistently deliver ROI
According to the U.S. Chamber of Commerce there are 10.5 million unfilled jobs in the U.S.1; disproportionately hitting leisure and hospitality businesses2, healthcare and Senior Living6; showing little indication of any significant improvement in 20232. This leaves countless healthcare and Senior Living facilities asking one vital question: how can we make our current staff more productive instead of needing to hire more?
This is where robotics in healthcare and Senior Living may help alleviate staffing issues and consistently deliver ROI by helping to boost staff productivity without needing to hire more people, particularly when you have several short shifts that need to be filled each day, every day. Let's look at foodservice as a general example of how to boost your team with the help of a robot. We'll then further dive into a particular example, Servi, and the impact it can have.
How Robotics might help in Senior Living Foodservice
Navigating the labor shortages has brought an onslaught of hiring, onboarding and retention tips and tricks, new budgeting strategies and even design tips that are meant to boost staff morale. But even with many new hiring and retention tactics, we're still seeing staffing at lower levels than communities need3.
This is where technology and innovation makes a breakthrough. You might think robots in healthcare and Senior Living is a distant dream, but robots have established a firm foothold and are gaining momentum in foodservice. They are especially helpful when it comes to tasks that are "repetitive, predictable, and often time-consuming tasks4".
Will robots replace human workers in Senior Living?
Despite some concerns in the industry, robots are not meant to replace human workers. Instead, they are designed to "work alongside humans to help address service challenges while simultaneously elevating the customer experience5." Their focus? To bolster productivity and provide relief to the ongoing challenges of wages, labor shortages and staff retention5. A new robot on your team might let your community focus on improving service instead of devoting so much time to hiring.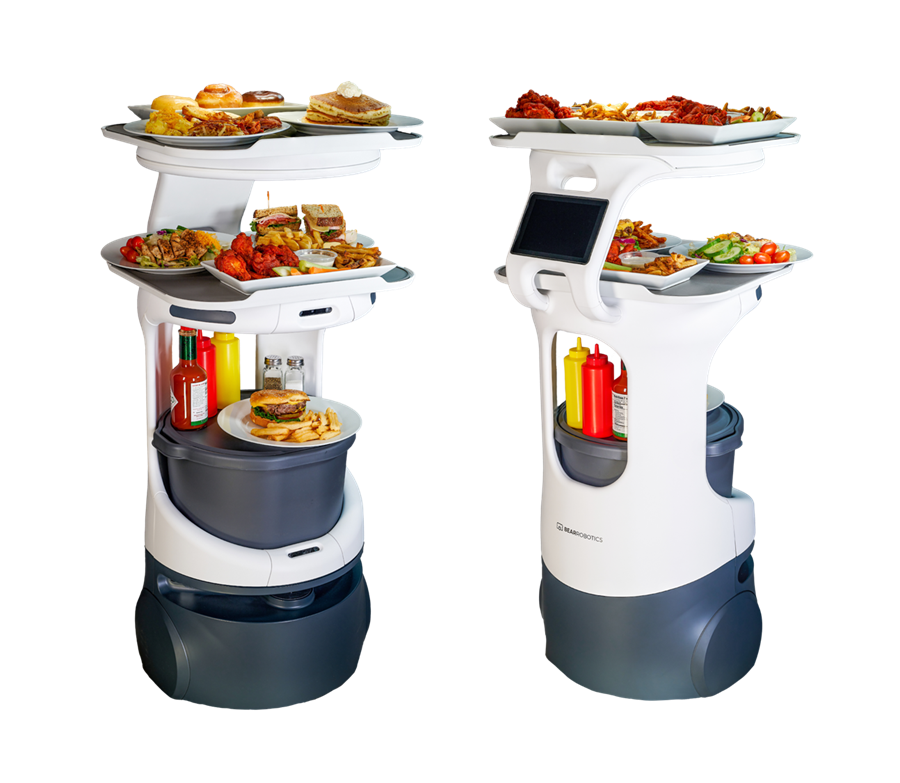 Top benefits of foodservice robotics in healthcare and assisted living
Many healthcare and Senior Living facilities can benefit from utilizing robots in their spaces, especially for menial or repetitive tasks. When you use foodservice robots, you'll also see key benefits such as:
Reducing or eliminating human time spent lifting and carrying, running back and forth with food, supplies or dishes.

Reducing the need to train new staff members

Placing people where they give the most value, with patients or residents

Proven ROI in Labor Savings
Robots in Healthcare: what to think about when considering a robot
While robots can help process automation in the healthcare and Senior Living industries, there are a few considerations to take into account when deciding if a robot is right for your space.
How to make a robot successful in your space
Can you easily roll carts along the paths the robots would need to navigate? Is the path free of closed doors, steps, inclined ramps and continuously migrating obstacles?

Do you have room near the expo station and/or the dish sink for the robot to wait for direction or to be dispatched?

If the dining room is tight, can you clear a center aisle or the perimeter path so the robot can get as close to tables as possible and reduce steps for your serving staff?

Do you have an out of the way space where the robot can charge each night?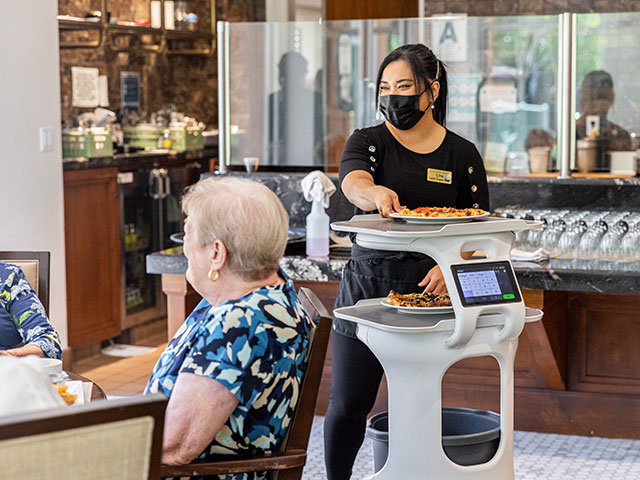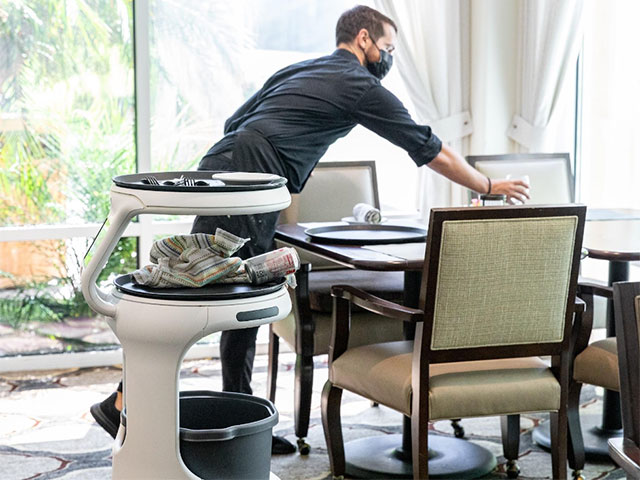 Supporting your staff with the transition
Changing your workflow to maximize a robot's potential takes staff that is willing to adapt their work flow and learn to operate the robot. Once your staff adapts to the robot, you can see an increase in efficiency and reduction of staff burnout, but first there will be a need to adjust how they work. Your staff will need to:
Change how they operate today and learn the robots simple, user friendly controls

Work collaboratively with the robots: they'll need be patient as the robot brings them items or comes back to pick up dishes
You'll also need to identify a staff member to be your "robot champion".  Your champion will then:
Train new co-workers on how to work with the robot

Learn simple programming steps and learn how to troubleshoot any issues

Become a point person if you need support from the manufacturer (most issues are quickly resolved with a call to the help line)
Direct Supply® Recommends: Servi from Bear Robotics
Direct Supply's Innovation and Technology Center (ITC) is focused on finding innovative solutions that we know will help our customers. Because of the staffing crisis we know many of our customers are facing, the ITC has been focused on finding solutions that can have an immediate impact.
For foodservice, we wanted to find a solution that works well and comes with great service. Our team recommends Servi from Bear Robotics. Servi is not only a great robot, but by partnering with Bear Robotics we know we can deliver the levels of service Direct Supply is known for.
Benefits for operators
Increase your staff's productivity:

staff can focus on residents and providing quality service instead of walking back and forth to the kitchen

Increase efficiency:

Servi works all day, every day, seven days a week
Benefits for staff
Walk and lift less:

no more redundant trips to the kitchen, no more heavy trays

Provide better service:

spend more time with residents
Benefits for resident
Fresher food:

kitchen sends food as soon as it is ready, not after it's been waiting under a heat lamp

Receive better service:

wait staff stays in dining area, ready to help
Servi is available today. Direct Supply and Bear Robotics are ready to help you address your staffing challenges and navigate the process of making a robot a successful addition to your team.
Make Your Community Leading Edge with Robotic Solutions Delivering Consistent ROI
Direct Supply can help you determine if this solution is right for you. Email us at robots@DirectSupply.com or fill out the form below to learn more about Servi the foodservice robot ROI and insights.