Senior Living interior design trends
are all about functionality in 2022. Our design experts are focusing on wellness-inspired design for residents and staff including cleanable furniture, labor saving technology and overall building health. After more than two years of the
COVID-19 pandemic, interior design for senior housing must aid clinical staff in their workflows, lend to improved outcomes and emphasize well-being for residents. 
The top trends in Senior Living design this year:
1. Senior Housing Design for Well-Being​
The top trend in Senior Living: holistic well-being. Providers are looking to promote well-being for residents and staff through design choices and programming. Biophilic design, for example, meets these needs and provides physical and deep, psychological benefits for seniors and residents. 
Access to outdoor spaces, ample natural light and integrating organic design elements help support mental health. Through strategic Senior Living facility design, you can help boost connectivity to the natural environment to benefit the health of everyone in the building.
The concept of biophilia, ultimately suggesting that that there is an instinctive bond between human beings and other living systems, has been around since 1984.1 The theory of biophilia gives way to the biophilic design strategy – seeking to reconnect people, seniors and resident in this instance, with the natural environment.2
 According to Amanda Sturgeon in her book Creating Biophilic Buildings, "True biophilic design goes much further and deeper, drawing on the intrinsic psychology that is mapped in our brains calling for us to be connected deeply to the natural world."3
Our Senior Living design experts recommend building biophilic design into the architectural planning process early on. Include multiple patterns of biophilic design in your plans to ensure the benefits are seen in the end product no matter how many design changes are made along the way. Consider biophilic design an integral part of the architecture and design for nursing homes; the advantages being seen that impact the overall well-being of seniors cannot be ignored. 
There are '14 Patterns of Biophilic Design' according to Browning et al (2014).4 They include design patterns relating to visual and non-visual nature conections. These can be applied in Senior Living design by offering views to nature, including nature indoors or nature inspired art. You can even achieve these patterns in more abstract ways with lighting, ceiling heights and incorporating mystery and awe in design plans. 
Consider how you can incorporate fresh, clean and natural materials into your Assisted Living design or Independent Living design. Add hardy plants to a popular window spot to bring the outdoors in and help with air purification, as well. Or go even farther with incorporating technical biophilic design patterns. Rely on our architect and interior design experts to foster holistic well-being in your community. 
2. Labor Saving Technology in Senior Living Design​
The Great Resignation is continuing well into 2022. With the severe nursing staff shortage, many Senior Living providers are looking for ways to increase caregiver efficiency by rethinking workflows and strategically incorporating technology solutions to help relieve the pressure on direct care, clinical and maintenance employees.
As the most simplified EMR connectivity solution in Senior Living, DS smart® technology saves time by allowing caregivers to instantly capture, protect and connect data to EMR-connected equipment, such as wireless vital signs monitors and scales. 
Strong Wi-Fi connectivity, along with the necessary electronics and clinical equipment, allows for residents to utilize telehealth visits and consultations. Telehealth capabilities reduce the need for in-house clinical staff. Future-proof your community by installing the right technology solutions for virtual care. A proper Wi-Fi connection also keeps residents connected to friends and family. Ensure proper connectivity for residents' personal electronics as well as healthcare equipment. This is a must-have for the future generations of seniors. 
Real-Time Locating Systems, like CenTrak's TruView™ platform, enhance safety and security through advanced locating, contact tracing, roaming, nurse call and wandering protection – all through a single wearable device. Utilize CenTrak's TruView app on your staff's mobile devices to locate people and assets in real time.
Read more about the NEW CenTrak mobile app to further efficiency. 
Gone are the days of traditional nurse call systems equipped only with lights and buzzers – today's systems provide complete community situational awareness across clinical, environmental and operational disciplines. They do it in real time, sending alerts to mobile apps, text messages, computers, tablets and more.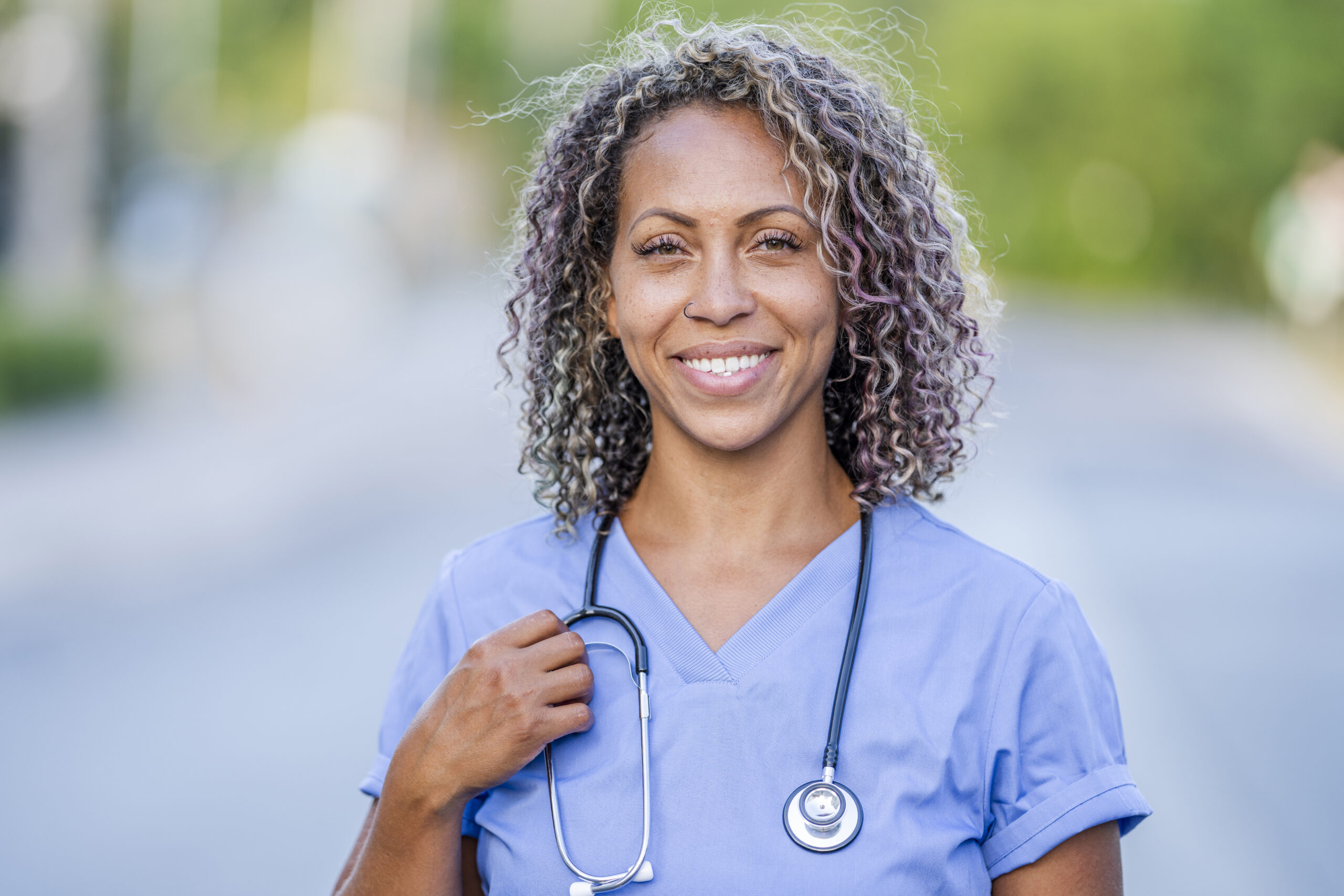 Design with your staff's well-being in mind. The healthcare staff shortages have Senior Living providers looking for ways to improve caregiver satisfaction by rethinking the way they support staff health and well-being overall. The mental and physical health of your Senior Living staff affects the overall health of your residents. A healthy work environment that gives staff a space to rest and recharge before returning to work is achievable.
Learn more about design strategies that support staff well-being.
3. Cleanable Fabrics & Surfaces When Designing for Seniors
Cleanability will continue to be a huge trend in 2022 and beyond. For surfaces that residents need to touch, consider materials with enhanced cleanability features, like antimicrobial fabrics and solid, nonporous surfaces. These can help make it easier for staff to keep the community clean. 
For dining and accent furniture, faux-wood metal is an excellent choice because of its ability to withstand the rigorous cleaning routines of today's environment. The best part: it's bleach cleanable, and a solution of up to 5% bleach and a minimum of 95% water can be applied with a soft, clean cloth. However, providers should always follow the manufacturer's directions regarding bleach solutions suitable for cleaning.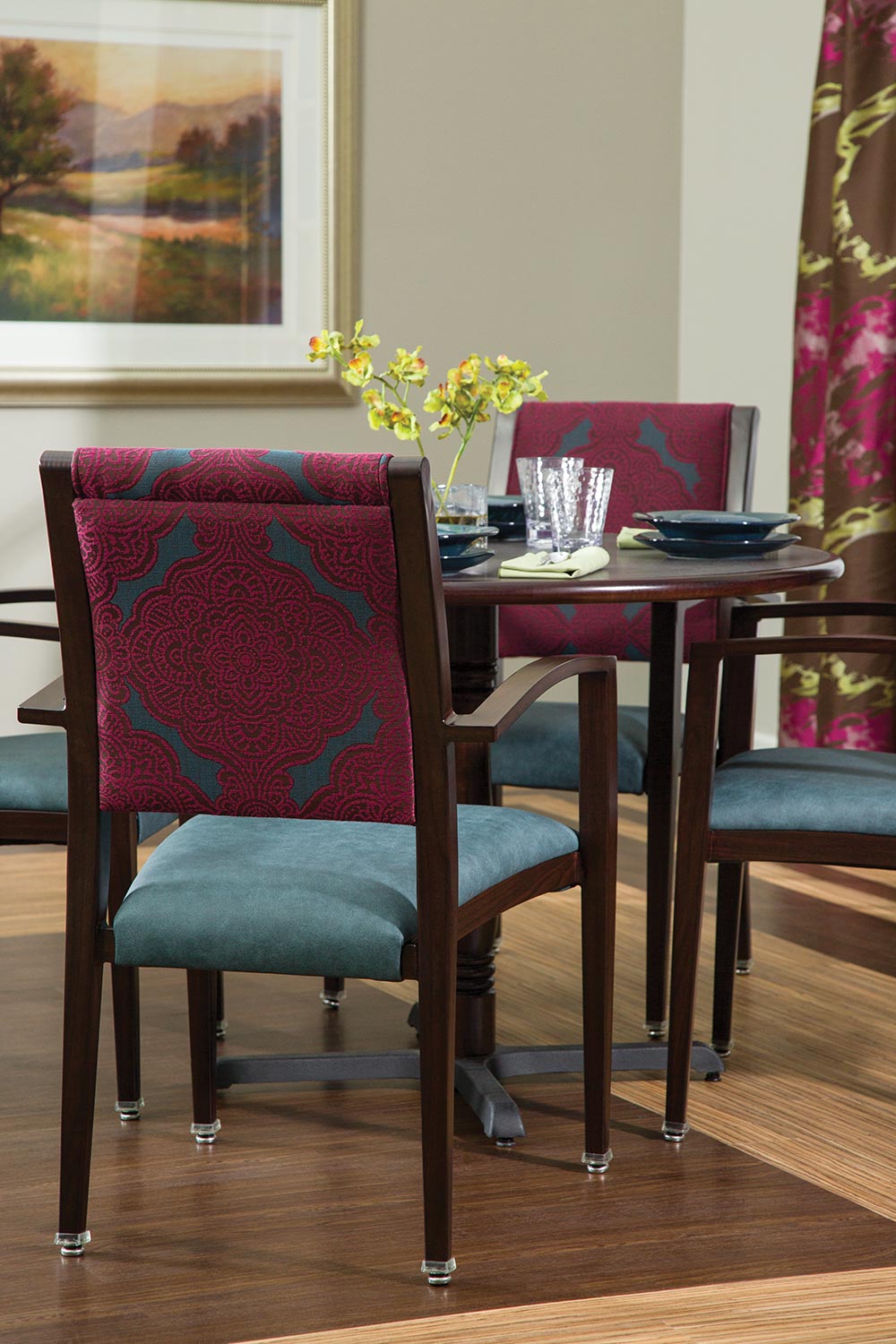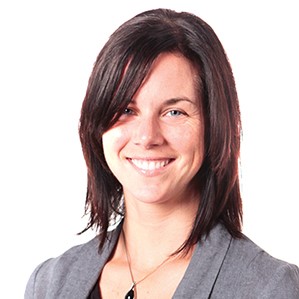 Jadi Endl
Senior Product Consultant
"To help your staff keep spaces clean, choose materials, including fabrics, with superior cleanability. We partner with manufacturers that keep the cleaning demands of Senior Living top of mind, and our wide selection of on-trend fabrics is designed to resist stains and clean up easily."
Expert tips on cleaning other commonly used materials:
Crypton®

– Blot ordinary spills and wipe with clean water and a sponge. For challenging stains, use a powdered enzyme detergent diluted with water, then brush, blot and rinse. Bleach is not required or recommended, but you may use a highly diluted solution if necessary.

Vinyl

– Clean with a solution of warm water and mild soap. While vinyl is made to withstand daily cleanings with commonly used all-purpose cleaners, strong solvents can severely damage or discolor this material.
For even more cleaning insights, discover material-specific cleaning tips from our product experts. 
4. Durable Furnishings for Seniors
In 2020 and 2021, the most-used furnishings were located in resident rooms, where residents spend most of their time. In 2022, we'll continue to see the demand for durable, commercial-grade casegoods and resident room furniture that can stand up to wear and tear, as well as rigorous cleaning.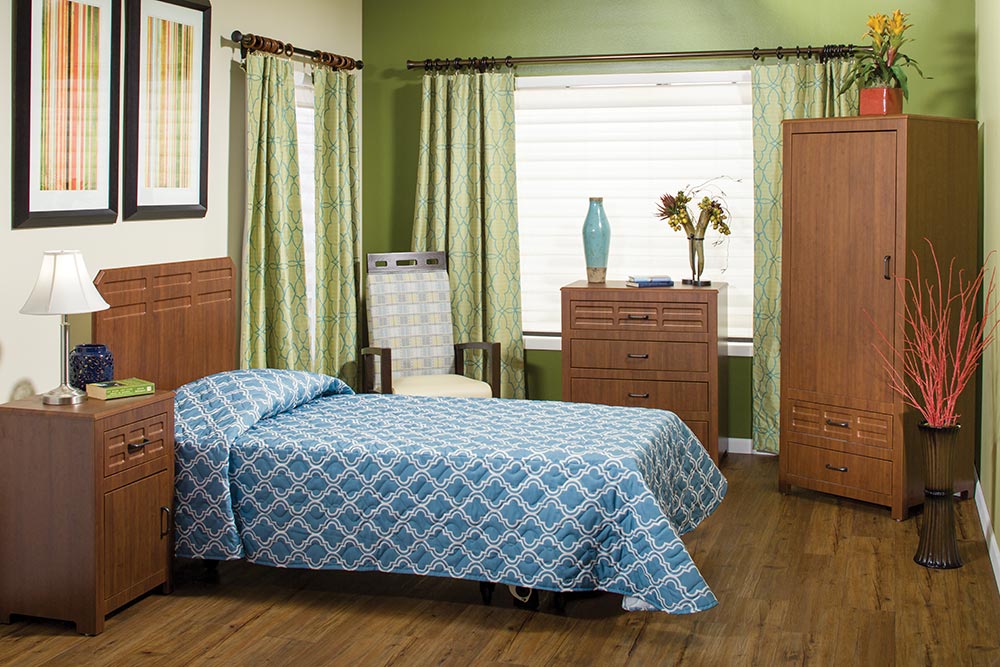 In resident bedrooms, consider
durable thermolaminate material
, which provides a durable, seamless surface that better withstands cleaning and reduces the risk of cracks, dents and chipping. Durable fabric is another key consideration. Solid vinyls stand up better to abrasion and cleaning than residential fabrics.
In common areas, select furniture for seniors that is created with their unique needs in mind. Make comfort and safety a top priority with recliners that boast senior-friendly features like motion seating. Consider other features furniture can offer like built-in USB ports, phone chargers and sanitation devices. 
Whether you're replacing one piece of furniture or refreshing an entire room, our design consultants can help you coordinate your new and existing furnishings for a look that makes an impression. Fill out the form below to request a FREE design consultation. 
5. Natural Colors & Playful Textures in Nursing Home Decor
This year's popular colors support the holistic well-being design trends by paying homage to nature and promoting a feeling of home within the community. Colors like orchid flower, the 2022 color of the year spark joy, increase energy and offer hope for a bright future. 
2022 color trends for Senior Living and how to use them in
your community.
Denim, linen and leather are becoming more popular in Senior Living communities for their nod to natural environments and timeless elegance. Other nature-inspired hues, like blues, greens browns and golds, provide the perfect complement. 
In 2022, popular colors for Senior Living are a perfect blend of warm and cool colors. Warmer tones in Senior Living palettes, like oranges and yellows, are known to promote positive emotions and are popular in
Memory Care interior design
strategies. Warmer shades, cotton textures and cozy fabrics all provide a layer of comfort that supports a homelike environment. 
Our design consultants can help you create a stunning focal point with bold colors and patterns, or help you find coordinating fabrics for an existing scheme. 
Experience the endless possibilities of feel-good fabrics that impress. Our wide selection features durable performance fabrics and vinyls to achieve the ideal look for your community. Use our fabrics as a starting point for your design or order samples to choose your favorite and rely on our designers to create a look you love. Contact our design team today to get started. 
6. Playful Accents for Senior Living Design
Furnishings and fabrics are not the only design elements we are seeing with the freedom to be whimsical. Wallcoverings, draperies and other accents are being seen with out-of-the-box colors and patterns to add interest to the space. It is in to create an exciting, fun filled environment. After these last two years of hardship, residents and staff deserve some fun and flair! 
For example, we've seen designers use neon green to spice up a multipurpose room and add punchy draperies in a dining room. Unexpected elements can create a sense of light and excitement in the space. Learn other tips for design for older adults. 
Be cautious when designing Memory Care facilities. The funky colors and bold patterns that are appropriate for Assisted Living or Independent communities might not be suited well for Skilled Nursing Facilities. Consider the unique needs of those in Memory Care communities. Seniors with Alzheimer's disease who need dementia care struggle to differentiate between similar colors. Ensure proper contrast between walls, flooring and furniture. Stay away from complex, noisy patterns with dots or textured fabrics. 
Read up on other ways to optimize your Memory Care design for older users.
7. Consider Staff Spaces When Decorating a Nursing Home
In this health climate and staffing shortage, we are asking a lot of our clinical staff. Creating relaxing staff lounges for them to stay healthy mentally and physically is top of mind for many Senior Living providers. Many of the same holistic well-being trends mentioned above can be applied to staff spaces as well, including fostering a connection to the outdoors with biophilic design, simply by bringing in plants or creating a dedicated staff patio.
To design a respite for staff, add a recliner or sleeper sofa in addition to traditional tables and chairs. Provide ample charging ports for personal electronics so staff can connect with family and friends during their breaks.
Many providers are rethinking the way staff members enter the building as well to promote infection prevention. If the staff entrance lead into a shared resident space, providers may want to create a separate entry for staff to help with infection prevention. A completely separate area can allow employees to clean up before and after their shifts.
Discover more design strategies for the Senior Living staffing shortage.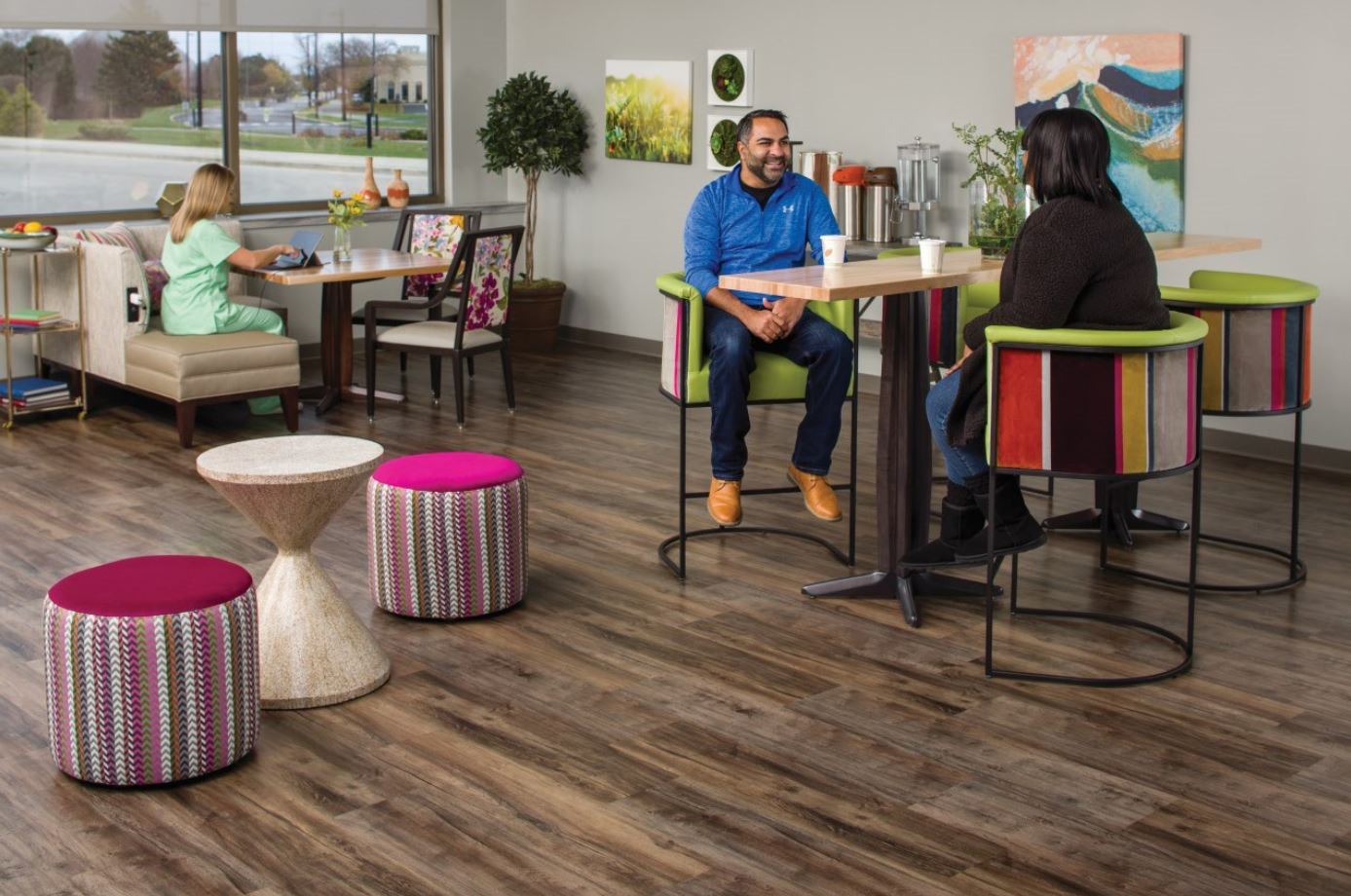 The Bottom Line: 7 Senior Living Design Trends for 2022
When designing Senior Living facilities, leveraging these trends can help you create a more marketable, attractive space. Find even more Senior Living design tips from our expert designers in the FREE Design Trends eBook below! 
Request a free consultation to start your next Senior Living design project today! 
2022 Senior Housing Design & Construction Trends
Learn what's trending in the industry and how you can use these trends in your buildings.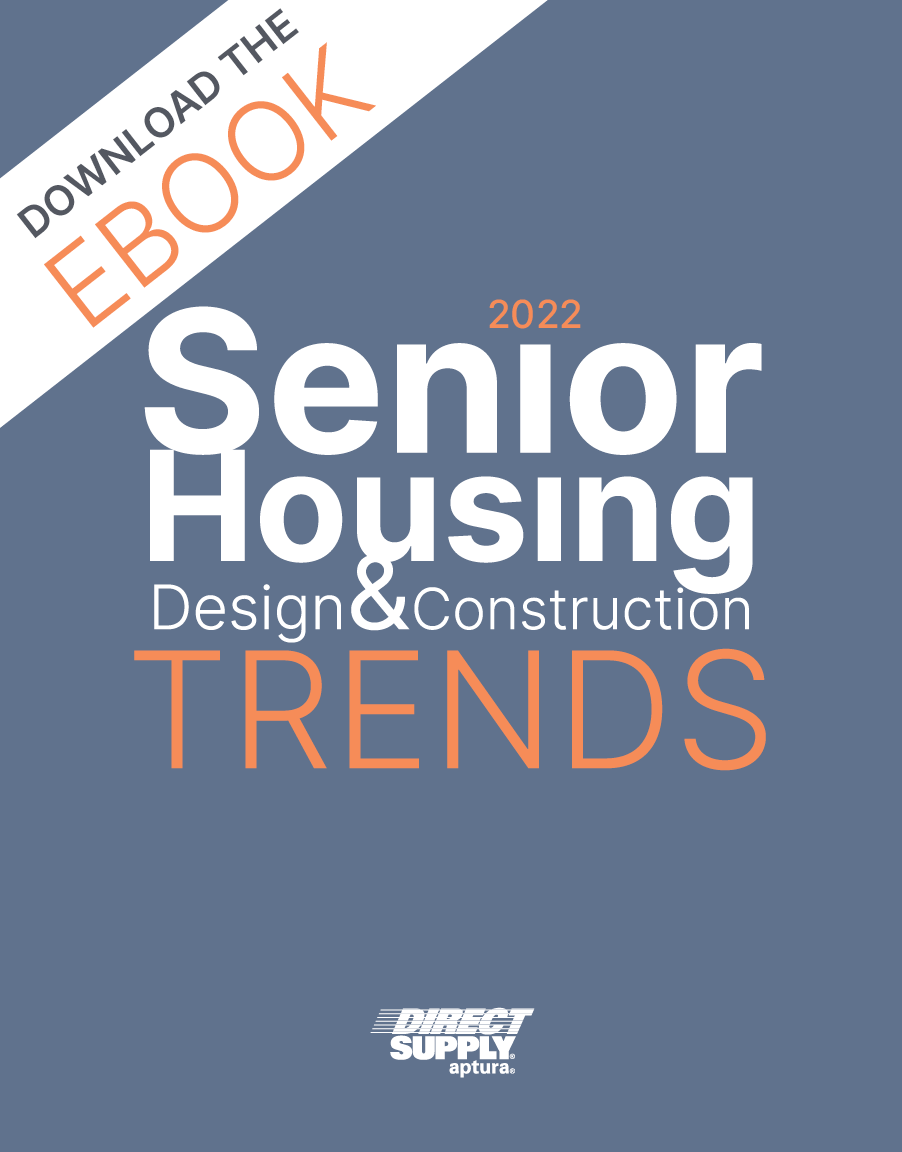 1
E.O. Wilson, Biophilia, Harvard University Press, Harvard, USA, (1984).
2
T. Beatley, Biophilic Cities, Island Press, Washington DC, (2010).
3
Sturgeon, A., & Grable, J. (2017).
Creating biophilic buildings
. Ecotone Publishing, an imprint of International Living Future Institute. 
4
W.D. Browning, C.O. Ryan, and J.O. Clancy, 14 Patterns of Biophilic Design, Terrapin Bright Green, LLC, New York, (2014).