What's the latest trend in Senior Living design? Flexible multipurpose rooms. With rising costs and the desire to provide diverse programming, providers are turning to these adaptable spaces to maximize their valuable square footage. Flex spaces let providers offer an array of engaging activities, like educational seminars, happy hours, resident council meetings and birthday parties, all in the same room. There are a few special considerations when designing functional flex spaces for Senior Living – here are our best tips: 
Engage the Residents
Before designing the space, learn which activities the current residents enjoy. What will draw them from their rooms? Any insights you gather from residents will help you design the room around what they want. If they're into puzzles, find comfortable seating and appropriate tables. If the community hosts a monthly book club, choose easy-to-move furniture to form a discussion circle. For art class, ensure there are tabletop easels, natural light and plenty of storage for art supplies. The more interesting and exciting the space is, the more residents will want to engage.
Adapt the Furnishings
Choose flexible furnishings to create areas that fit the community's needs. For example, vary the table sizes in a bistro setting so residents can select the best spot for their chosen activity, whether that's enjoying a meal or playing a card game. Larger farm tables are excellent options for group dinners or craft nights.
Customizable chairs, like the Maxwell Thomas Ridgeland Tub Chair, are ideal for flex areas because of the custom features, like cup holders, activity tables and power outlets. Or choose easy-to-move chairs that can flex from a church service to a chair yoga class.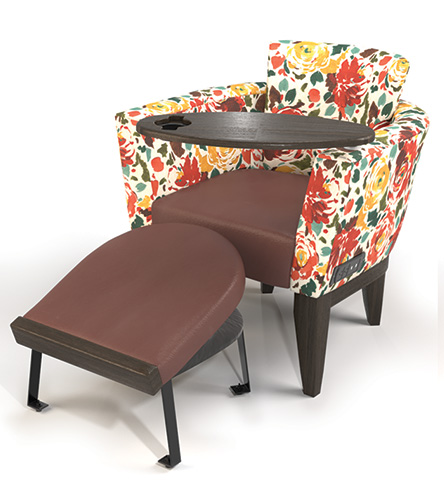 Go from Day to Night
Consider adding a flexible bistro that serves up café-style coffee and pastries at breakfast and happy hour specials in the evening. Choose display shelving with sliding doors to show coffee-themed décor in the morning and then cocktail glasses and wine bottles for happy hour. Transitioning the space is a great way to keep residents engaged all day. Here are five other ways to boost resident engagement with memorable experiences.
Vary the Lighting
Incorporate lighting fixtures that can change throughout the day to provide appropriate lighting that aligns with the time of day and activities you're offering. Communities can start with ambient light in the morning, brighter light at midday and then dimmed light at dusk to coordinate with the circadian rhythm. Adapting the lighting can help keep residents active and vibrant.
Segment the Space
Sometimes a wide open area might not be the best setup for the day. Designing special features that help segment the room offer staff the flexibility to change the room based on the day's events. Plus, sectioning off spaces can help foster intimacy.
Divide up larger areas with seating arrangements, casegoods or even window treatments. For example, use transparent drapery panels as partitions to create a smaller, cozier space. Chairs featuring taller wingbacks are also great for conversational spots as they help partition the area. Here are more ideas for open-concept spaces in Senior Living.