As Senior Living communities begin to reopen, more and more providers will want to offer dedicated visitation rooms to facilitate safer family gatherings. No matter the space or budget, there are key Senior Living interior design tips to help create inviting, intimate spaces that are easy to clean. 
Not only are visitation spaces ideal for infection prevention, they also provide a private environment for intimate gatherings, which can be difficult to find in congregate care. Here are a few tips for creating visitation areas from our Senior Living experts: 
1. Creatively Use Dividers 
Partitioning off an existing activity or dining room can be a cost-effective way to create a more intimate space. There are an array of materials that make excellent dividers: 
Decorative screens

can elevate a space while providing needed separation. 

A mobile whiteboard easel

can be effective in an activity area, as it can serve double duty.

Antimicrobial drapery

hung with the appropriate hardware is a classy, cost-effective way of dividing a space. For example, using drapery to section off a smaller private dining space within a large dining room can provide an elegant solution.  

Inspired by modern offices, 8×8

freestanding cubicle rooms

could be added to larger areas. 
No matter how you divide the space, it's important to make sure there are proper turning radiuses for wheelchairs. These spaces should still be large enough to accommodate social distancing as well. 
​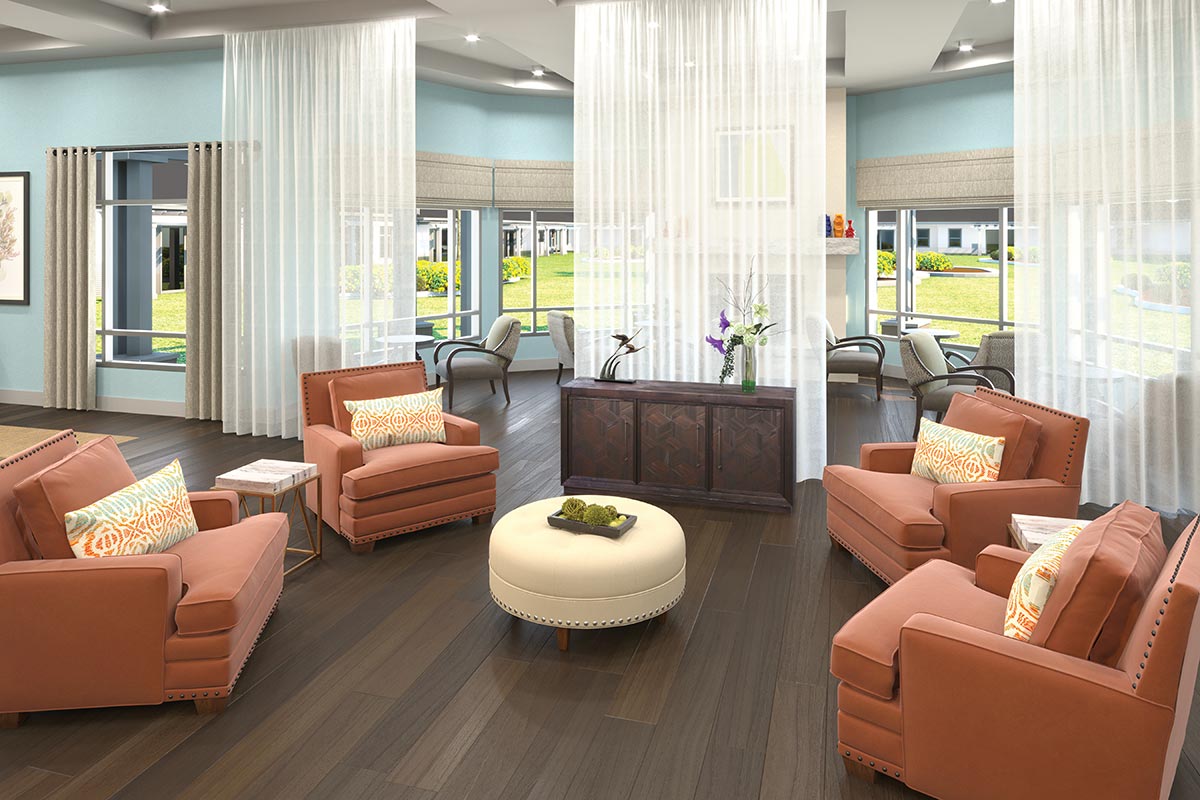 2. Use Easy-Clean Surfaces 
To help staff maintain the visitation space and ensure proper cleaning between each use, consider materials with enhanced cleanability features and solid, nonporous surfaces. Materials may include:  
Antimicrobial fabrics

, which offer protection against bacteria, mold, mildew and other microbes.

Silvertex™ fabrics

, which are treated with silver ion technology to provide a germ-fighting defense to help safeguard against odor and bacteria. 

Seamless thermolaminate

, which is constructed in one piece to help prevent bacteria from growing in cracks.  

Faux-wood metal, a durable material that can be easily cleaned with a diluted bleach solution.
For more cleaning insights, discover material-specific cleaning tips from our product experts.​
3. Elevate the Look 
When it comes to completing the visitation space, here are a few key points to keep in mind:
Choose senior-friendly furnishings that have a small footprint, like the

Maxwell Thomas® Arlington Heights Collection, to maximize space.
Your choice of materials can also help elevate the look to ensure these spaces are inviting environments. Selecting a decorative screen instead of plexiglass, or an on-trend faux-leather vinyl instead of a more traditional acute care pattern, will help elevate the experience.
Accessorizing the room can help set the stage for memorable experiences. Artwork is an easy way to amp up the aesthetics, while complementary accent furnishings provide convenient surfaces.
4. Build for the Future 
If a renovation is in the budget, adding walls to create visitation spaces in an effective way to divide space. These renovations can quickly become complex, since you'll need to consider the sprinkler systems and fire codes. 
As we look toward the future of senior housing design, more and more communities will desire a dedicated visitation room. One of the design trends emerging during COVID-19 is adding a visitation room adjacent to the lobby. Not only is it convenient for visiting family members, but it will also help prevent potentially infected visitors from entering into resident spaces.