Senior housing trends are constantly evolving and many providers are looking for ways to adapt their current buildings to keep residents and staff safe with health and safety at the top of mind.
That's why Direct Supply® Aptura® assembled a multidisciplinary task force focused on emerging senior housing trends on Senior Living design, technology and infection control. Discover some of their findings below, and schedule a call if you want to learn more.
While the fundamentals driving change in Senior Living – economics, demographics, technology and consumerism – are staying the same, we are seeing a need for improving healthcare and building healthy communities. 
Here's a high-level look at the trends we expect to hold steady in senior housing sector:
Senior Housing Trend #1. Concierge-Style Living
During a health crisis, a divide-and-conquer strategy for population health management can be an effective approach. That's why we recommend developing multiple, smaller ecosystems throughout your assisted living or nursing care community. Each ecosystem would include enhanced amenities to support them, like a smaller satellite dining and lounge space, or a room for virtual visits, telehealth and private fitness.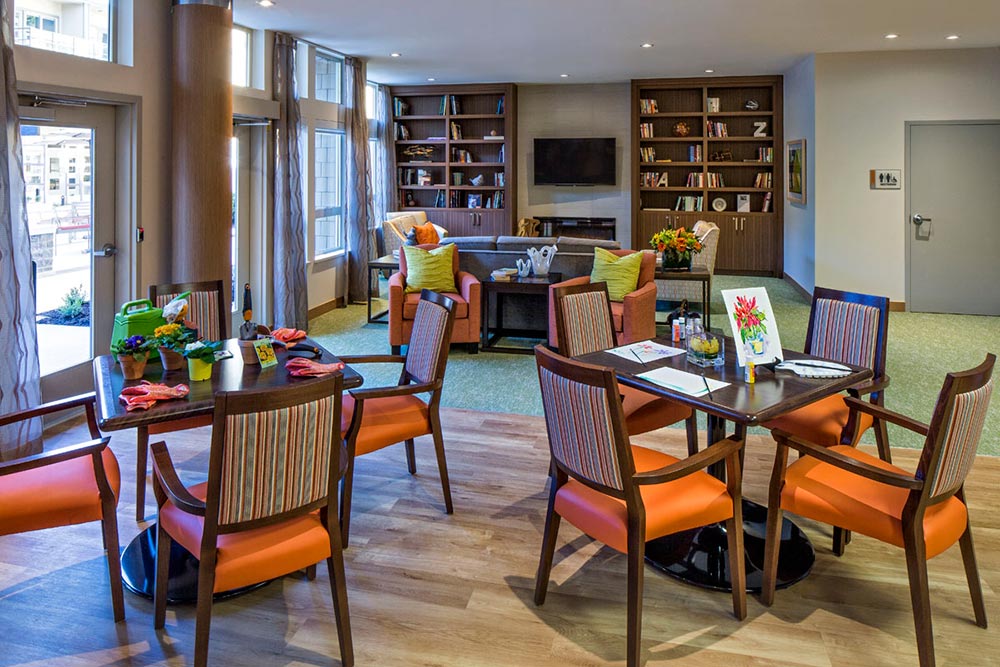 These spaces would also include tenets of biophilic design by adding access to the outdoors and natural light. Other considerations include zoned mechanical, electrical and plumbing (MEP) as well as technology systems.
This strategy helps build adaptability into your community and allow resident socialization while being able to easily separate or convert spaces during a crisis. 
We are also looking at ways to enhance units in situations where residents are confined to their apartments. This includes thoughtful layouts, access to the outdoors and a particular focus on air cleaning systems. Residential amenities, like vestibules, enhanced in-unit dining and balconies, can help with infection prevention and boost marketability.
To support a concierge Senior Living model, communities will need adequate Wi-Fi and innovative Senior Living technology solutions to help residents connect with families and healthcare providers.
Senior Housing Trend #2. Building Systems
The pandemic has brought an urgency to create more healthy environments. This desire for healthy buildings will be one of the lasting changes after the coronavirus pandemic is over. We're seeing two key Senior Living trends around building systems, including: 
HVAC and Needlepoint Bipolar Ionization
New Needlepoint Bipolar Ionization (NPBI™) technology has been shown to inactivate 99.4% of the virus that causes COVID-19 in just 30 minutes in lab tests.¹ This technology can be added to existing HVAC systems with no filters to put extra strain on your system. Learn more about the latest HVAC options to improve indoor air quality in Senior Living. 
Cleaning and Disinfection
Enhanced cleaning protocols and disinfectant sprays eliminate pathogens, but these measures only last until new pathogens are introduced.
Investing in better systems and improving cleaning practices can help provide residents, staff and guests with a cleaner, healthier environment that doesn't feel clinical. Throughout the senior housing sector, building systems and protocols can help improve health and safety.
Senior Housing Trend #3. Infection Prevention
Infection prevention protocols start with the entry experience for all staff and guests.
For staff entries, adding temperature scanning can be the first line of defense. Consider enhancing the staff areas for safety by adding lockers, showers and uniforms. As your community's front line, your staff's wellness significantly impacts your community's wellness, so consider enhancing break rooms and adding outdoor space as well.
In front entries, rethinking vestibules can help in the event of a health crisis. Today, vestibules are typically smaller areas that are largely insignificant. Activating the vestibule to include a concierge desk and thermal temperature scanners² could make a difference during a health crisis.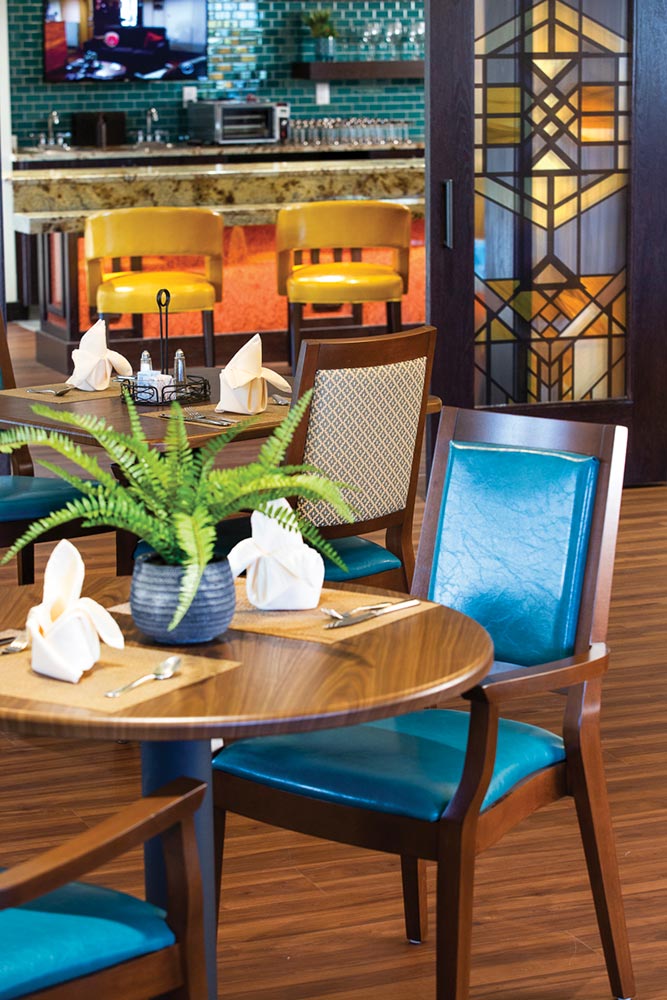 Senior Housing Trend #4. Circulation
To help promote social distancing in senior community housing, we recommend creating flexible amenities while still providing beautiful spaces. For example, in dining rooms, we can add dividers that help create intimacy and safety while still offering residents a desirable experience. 
In addition to separating groups, it's important to control the flow of people. If a current dining room has a pre-function space, residents could enter through there, enjoy their meals and exit through a second door to help reduce interactions.
Technology in Senior Living facilities can help support social distancing measures as well. Some artificial intelligence software can detect who is wearing a mask or count the number of people in a room and send alerts to staff as needed. 
Discover more Senior Living technology trends to help fight COVID-19.
Senior Housing Trend #5​. Touch
This trend is two-fold: providing a white-glove experience for residents to limit their touch and enhanced materiality for infection prevention.  
Using technology to automatically open doors, providing meals in a resident room and employing innovative wayfinding solutions can all help reduce the need to touch potentially contaminated surfaces. 
For surfaces that residents need to touch, consider materials with enhanced cleanability features, like antimicrobial fabrics and solid, nonporous surfaces. These can help make it easier for staff to keep the community clean. 
For more cleaning insights, discover material-specific cleaning tips from our product experts.
Senior Housing Trend #6. Wellness
Access to the outdoors, ample natural light and integrating organic elements help support innate feelings of wellness. Through strategic Senior Living interior design choices, we can help boost connectivity to the natural environment to benefit the health of everyone in your building.
In addition to designing healthy buildings, we recommend wellness programming for the mind, body and spirit. This programming can be accomplished in a multipurpose space or brought to each resident room.
The use of telehealth will remain popular after the COVID-19 pandemic is over as well. Communities will need adequate Wi-Fi to help facilitate telehealth as well as private space for appointments to prevent disclosure of protected health information (PHI).
The Bottom Line in Senior Housing
We can help you implement strategic planning, design and technology to: 
Create state-of-the-art environments

Supplement staff efficiency

Support safety, security and peace of mind for everyone who enters your building
If you'd like to learn more about any of these senior housing design trends, schedule a call with our experts to ask questions and find the right solutions for your unique buildings.
Discover more COVID-19 insights, or contact us with any questions.
¹*Inactivation results based on sensitivity testing conducted by independent third-party testing laboratory using control chambers. Multiple data points are used to formulate performance validation statements. The technology is used in a wide range of applications across diverse environmental conditions. Results in non-lab environments will vary; clients should evaluate their individual application and environmental conditions when making an assessment regarding the technology's potential benefits. For all independent laboratory results, contact Direct Supply at IndoorAirQuality@Directs.com. The use of this technology is not intended to take the place of reasonable precautions to prevent the transmission of pathogens (including COVID-19). Comply with all applicable public health laws and guidelines as well as CDC guidance (https://www.cdc.gov/coronavirus/2019-ncov/prevent-getting-sick/prevention.html).
²This is not a medical device. Statements regarding this temperature device have not been evaluated by the FDA. This temperature device should not be solely or primarily relied upon to diagnose or exclude a diagnosis of COVID-19, or any other disease or health condition. Elevated body temperature in the context of use should be confirmed with secondary evaluation methods.