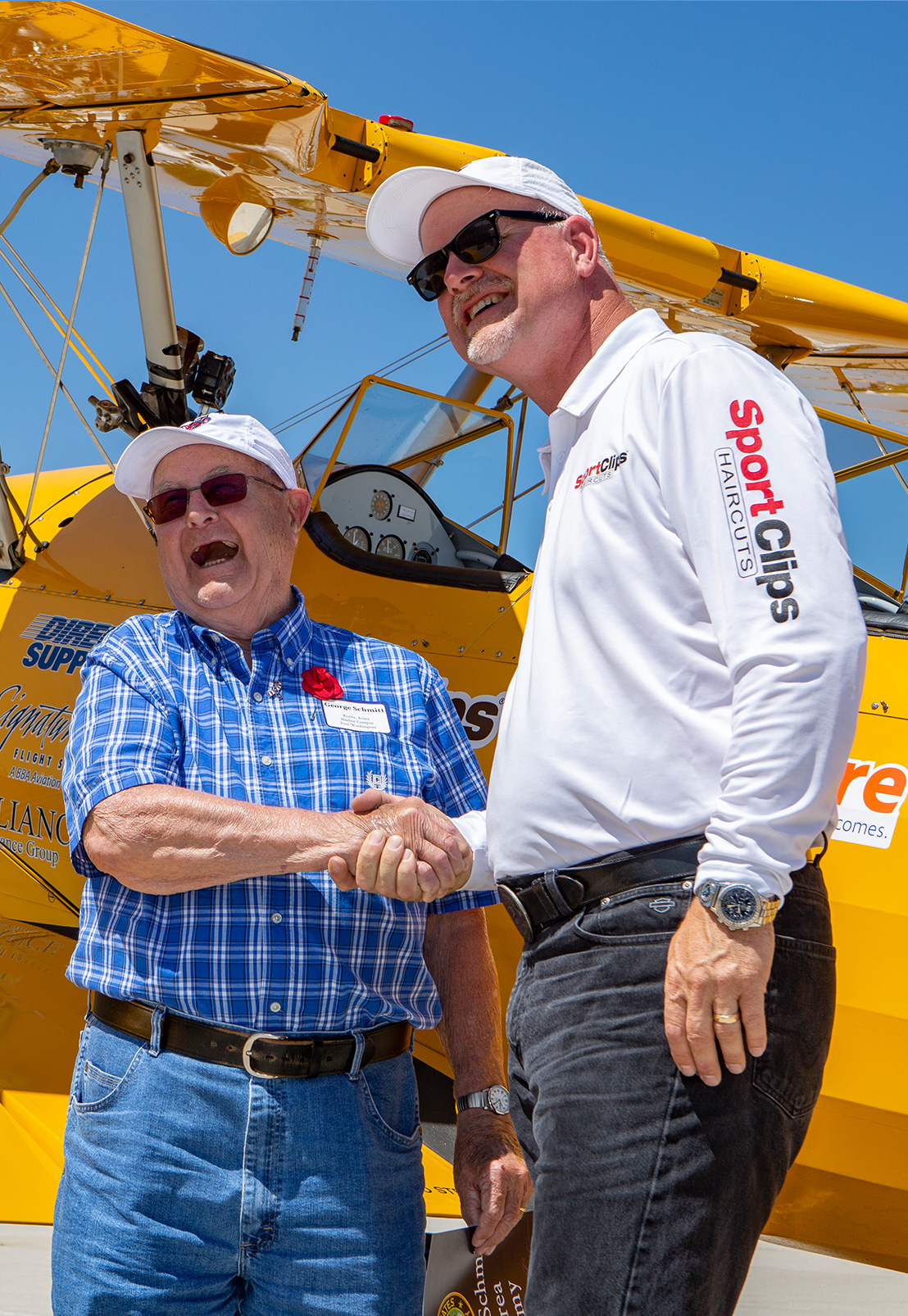 "There are only two planes flying today – us and the president of the United States."
Darryl Fisher is the founder, CEO and a pilot for the Ageless Aviation Dreams Foundation, sponsored by Direct Supply. Since its inception in 2011, the organization has provided incredible opportunities for thousands of veterans to take flight as passengers in a World War II-era biplane. Fisher indicated the foundation will pass 4,000 dream flights in July. He considers himself blessed to be able to do what he does for a living and make a difference in the lives of veterans.
"Sometimes you just get lucky," Fisher said. "Truly it's a special day to have this line up."
By "line up," Fisher meant more than just the usual weather elements that could impact the ability to fly.
President Trump was visiting Milwaukee the same day. Thanks to a special phone call to the United States Secret Service by Waukesha County Airport manager Kurt Stanich, the event was allowed to proceed as planned, meaning Fisher and the veterans were the only individuals sharing airspace with the president.
The first flight of the day belonged to Rollie Antrim, an 86-year-old Air Force veteran who served from 1951 to 1955. His role was similar to Radar from the TV show MASH. Antrim worked closely with the company commander to provide errands and duties as required. Immediately following his discharge on May 5, 1955, Antrim got married that evening.
"What a beautiful day for flying. Not a cloud in the sky," Antrim said. "One less thing on my bucket list."
Indeed, it was a beautiful day. The sun was warm but hearts were warmer as eight veterans from Capri Senior Communities – another sponsor of the Ageless Aviation Dreams Foundation – followed Antrim on flights of their own.
"Whenever you do something like this, you get more back than what you give," said Jim Tarantino, CEO of Capri. "To see the families sending off their vets and then bringing them back after the flight, the reactions are just spectacular."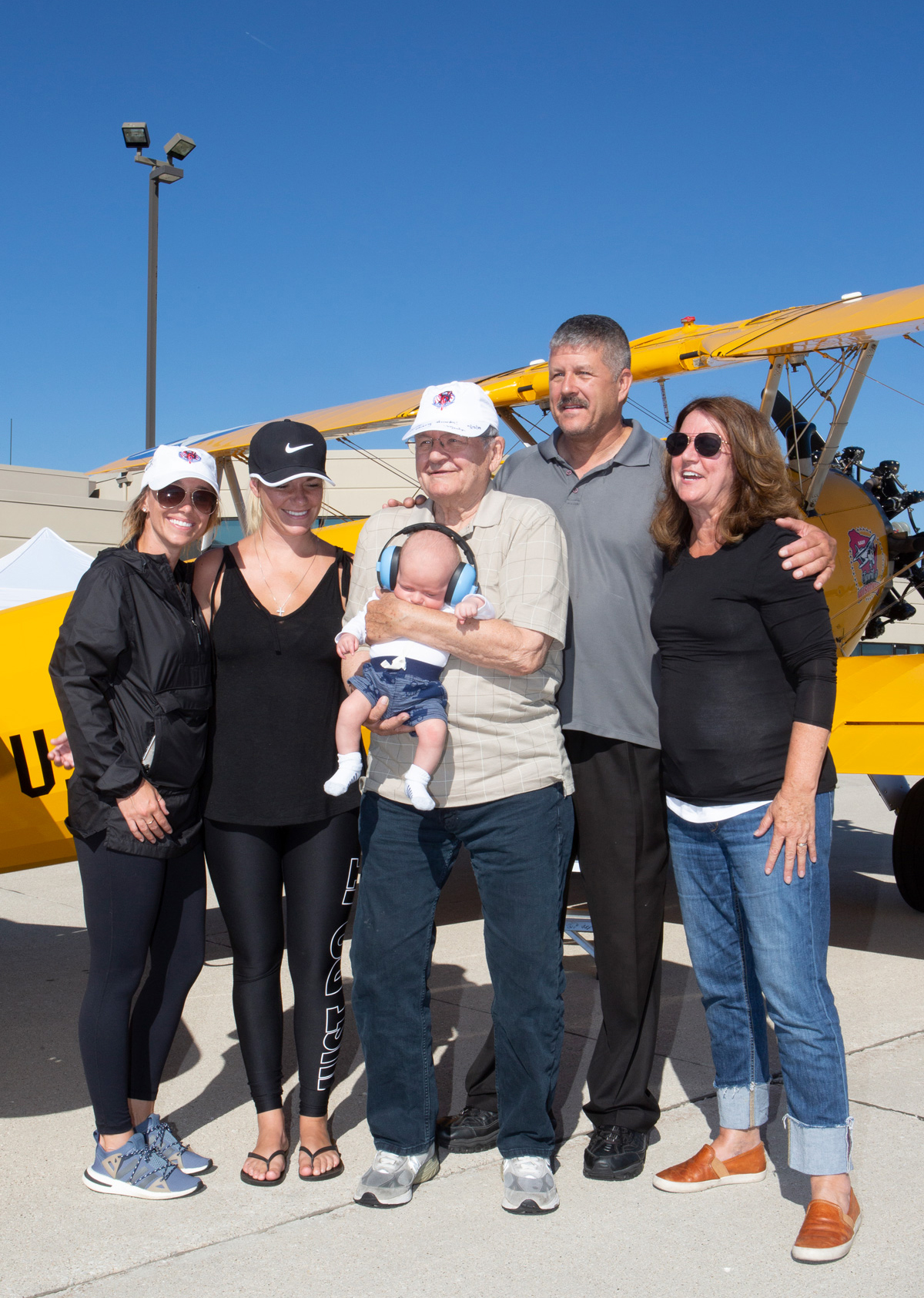 The veterans were as gracious as they were honored. In fact, as World War II Navy veteran George Hickmann sat inside the cockpit of the new Spirit of Wisconsin biplane, a nearby family member of another veteran joked, "His smile is breaking his earphones."
Following his flight, Hickmann took a bow, his smile still wide as ever.
"I'm a celebrity now," he said.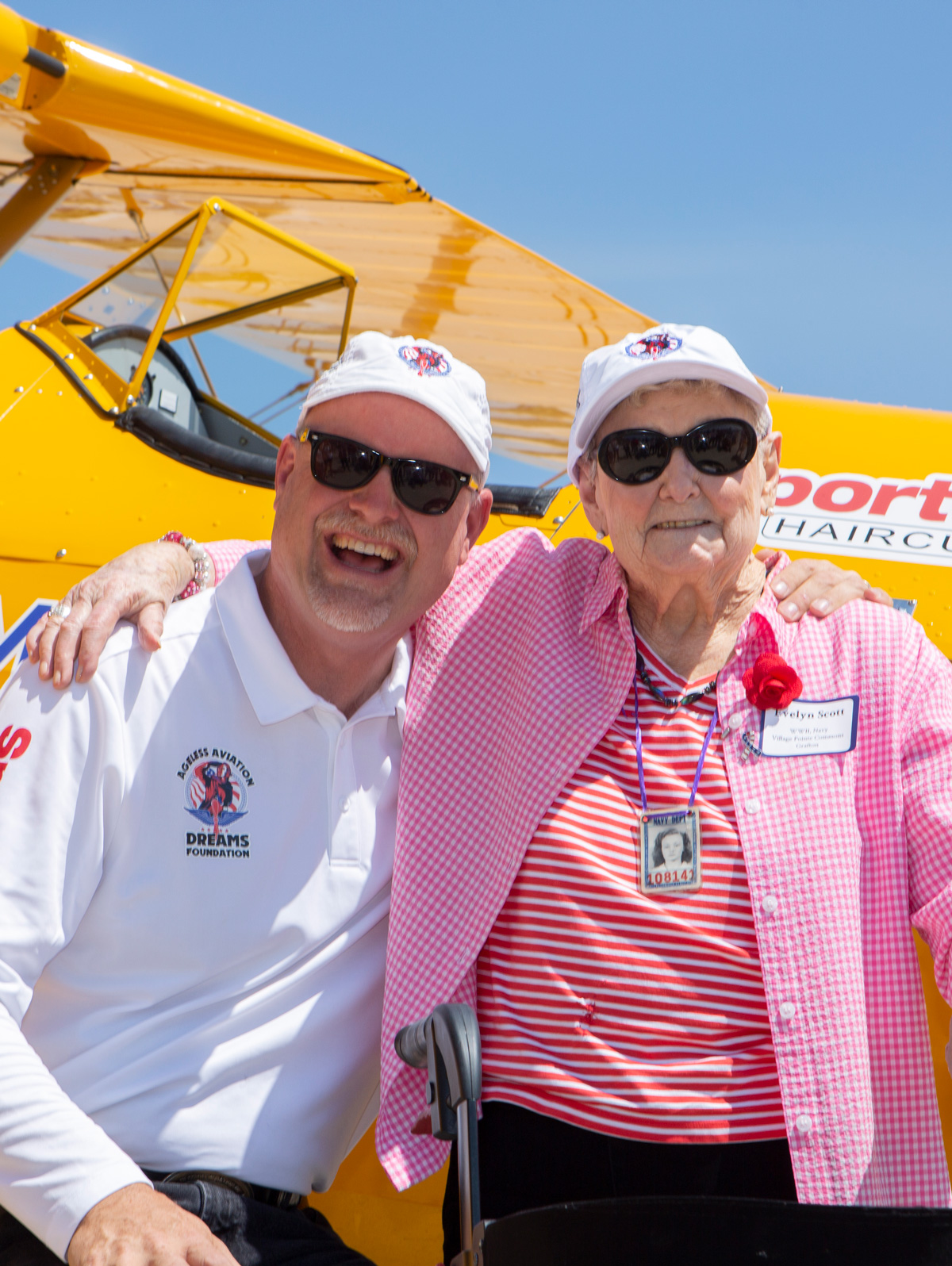 For 93-year-old Evelyn Scott, the event motivated her to walk for the first time in 2 years. Scott served as a Navy secretary during World War II, and she proudly displayed her original service picture from 1945 around her neck. Surrounded predominantly by men during her service time, Scott wasn't intimidated as one of the only women. Her fellow marines and naval officers became her brothers.
"I have a million stories I could tell you," Scott said.
And she sure could. Blessed with a quick wit and sense of humor, Scott captivated everyone in attendance. The memories from her time in the Navy clearly meant a lot to her, and the newest memory from her dream flight won't soon be forgotten, either.
"How can I even explain how much this means to me?" Scott asked. "Once in a lifetime, this is it."
With more than 30 years dedicated to improving the lives of seniors, Direct Supply is proud to sponsor Ageless Aviation Dreams Foundation to help make the flights possible for senior veterans. To schedule a dream flight and learn more about the organization, visit their website.