From patient hospital room furniture to medical office waiting room ideas, find ways to balance safety considerations while creating welcoming spaces for your patients and staff. Our product experts have curated the considerations below to help you meet the unique demands of behavioral health facilities with ideal healthcare furnishings and more.
Read on for room-by-room recommendations based on current behavioral health design trends.
The Ultimate Behavioral Health Design Guide by Room
1. Patient Rooms​
Patient Room Design: Furnishings
From low- to high-acuity care needs, there are an array of options to help you create comfortable and safe spaces for patients to call their own. Patient room furniture and decor accents can elevate your behavioral healthcare settings.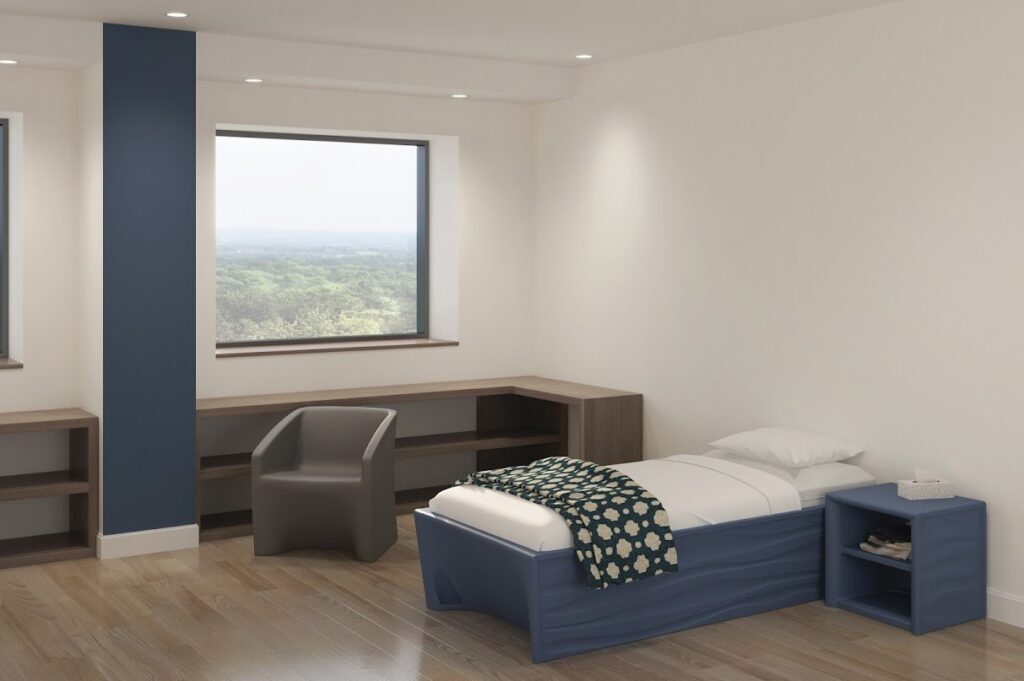 When considering patient hospital room furniture in low-acuity settings, choose from durable laminate and wood veneer casegoods that offer a welcoming residential feel to help make patients feel at home. Details like secure drawers that cannot fully be pulled and rounded edges add subtle safety.
Patient Room Design: Artwork
To continue enhancing patient experiences, add finishing touches like artwork or leave space for patients to bring items from home.
In mid-acuity settings, we can help you select hospital furnishings with a residential feel that offer additional safety features, including ligature considerations and the ability to easily secure items to the wall or floor.
For your highest acuity settings, choose from our rotationally molded healthcare furniture collection featuring durable, heavy designs that cannot be easily lifted and offer heightened stability and safety for this patient population.
PTACs
Keep patient rooms at the ideal temperatures with the right PTAC units. Find the ideal features to meet your budget with Direct Supply branded PTACs, plus a large selection of national brands.
Zipper-Free Healthcare Mattresses
Enhance safety in patient rooms with zipper-free healthcare mattresses backed by comfort and quality to stand up to your demanding environmnets.
Beds
Simple and clean designs can help optimize patient safety while providing a homelike look for ideal comfort.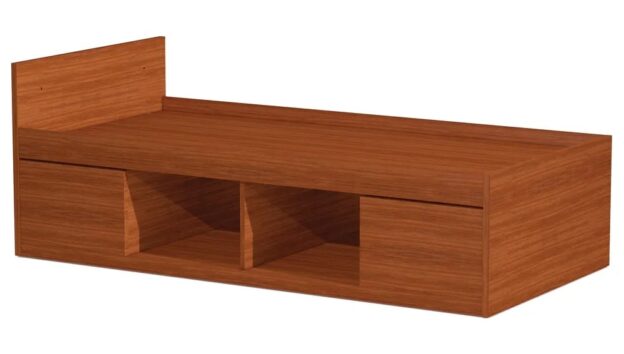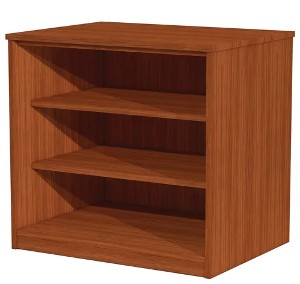 Furniture
Increase storage with furniture engineered for durability and long-term use in demanding environments.
2. Dining Areas
Hospital Dining Chairs and More
Discover a huge selection of ultra-durable hospital dining chairs designed with the demands of care environments in mind. Features like clean-out back openings prevent crumbs from getting trapped in chair backs, while sturdy arms make ingress and egress easier for patients with more limited mobility.
When browsing our hospital room chairs collection, choose from an array of materials, including solid-wood chairs with scratch-resistant finishes and faux-wood metal chairs, like the ones pictured here, for particularly demanding environments.
Tap into our performance fabric selection, including stain-resistant, antimicrobial and easy-to-clean Crypton and vinyl options.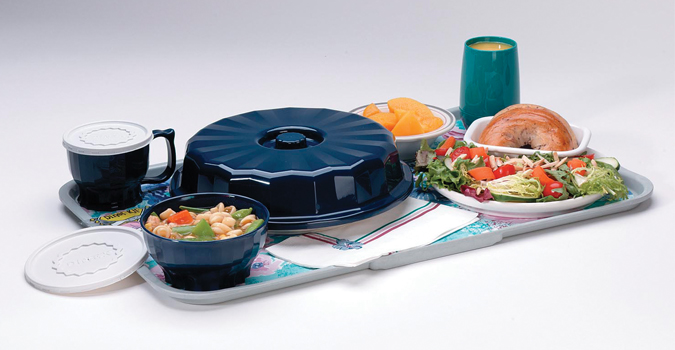 In-Room Dining
Deliver warm and delicious meals safely to patient rooms. Direct Supply offers an array of smallwares and meal delivery products to support your in-room dining program. Choose from durable melamine, plasticware, high-heat disposables and more!
3. Lobbies & Waiting Rooms
Hospital Lobby Furniture and Waiting Room Design
Looking for medical waiting room ideas? A thoughtfully designed lobby showcases your facility's commitment to care from the moment patients and visitors walk in the door. Our product and design experts can help you create welcoming and soothing waiting area spaces that are easy to clean and maintain.
Beyond waiting room furnishings and hospital lobby furniture, we can help you select the ideal lighting, flooring, signage and more to complete your space.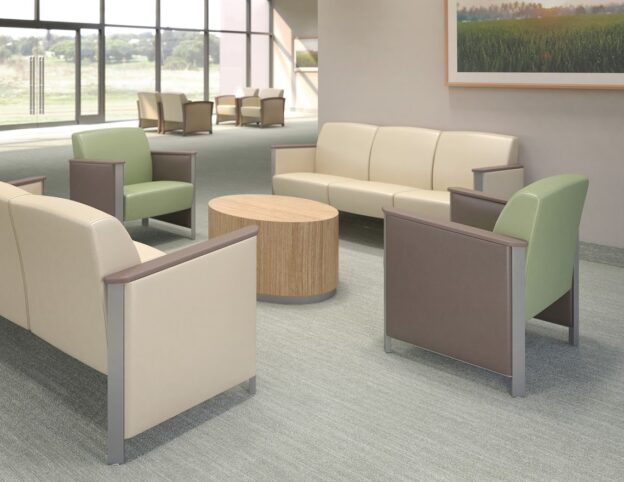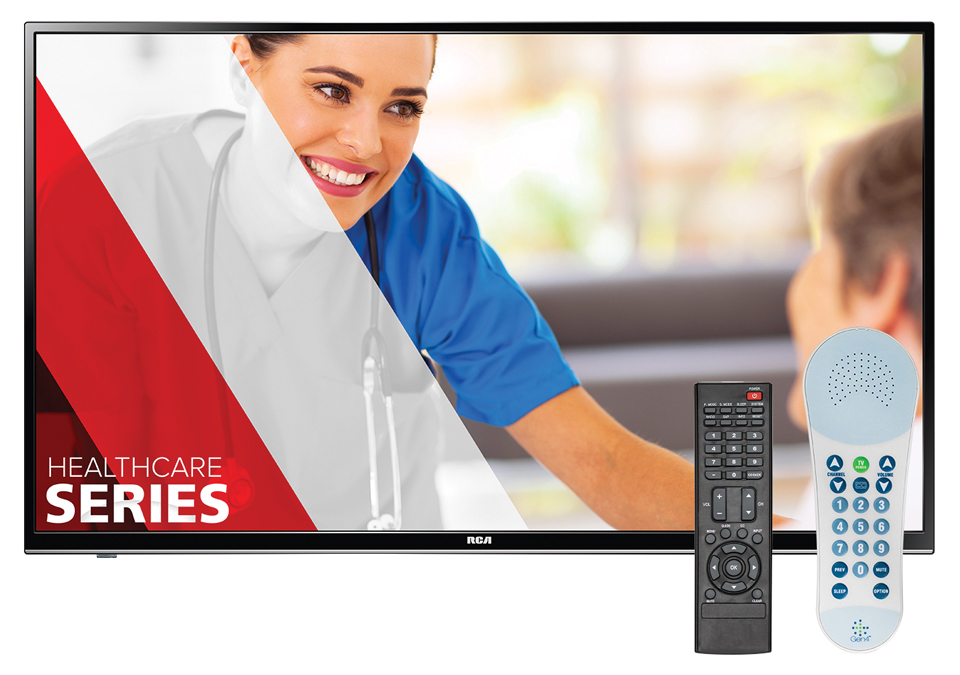 Commercial TVs
Choose from a large selection of commercial-grade TVs to complete waiting rooms with entertainment or helpful digital signage.
4. Medical Office Setup
We can help you create inviting and productive work areas for your staff through your behavioral health facility design.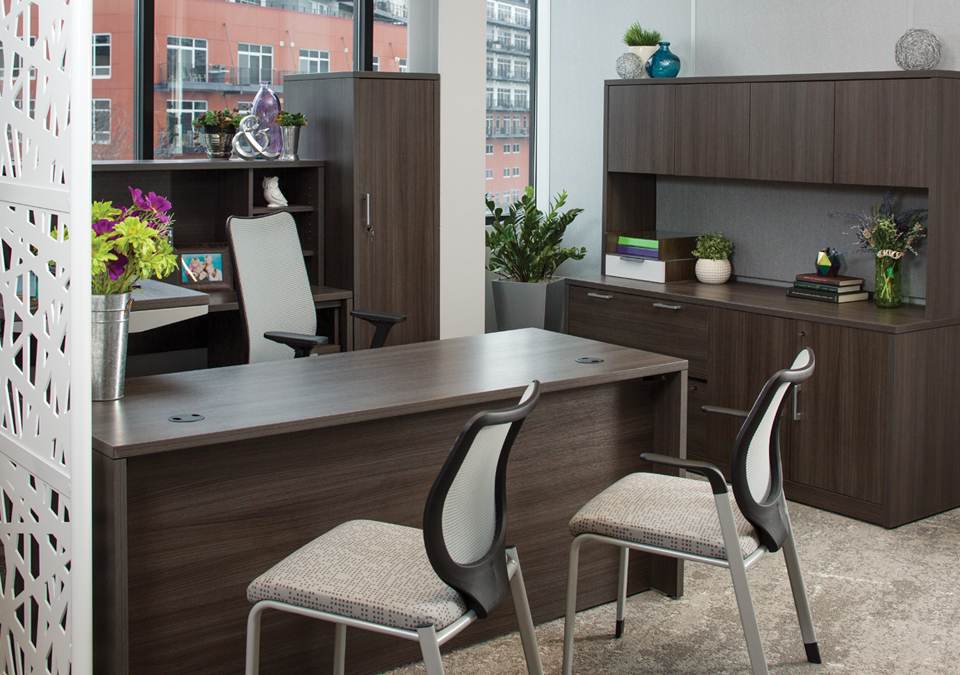 When considering your medical office design, attract and retain staff with inviting and functional office areas that support the demands of daily work and overall well-being.
From ergonomic seating to strategic storage solutions, you'll find a wide selection of options to meet your unique needs. Easily add lockable cabinetry to offices to keep important items like staff belongings or confidential information secure.
Improve air quality and help reduce pathogens in staff and patient spaces with air purifiers. Not only are air purifiers a great addition to offices, but also patient rooms where tampering is not a concern.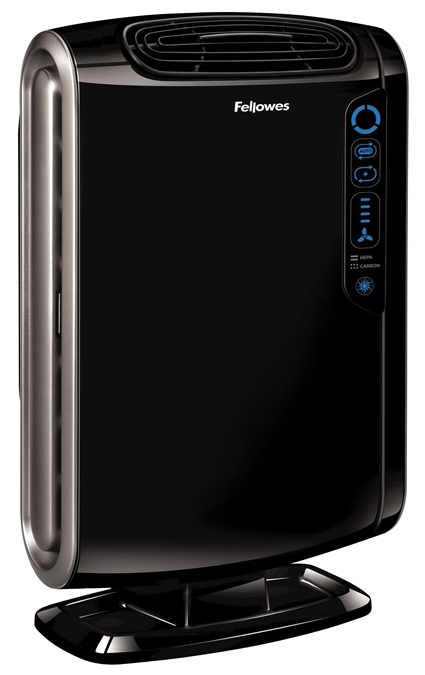 5. Wellness and Activity Spaces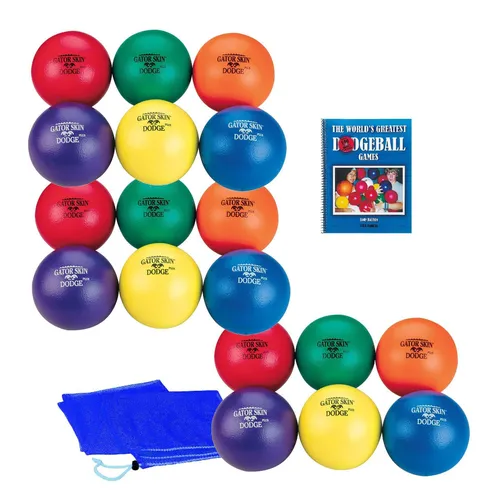 Demonstrate your focus on the whole health of your patients with a variety of wellness activities to create a healthy lifestyle that will make an impact on patients and visitors alike.
Our product experts can help you choose the best equipment for your wellness programs, exercise and engagement activities for your facility as you shop our wide array of wellness and engagement equipment.
Looking to Renovate?
With the help of our behavioral health design guide, tap into our project services offering for seamless support, so you can focus on what matters most – caring for your patients.
Count on a partner who completes 12,000 projects every year. Direct Supply's project experts are here to deliver product selection assistance, seamless delivery and installation, design expertise and so much more. For projects big and small, rely on the Direct Supply difference.
See why 50,000 Healthcare customers already count on Direct Supply. Explore our full behavioral health product selection or contact us today.