Commercial laundry linens and items in a Senior Living facility need regular cleaning to ensure infection prevention protocols and residents are satisfied. Make sure these proper laundry procedures are part of your laundry process and find the commercial laundry equipment you need for your Senior Living Laundry program. 
From clean linens to dry cleaning, read below for a guide to the industrial laundry process in your Senior Living community. With these four commercial laundry steps, your Senior Living laundry program can ensure the cleanest resident laundry and best senior care.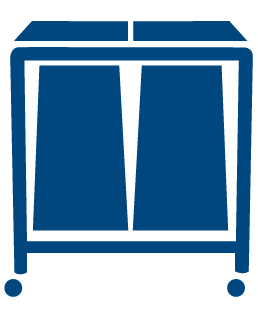 Step 1: Collection – Set up collection points and gather soiled laundry
Start the industrial laundry process off right with a smooth collection. Collect commercial laundry linens and laundry when a bed is changed and place a fresh bag in the resident room. Make collection points visible and accessible in your laundry process, and set them up throughout the building or wing.
Room layouts will dictate how many collection points there are, so communicate where they are and a regular pick-up/drop-off schedule with staff and residents.
In some communities, bedding, bath and personal attire are collected in one container, and then divided back out again in the laundry room. If space exists, use separate receptacles for each line.
Infection Control Tip!
Avoid overstuffing during soiled laundry management infection control
Overstuffed laundry bags can cause soiled linen to sit for more than 24 hours. In the case of wet linens, this may contribute to bacteria growth and greater infection risk.
In addition, overstuffed bags can contribute to staff injuries and damaged linens.
Commercial Laundry Equipment Used
Step 2: Sorting
– Separate, weigh and transfer "like" commercial laundry items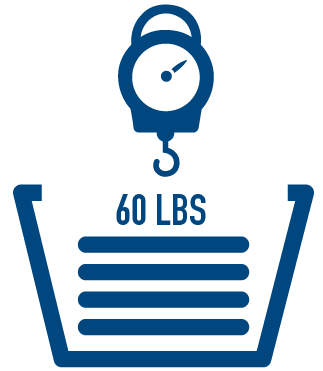 During your laundry process, sort "like" items, including:
Similar colors (specifically lights and darks)

Similar fabric types

Any percent polyester-blended items can be washed together

100% cotton items should be washed with cotton due to temperature needs

Microfiber should always be washed separately

Overly soiled linens (incontinent pads, cleaning cloths, items soiled with bodily fluids)
Determine the right chemical formulas with a qualified chemical vendor. Each type of item requires a unique chemical formula to ensure infection control, increase the life of the linens and save costs.
Work closely with a qualified chemical vendor to set the formulas for different types of commercial laundry linen. The chemical vendor should check formulas and equipment at least once per month for correct chemical mix and dispenser alarms.
Weigh the laundry before placing it in the washer/extractor. This will help to:
Decrease costs – under-filling machines can create inefficiencies and increase costs of labor, chemicals, water and energy

Maintain the life of the linen – over-filling can damage linen

Maintain the life of the commercial laundry equipment
In general, washing machines work best at about 80% of capacity, depending on the extractor.
Infection Control Tip!
Always measure chemicals and weigh laundry
Each type of item requires a unique chemical formula to ensure adequate disinfection. Also, if a machine is over-filled, the item will not have the appropriate amount of space to be cleaned and disinfected.
Commercial Laundry Equipment Used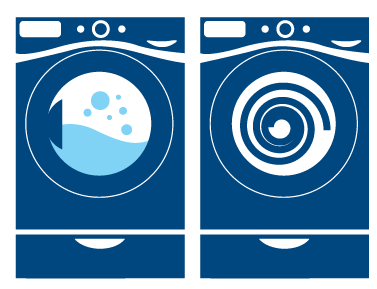 Step 3: Laundering – U

se

washers/extractors and dryers to clean, disinfect and dry the commercial laundry; follow any item laundry instructions
Once laundry is collected, sorted and weighed, the commercial laundry machines will take care of most of the work during this step. Remember to ensure the correct chemical formulas and weights. In general, washing machines work best at about 80% of capacity, depending on the extractor.
More-efficient commercial laundry equipment uses less water and energy. So a higher cost up-front will save you money in the long run during this step.
Do not over-dry the laundry. Over-drying increases energy, labor and linen costs. Finished laundry should have a slight amount of moisture when removed from the dryer. It should not feel hot.
Infection Control Tip!
 Disinfect laundry machines
Take a disinfectant wipe to the inside of washing machines and dryers in between cycles to remove additional microbes that may not have been eliminated during the laundry process. To avoid ruining certain textiles, do not use a bleach wipe. Hydrogen peroxide wipes offer similar kill claims with fewer harmful aftereffects. Be sure that any disinfecting wipe is an EPA-registered List N disinfectant. This is an important step in soiled laundry management infection control.
Commercial Laundry Equipment Used
Step 4: Distributing 
– Restock linen closets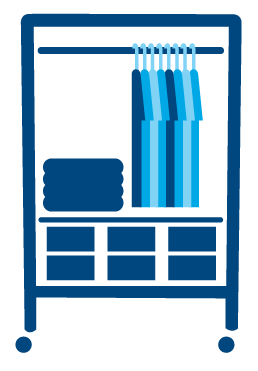 Fold and place laundry on linen or distribution carts and take to a centralized closet on each wing.
Make linen distribution spots convenient for staff, ideally one per wing. Otherwise, employees tend to horde the linens to save time and effort.
Check and maintain stocking levels on a regular basis. Overstocking will take up unnecessary space and increase upfront linen costs. Understocking will decrease staff efficiency promote employee linen hoarding. It can also decrease the life of the linen due to increased laundering.
Infection Control Tip!
Disinfect hampers and carts
Clean and disinfect all clothes and linen hampers and carts after each use using a non-bleach disinfecting wipe.
Commercial Laundry Equipment Used

Optional Step: Labeling
– This
step occurs if a facility has a laundry service in place to wash residents' personal items
Avoid losses and frustrated residents by correctly labeling personal items. Labels can also speed up the distribution process and increase on-time laundry deliveries.
Discover labeling systems and accessories to enhance your Senior Living laundry process.
Direct Supply can support all your commercial laundry needs.
Follow these steps to do laundry and our industrial laundry process flow chart. You'll be on your way to better soiled laundry management infection control, more efficient processes and cost savings. 
Find everything you need to ensure to help reduce disease transmission and cross-contamination with Direct Supply's full lineup of laundry essentials. Or, call 800-634-7328 anytime to discuss your needs.
For more commercial laundry infection control tips, find the 4 most common infection control mistakes made during the process.