Weekly call volume: 1.2 to 11.4
Weekly tours: 1.2 to 3.2
Occupancy rate: 94%
Conversion to Deposits: Doubled.
Completion Year
2023
Location
Brookfield, WI
Project Type
Renovation
Care Type
Independent Living
Services Provided
Interior Design, FF&E
Transforming Senior Living: The Ruby Commons Story- A Story of Rejuvenation and Collaboration
Nestled in the vibrant community of Brookfield, Wisconsin, Ruby Commons (formerly Heritage Place) by Capri Communities stands as a testament to the beauty of rejuvenation and the power of meaningful collaboration. This Independent and Assisted Living Community boasts a perfect blend of comfort, safety and security, providing residents with environments that enable an active and social lifestyle. The journey of turning this outdated building into a bright and modern haven involved not just a renovation, but a partnership. 
A Partnership For Excellence: The Capri-Aptura Connection
Ruby Commons represents a noteworthy milestone in the partnership between Capri Communities and Direct Supply® Aptura®. Throughout their long-standing relationship, Aptura has predominantly supported Capri Communities' new construction projects. Ruby Commons presented the opportunity for the two old friends to join forces on a different type of project: a renovation. 
 "Collaborating with Aptura guarantees a seamless process. When challenges arise, I have confidence in Aptura's ability to manage them. This reliability, combined with the elevated look of Aptura's work, is why we continually choose to partner with them."
The incorporation of fresh FF&E elements ushered in a contemporary transformation aligned with the latest design trends. Ruby Commons serves as a powerful demonstration of how an environment can undergo a complete reimagination without altering the bones of a building. This accomplishment not only revitalized Ruby Commons but also underscored how strategic updates can be effective in keeping spaces lively with the ever-heightening standards of Senior Living.
Elevating Experiences: A Vision of Comfort and Resident Engagement
Ruby Commons was presented with a unique challenge: it needed to stand out in a market surrounded by new competitors. Schoenemann had a clear vision for the renovation project. The desired outcome was not just an aesthetic facelift; it was a revitalization that positively impacted the well-being and comfort of their residents.
Amy shared that the project aimed to revitalize the once-tired, outdated appearance of the facility. Residents were using the same spaces repeatedly and the areas lacked the individuality and character that Capri aspired to create. 
By reimagining the use of different rooms through biophilic and locally-inspired design, Aptura Head Interior Designer Rebecca Keller was able to create a series of unique boutique spaces throughout the community.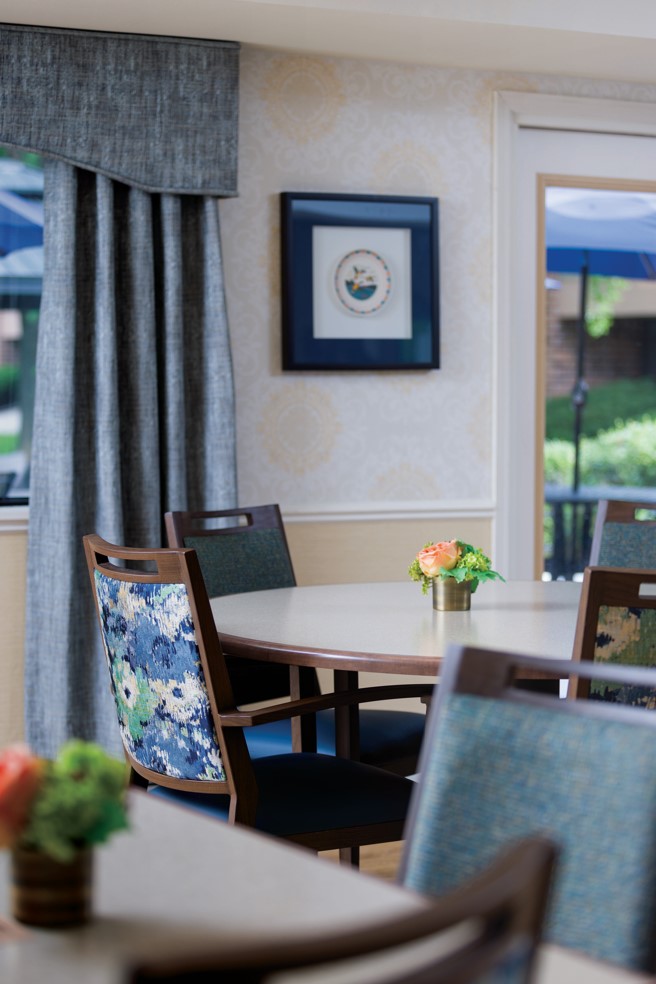 "We needed a change. Change is hard, but change is good." 
"The majority of Ruby Common's residents hold onto memories of Brookfield as an agricultural community. Inspired by the history of the community, we incorporated elements of modern design with a touch of Wisconsin supper club ambiance."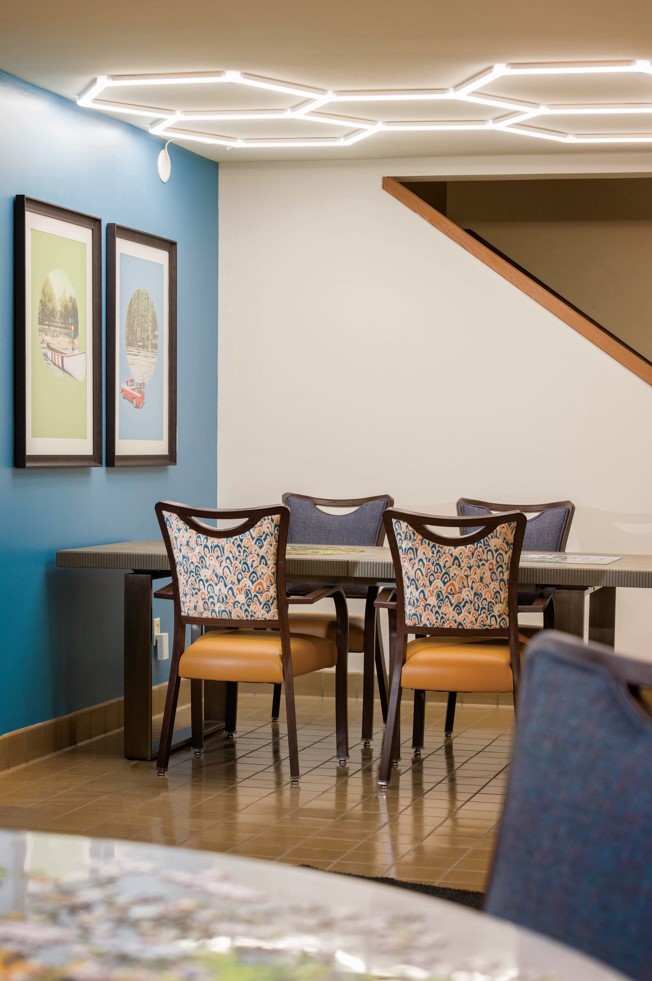 Rebecca's design encourages social interaction and community engagement, aligning perfectly with Amy's wishes for the community refresh. The impact on daily operations was noticeable, with new activities, increased participation and purposeful use of the refreshed common spaces. Perhaps the most remarkable transformation occurred in the supper club-style lounge. While described in its previous state as a 'thrift store of old furniture', the space has been revitalized into a vibrant game lounge complete with poker tables, TVs, and plush seating. This lounge now offers residents a comfortable space to enjoy Packer and Brewer games, exuding a masculine ambiance with its deep green wall coverings, striking copper-colored ceiling and improved lighting. What was once a vacant space has been transformed into a premier destination for card tournaments and a meeting spot for all.
Resident Jeanie S. and her dog Cooper shared how the renovations have impacted them. 
"The update is very modern, the furniture is comfortable, and the accessories tie in with the artwork. We love it!"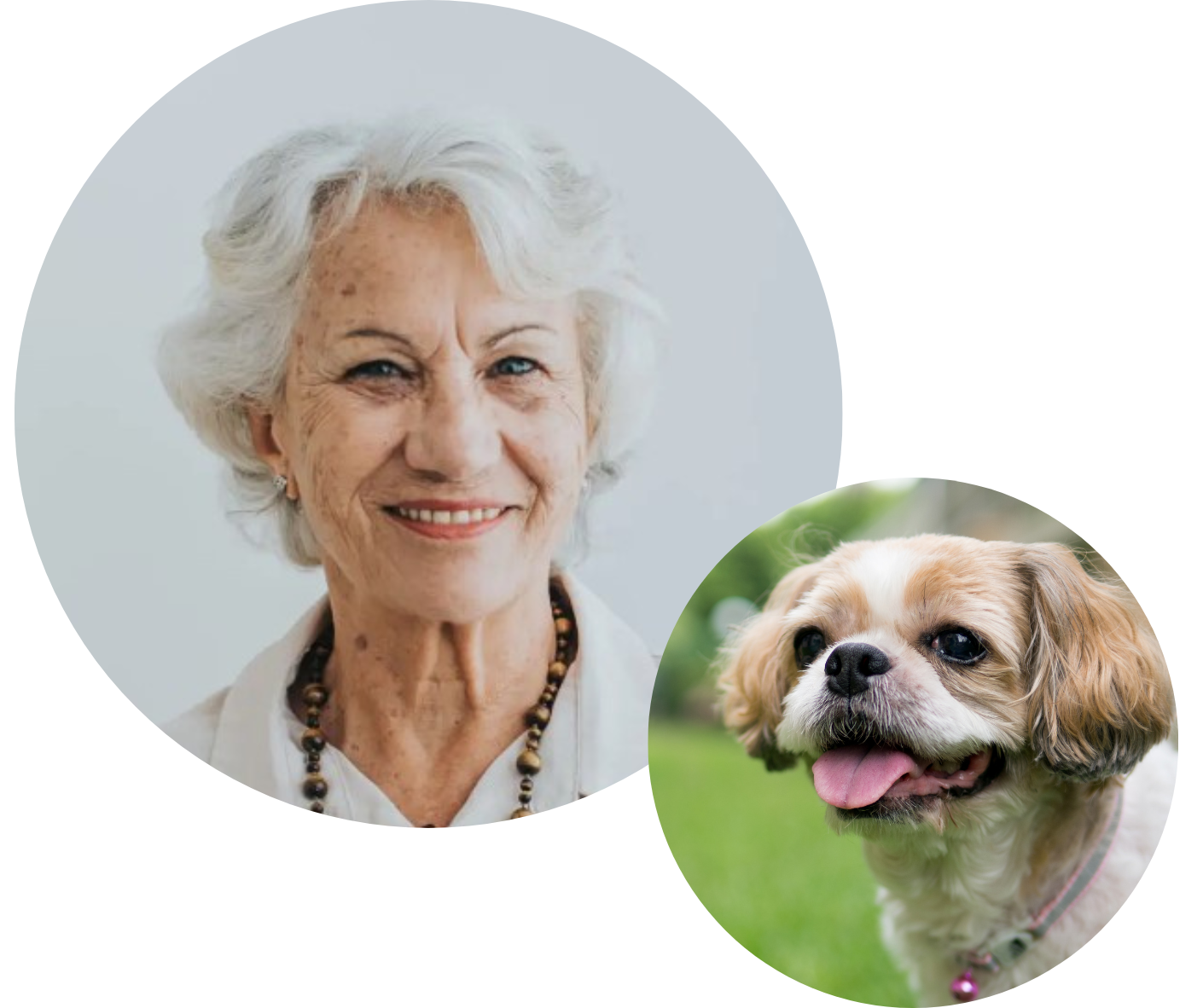 The Beauty of Details: A Resident-Centric Approach
The attention to detail in Ruby Commons is a true testament to the care and consideration given to each aspect of every Aptura senior housing project. The project emphasizes the impact of crafting a meaningful living environment, evident in the thoughtfully designed hallways that honor local Milwaukee, Lake Geneva and northern Wisconsin landscapes. The innovative approach is taken in spaces such as the puzzle room, where careful attention to lighting and furniture arrangement revitalized residents' interest in a beloved activity.
The Atrium, the center of the community, became a shining example of how design can change the ambiance of a room. The unique 26-foot high wall covering murals and the thoughtful use of natural light transformed it into a vibrant, welcoming hub that serves as the heartbeat of Ruby Commons. 
Ruby Commons' Renovation Results: Increased Call Volume, Tours and Occupancy
The results speak for themselves. Ruby Commons, once outdated and surrounded by newer competitors, now shines as a beacon of modernity and comfort. The improved marketability, increased census and enhanced ROI show the tangible impact of the renovation. The community's weekly call volume has increased from 1.2 to 11.4 calls per week and tour generation has increased from 1.2 tours to 3.2 tours per week. Cindy Robinson, Vice President of Sales and Marketing for Capri Communities, has seen these dramatic changes firsthand:
"Since the renovation, inquiries have increased dramatically, which has led to increased and steady tours and subsequent deposits. In the weeks leading to the completed renovation, the community held 9-12 vacancies. Currently, the community is projected to close that gap to 7 in the next 40 days. Activity remains high and there is confidence this community will stabilize to 94% or higher occupancy".
Amy chimed in with similar sentiments, stating that Aptura is her number-one pick for new construction and renovation projects. She remarks that:
"Aptura's Senior Living design is more elevated than anything I've seen from competition. There is a thoughtful approach and an extra level of sophistication that I don't see in other buildings I come across. It's in all of the little details. I am constantly getting inquiries from residents, families, and staff asking if they can buy a specific piece of furniture or artwork from throughout the Senior Living facility- how often do you hear that in a Senior Living community?" 
Capri's recommendation of Direct Supply Aptura isn't just a professional endorsement; it's a testament to the unique blend of design, attention to detail and ongoing commitment to service that is brought to every project.
Are you looking to increase marketability and census as your community?
Leave us a note and let's transform your space together.