Senior Living residents have undergone prolonged isolation during the COVID-19 pandemic. This may place them at an increased risk of falls due to a lack of mobility and reduced strength. According to the CDC, "falls are the leading cause of injury-related death among adults age 65 and older."1 Specifically in Memory Care, falls increased by 20% amid the pandemic.2 Falls remain one of the top ongoing challenges in Senior Living communities.
Advances in Senior Living technology are offering new insights to help with elderly fall prevention. These insights include a deeper look at resident intentions, motivations and interactions with their environments, primarily in their bedrooms. This will help caregivers tailor a response to each resident's needs.
Preventing falls doesn't have a one-size-fits-all solution. It requires individualized fall prevention strategies combining fall prevention technology and products, Senior Living design trends, and staff education. With all of these parts working together, you can develop an effective fall prevention program to help improve senior safety in your community.
The Future of Elderly Fall Prevention Technology
As new Senior Living technologies are made available, interior and technology designers are able to leverage these solutions to follow an evidence-based approach to evaluating and designing room layouts. This presents an opportunity for room design to become a foundational piece that supports the well-being and safety of seniors.
One of these new Senior Living technologies, SafelyYou, is an AI-enabled camera system that detects falls of individuals in real time. Communities that have piloted SafelyYou have seen up to 40% fewer falls and up to a 80% reduction in fall-related ER visits.3 
Once the SafelyYou system detects a fall, it notifies care staff, who can view the video immediately after the fall. Viewing the recordings can help caregivers take a personalized approach and determine fall prevention interventions to help prevent falls in the future. Sometimes even the simplest adjustments to a resident's living environment can have the biggest impact on fall prevention.
According to data from over 3,000 fall events from SafelyYou customers from August 2020 through May 2021: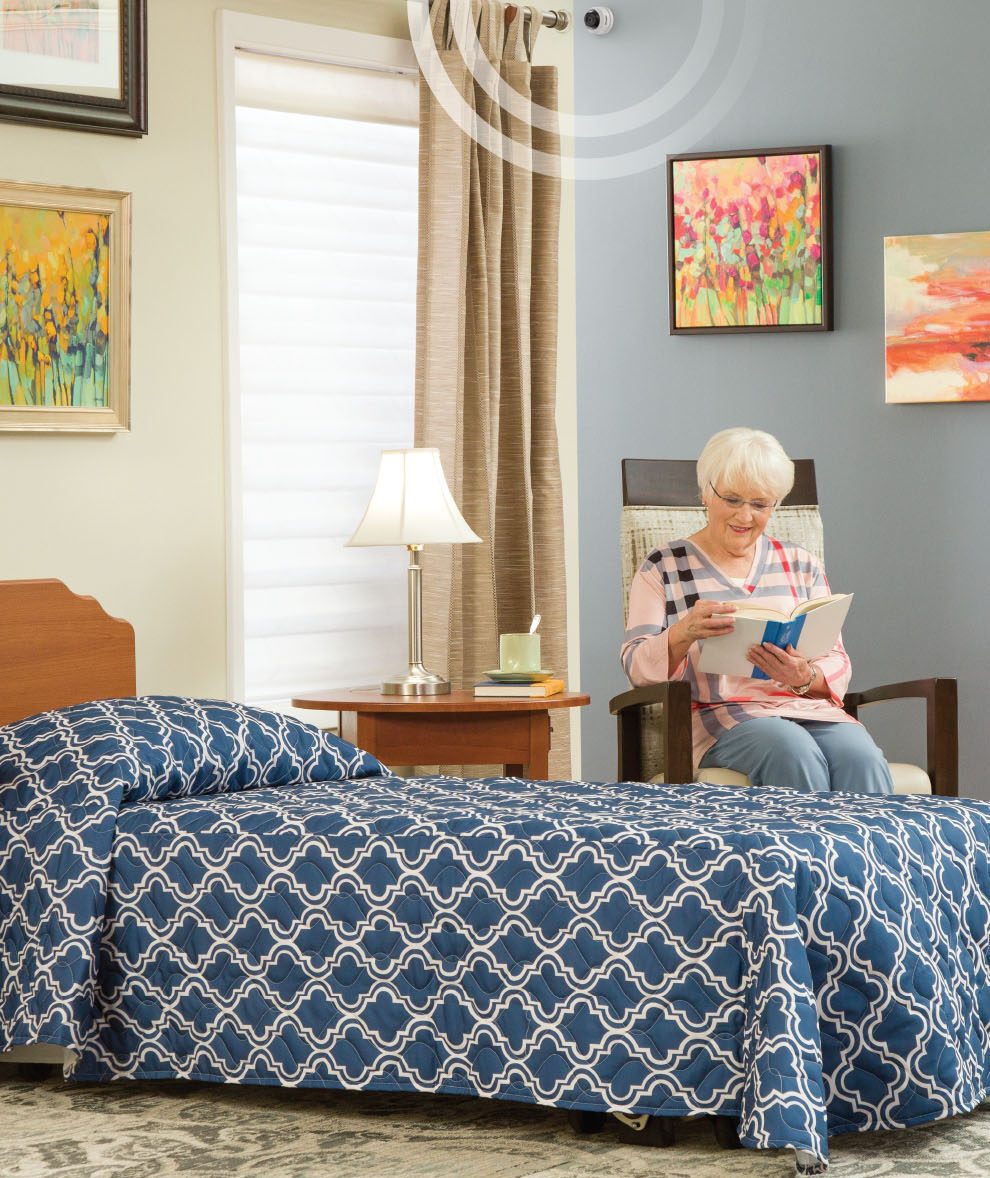 The room is cluttered in 59% of falls.
Possible Intervention: Caregiving staff can remove tripping hazards as a part of their regular wellness checks to help with slip, trip and fall prevention.
You also can add storage options that still allow residents to see their possessions but intuitively encourage putting items away. Adding cues like decorative signs or labels on bins can help residents with a cognitive impairment be reminded where to place items.
The closet door is open in 25% of falls.
Possible Intervention: Open doors can act as cues to residents with a cognitive impairment, triggering the desire to get up and close them.
Implementing a fall prevention checklist of key safety areas on a clipboard or near the resident's door can be helpful for residents, families and staff.
40% of detected "on the floor" events are from intentional self-lowering. Of those, 78% are from the bed.
Possible Intervention: Implement products and equipment to help promote safer transfers, such as adjustable-height beds.
Shop Adjustable-Height Beds >>
Also, look for clues as to what is prompting residents to lower themselves to the floor. Are they trying to turn off a light or change the TV channel? Can furniture be rearranged to make items more accessible to your residents? Technology solutions can offer valuable insight for residents who have difficulty communicating a need.
A floor pad is present in 18% of falls.
Possible Intervention: Floor pads can feel like an "easy" intervention to implement but should only be used after a fall risk assessment is completed and staff verify the resident might benefit from using one.
For those who do, it's important to determine which pad is most appropriate to help reduce fall risk. Evaluate factors like pad softness and edge type.
Shop Floor Pads >>
The room is dark in 46% of falls.
Possible Intervention: Add secondary lighting, like table lamps, or motion-sensor lights. These solutions can help residents safely navigate their surroundings without having to get out of bed to turn on the light.
Shop Secondary Lighting >>
Mobility aids are being used correctly by the resident in only 15% of falls. The mobility aid is out of reach or improperly placed 55% of the time.
Possible Intervention: Encourage your caregiving staff to communicate proper use of mobility aids with seniors and ensure the devices are easily accessible.
An assessment by a physical or occupational therapist may be needed to provide additional insight into proper mobility aids and use.
Shop Mobility Aids >>
22% of unintentional falls are "silent," meaning the resident got back up on his or her own.
Possible Intervention: Add fall detection technology to your resident rooms. Without it, these instances of unintentional falls likely would go undetected and unreported to caregiving staff, and potentially lead to future fall-related injuries.
Learn more about how SafelyYou can help you with fall prevention for seniors. >>
Breaking the Mold of Traditional Senior Living Interior Design
While technology capabilities continue to rapidly evolve, Senior Living room layouts have remained static over many decades. They offer roughly the same square footage, window placements, and closet, bathroom and furniture locations. 
Typically resident rooms are designed based on the condition of seniors when they first enter a community. They are also focused on making a memorable first impression from a marketing perspective to attract prospects.
When offering tours to prospective residents and their families, shift the primary focus away from appearance and more toward functionality. From a care standpoint, demonstrate the various stages of what the same room could look like as conditions change. This will help families get a better idea of how their residents can interact with the room over time.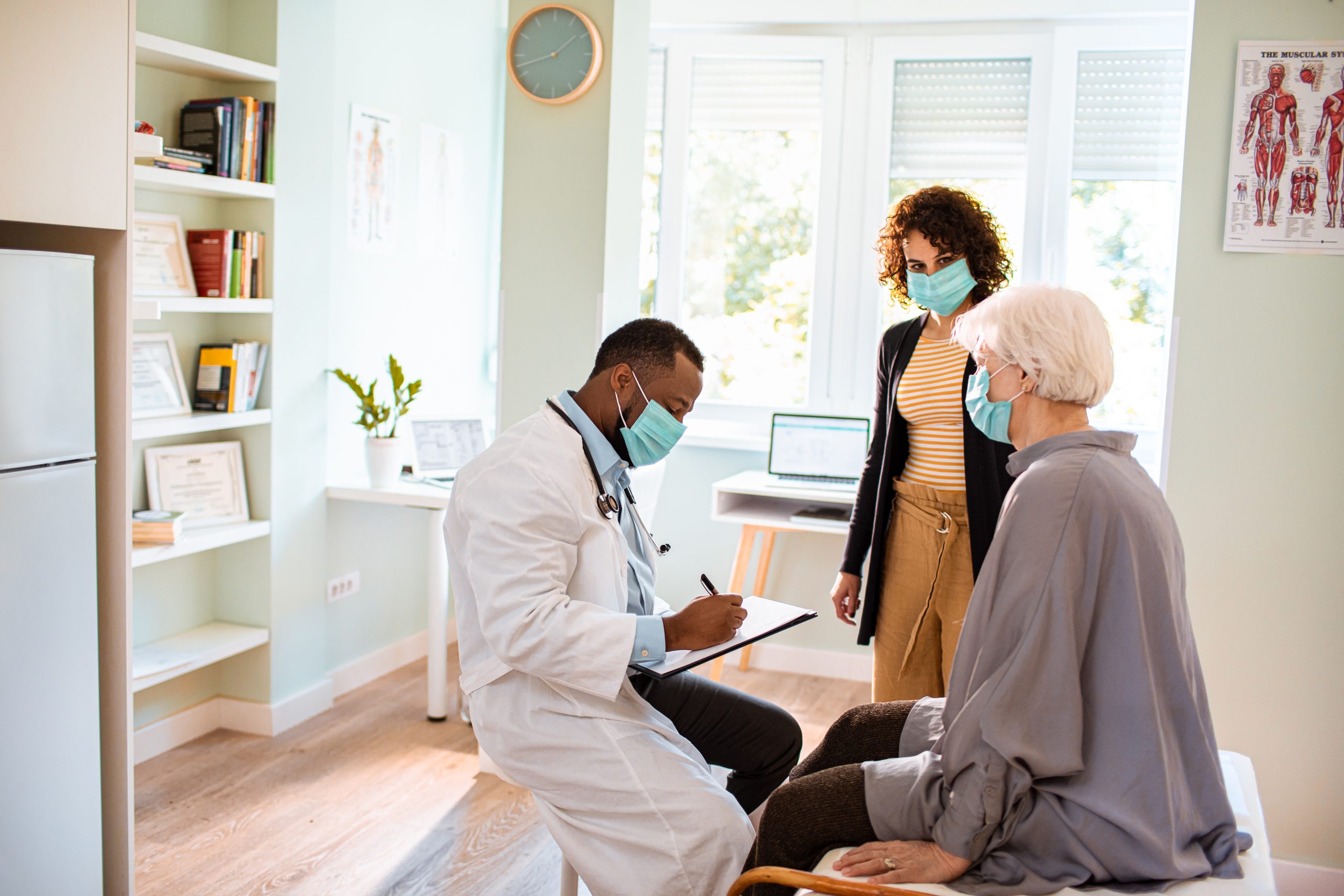 As seniors age, it becomes even more important to ensure each room maintains an outcomes-based design that prioritizes keeping the residents safe. This can be done by adjusting the placement of furniture throughout the room. For example, residents typically have a preference of which side to get out of bed. You can easily accommodate that need by ensuring any mobility aids aren't impeding the preferred side of bed. You also can relocate the bed so the preferred side provides easier access to other areas of the room, such as the bathroom or closet. This way, residents don't have to navigate their way around the bed, which helps eliminate a fall hazard.
By following design best practices and examples like the one above, Senor Living interior designers are striving to create more flexible, adaptable spaces intended to not only maximize aesthetic appeal, but also help residents be independent longer across the continuum of care.
1https://www.cdc.gov/homeandrecreationalsafety/falls/data/deaths-from-falls.html#:~:text=Falls%20are%20the%20leading%20cause,fall%20death%20rate%20is%20increasing.&text=The%20age%2Dadjusted%20fall%20death%20rate%20is%2064%20deaths%20per,30%25%20from%202009%20to%202018.
220% increase based on comparison of two four-week periods, one before COVID-19 and one when COVID-19 distancing protocols were in effect. Data based on detected falls in 23 communities using the SafelyYou solution.
3Aggregated data from facilities prior to and after implementing the SafelyYou solution during a 32-week period in 2019-2020. Individual and community results will vary based on a variety of factors.