Tina Burns
Senior Foodservice Product Consultant, Direct Supply
Meal delivery equipment and products can help improve patient satisfaction and contribute to hospital food service best practices. Everything from hospital food trays to meal delivery carts can make a huge difference in quality improvement. Patients deserve the best, and focusing on high-quality food service operations will help to improve patient satisfaction. 
In this blog, Tina (
Senior Foodservice Product Consultant)
will share some helpful tips for delivering hot and appetizing meals to your patients and staff workflow solutions.
Setting the Stage for Hospital Food Service Quality Improvement
Tip: Consider Travel Distance: Time the Hospital Food Service Process
The first thing to consider is how long it takes to deliver the meals. The clock starts ticking the moment the first meal is plated and doesn't stop until the last plate is delivered. To get a sense of your current delivery times, have your staff spend a week timing when the first meal is plated and then put that same timer on the last tray that will be delivered.
 Be sure to reassure them that the point of this week-long exercise is to assess the hospital food service process so you can properly gauge which system is needed. Once you determine how long it takes your team to deliver the meals, you can decide which meal delivery system best meets your needs. Systems are rated for 30, 60, or 90 minute hold times. Shop Foodservice Solutions to help prioritize quality patient care in the hospital food service process.
Tip: Insulate Food and Implement a Hospital Food Delivery System
The first step in delivering hot food is to start with a hot plate. This is important because if you put hot food on a cold plate, food immediately starts to lose temperature. A wide variety of plate heaters are available to help with this first step in improving food service in hospitals.
In general, if it takes 30 minutes or less to deliver food, a plate warmer and insulated base and dome should ensure the food is warm when it arrives. Options like Marquis insulated ware work well.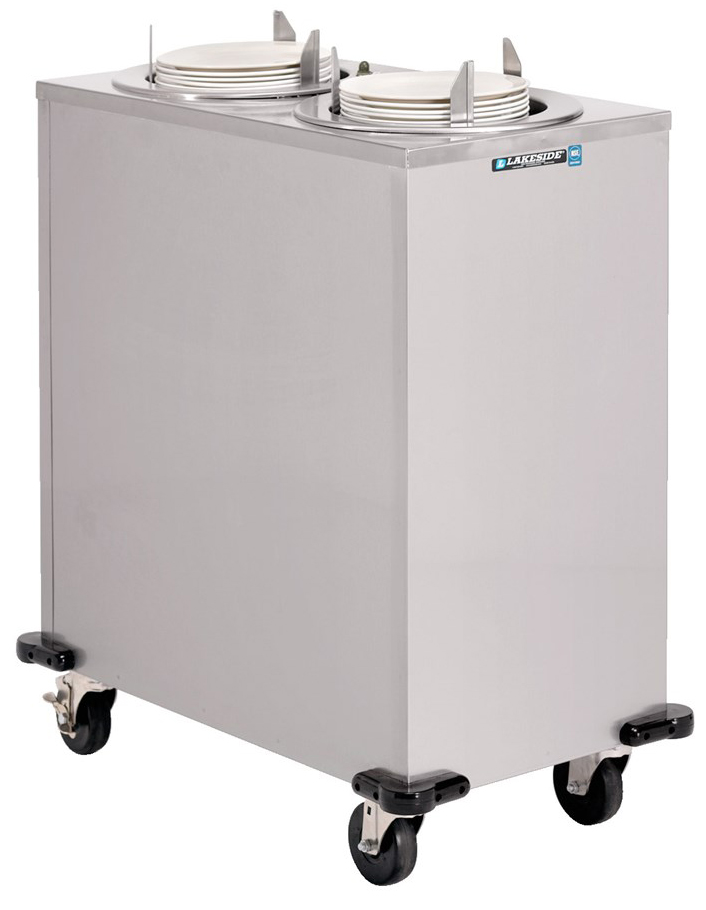 If meal delivery takes longer than 30 minutes, there are several options to consider. One option is the traditional pellet method.  Depending on the brand of pellets, you can get anywhere from 60-90 minutes of hold time. There is also the option of induction systems. These induction systems come in several different varieties…
One option can heat up to 20 bases at a time with the bases being ready in about 12 seconds…

This option can hold food up to 45-60 minutes

Another 60 minute option heats the bases one at a time in 35-second increments
The 90 minute option can heat food in 10-15 seconds depending on the base being used 

This option also charges up to 240 bases per hour
For any of these different systems, it is important to note that the induction bases are not interchangeable across brands. You must use the specific base for the style of warmer you are using.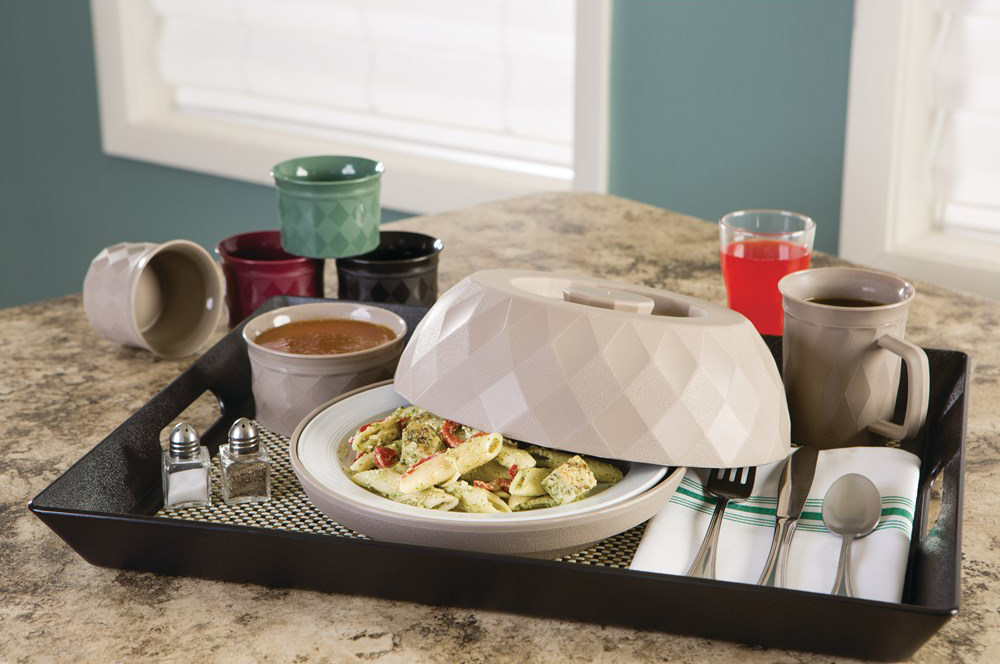 So, you have your hot food covered. Now how do you get it to the patient?
Selecting and Utilizing Hospital Trays and Meal Carts
Tip: Take into account your unique needs and select the hospital food cart that matches them
Stainless Steel Hospital Food Carts
Stainless steel hospital food carts will not stain, absorb odors or discolor, and the inpatient hospital food tray can be removed for easy cleaning. Stainless steel is the most sanitary material when cleaned and cared for properly, and vented sides help eliminate odor buildup and heat transfer among the food on the cart. However, these carts are susceptible to dents and scratches and can be heavy and difficult to move. 
Aluminum Hospital Food Carts 
Aluminum hospital food carts are an economical alternative to stainless steel. Their lightweight design makes them easier to maneuver, and they share stainless steel's resistance to stains, odors and discoloring. In addition, the hospital food trays can be removed for easy cleaning. But like stainless steel, aluminum is susceptible to dents and scratches.
Poly Hospital Food Carts
Poly hospital food carts are more lightweight than aluminum and stainless steel and will not rust, dent or crack. Thus, they move quietly through the building but do not offer the ability to remove the hospital food tray slides for cleaning.
There are also poly and steel combination carts that offer the best of both worlds: heavy-duty capabilities in a lightweight, easy-to-clean design. This style of cart may not fit the look your hospital is trying to achieve, however.
Insulated Hospital Food Carts
Insulated hospital food carts are another popular item for discussion. While these hospital food carts used to transport bulk food are indeed insulated, the majority of hospital food tray delivery carts are (with a few exceptions) generally not insulated. This is because hospital food trays typically contain both hot and cold food. 
If the cart is insulated, the cold food would be adversely affected. The majority of hospital food carts are actually vented so that the hot air inside the cart can dissipate. However, examples of exceptions to this rule include products such as the Meals on Command II and other accessories. If you are using an insulated cart, consider using a Non-Insulated Base and Dome so that the food is able to obtain heat from the cart.
For hospitals looking for something new and innovative, hot cold carts offer the ability to simultaneously carry cold and hot food to patients in just one easy trip. Carts such as the Heated Cold Cart and the Insulated Heated and Refrigerated Transport Cabinet contain separate compartments so that you control which food stays hot and cold. These carts require different trays and should use non-insulated domes and bases.
In addition to food carts and trays, you may want to consider other products that will enhance your hospital foodservice. Patients and staff need to stay hydrated – consider a quality Commercial Ice Machine or ice and water dispensers to serve patients and staff alike. Easy Installation and Delivery Services are also available for stress-free appliance purchases.
Incorporating Containers and Smallwares for Improving Hospital Foodservice
Tip: Save time and help reduce the risk of cross-contamination with the use of disposable containers, hospital drinking cups, and hospital utensils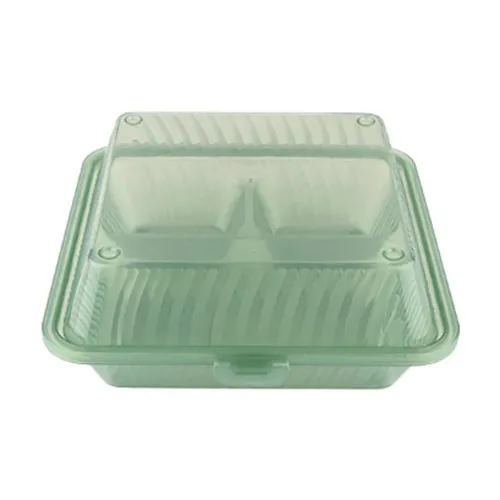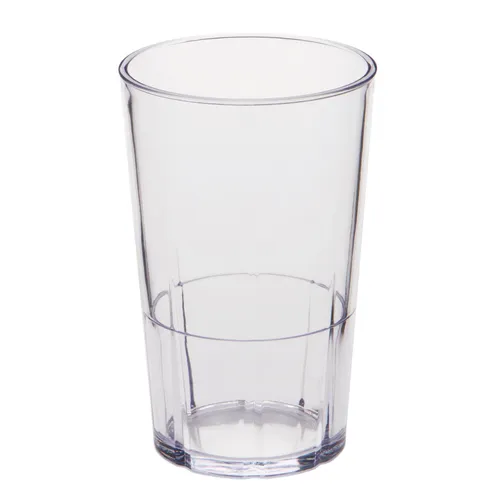 Your Single Source for Hospital Food Service: Direct Supply
Stop Searching. Start Finding.
Healthcare's largest on-contract selection means Direct Supply has what you're searching for.  From healthcare equipment, furniture and appliances to foodservice and environmental needs, Direct Supply® has 1M+ products we can source for you, with free personal assistance to select, compare and save. For help on selecting the best Healthcare products to meet your specific needs, contact us for assistance.
Request an Account to Access 4,000 Suppliers in One
Access healthcare's most resilient supply chain and discover our 1M+ products, all on contract. Request an account or call 844-545-7428 for personalized support.