Mental health interior design trends are all about feel-good functionality in 2023. Our design experts are focusing on wellness-inspired mental health design for patients and staff including biophilic design, optimal colors and textures and considering the mental wellness of your staff in addition to your facility's patients. Healthcare interior design must aid clinical staff in their workflows, lead to improved outcomes and create spaces for optimal patient wellbeing. 
Read on to learn how to improve patient experiences and how to prevent burnout in healthcare with a focus on interior design and mental health in your next room refresh project.
4 Mental Health Interior Design Considerations for Your Next Room Refresh Project
1. Healthcare Interior Design for Well-Being​
Healthcare interior design and mental health go hand-in-hand. Together, both can help alleviate healthcare worker burnout and improve patient experiences through well-being design. 
Access to outdoor spaces, ample natural light and integrating organic design elements help support mental health. Through strategic healthcare facility design, you can help boost connectivity to the natural environment to benefit the health of everyone in the building.
The concept of biophilia, ultimately suggesting that that there is an instinctive bond between human beings and other living systems, has been around since 1984.1  The theory of biophilia gives way to the biophilic design strategy – seeking to reconnect people, patients in this instance, with the natural environment.2
 According to Amanda Sturgeon in her book Creating Biophilic Buildings, "True biophilic design goes much further and deeper, drawing on the intrinsic psychology that is mapped in our brains calling for us to be connected deeply to the natural world."3
There are '14 Patterns of Biophilic Design' according to Browning et al (2014).4 They include design patterns relating to visual and nonvisual nature connections. These can be applied in Healthcare design by offering views to nature, including nature indoors or nature inspired art. 
How can you incorporate fresh, clean and natural materials to combine interior design and mental health? Add hardy plants to a popular window spot to bring the outdoors in and help with air purification, as well. Or go even farther with incorporating technical biophilic design patterns in room refreshes. Improve patient satisfaction, as well as alleviate burnout from your staff with healthcare design that encompasses wellbeing and promotes better mental health. 
Partner with our mental health interior design and project management experts for a seamless space revamp.
2. Natural Colors & Playful Textures in Mental Health Design
This year's popular colors support the holistic well-being design healthcare interior design trends by paying homage to nature and promoting a feeling of home within the healthcare setting. 
Denim, linen and leather are becoming more popular in Healthcare settings and in mental health design for their nod to natural environments and timeless elegance.
Other nature-inspired hues, like blues, greens browns and golds, provide the perfect complement. Infusing these colors in your healthcare environment can be done through revamps in furnishings and paint colors.
In 2023, popular colors for interior design and mental health are a perfect blend of warm and cool colors. Warmer tones in Healthcare palettes, like oranges and yellows, are known to promote positive emotions. Warmer shades, cotton textures and cozy fabrics all provide a layer of comfort that supports a homelike environment and help both patients and staff feel at ease in a space. Warmer tones can promote positivity to alleviate healthcare worker burnout and to enhance patient experiences.
Our design consultants can help you create a stunning focal point with bold colors,  patterns and finishing touches like artwork. We can help your team with room refreshes to revamp your care environment to bring interior design and mental health together.
Looking for behavioral health design trends? Our room-by-room behavior health design guide can help you balance safety considerations while creating welcoming spaces for your patients and staff.
3. Cleanable Fabrics & Surfaces = Staff Efficiencies When Designing Spaces for Mental Health
Healthcare furniture cleanability will continue to be a huge healthcare design trend in 2022 and beyond. For surfaces that patients need to touch, consider materials with enhanced cleanability features, like antimicrobial fabrics and solid, nonporous surfaces. These can help make it easier for staff to efficiently keep the healthcare setting clean, pertinent for the mental health of your patients and staff. 
For dining and accent furniture, faux-wood metal is an excellent choice because of its ability to withstand the rigorous cleaning routines of today's environment. The best part: it's bleach cleanable, and a solution of up to 5% bleach and a minimum of 95% water can be applied with a soft, clean cloth. However, providers should always follow the manufacturer's directions regarding bleach solutions suitable for cleaning.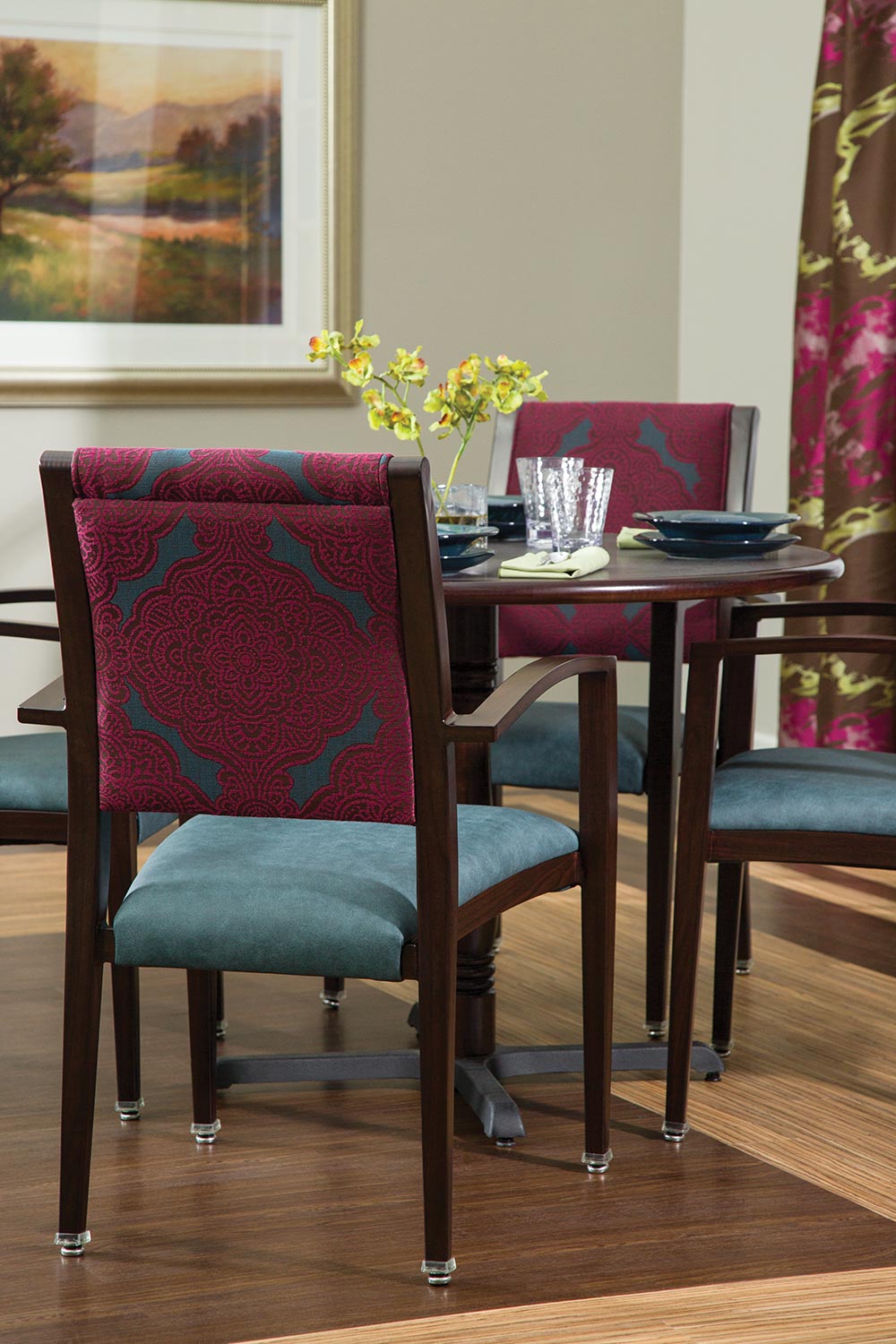 Healthcare interior design expert tips on cleaning other commonly used materials:
Crypton® – Blot ordinary spills and wipe with clean water and a sponge. For challenging stains, use a powdered enzyme detergent diluted with water, then brush, blot and rinse. Bleach is not required or recommended, but you may use a highly diluted solution if necessary.
Vinyl – Clean with a solution of warm water and mild soap. While vinyl is made to withstand daily cleanings with commonly used all-purpose cleaners, strong solvents can severely damage or discolor this material
Need help choosing the right furnishings for mental health interior design? With our free consultations and over 200+ furnishings to select from, a room refresh has never been easier. 
4. Leverage Staff Space Designs as Healthcare Burnout Solutions
In this health climate and staffing shortage, we are asking a lot of our clinical and nursing care staff. Many of the same holistic well-being healthcare design trends mentioned above can be applied to staff spaces as well, including fostering a connection to the outdoors with biophilic design, simply by bringing in plants or creating a dedicated staff patio. 
Tip! How to prevent burnout in healthcare: when designing a staff respite, add a recliner or sleeper sofa in addition to traditional tables and chairs. Provide ample charging ports for personal electronics so staff can connect with family and friends during their breaks. 
Another staff and patient experience best practice leverages infection prevention. Many providers are rethinking the way staff members enter the building as well to promote infection prevention. If the staff entrance leads into a shared patient space, providers may want to create a separate entry for staff. A separate area can allow employees to clean up before and after their shifts.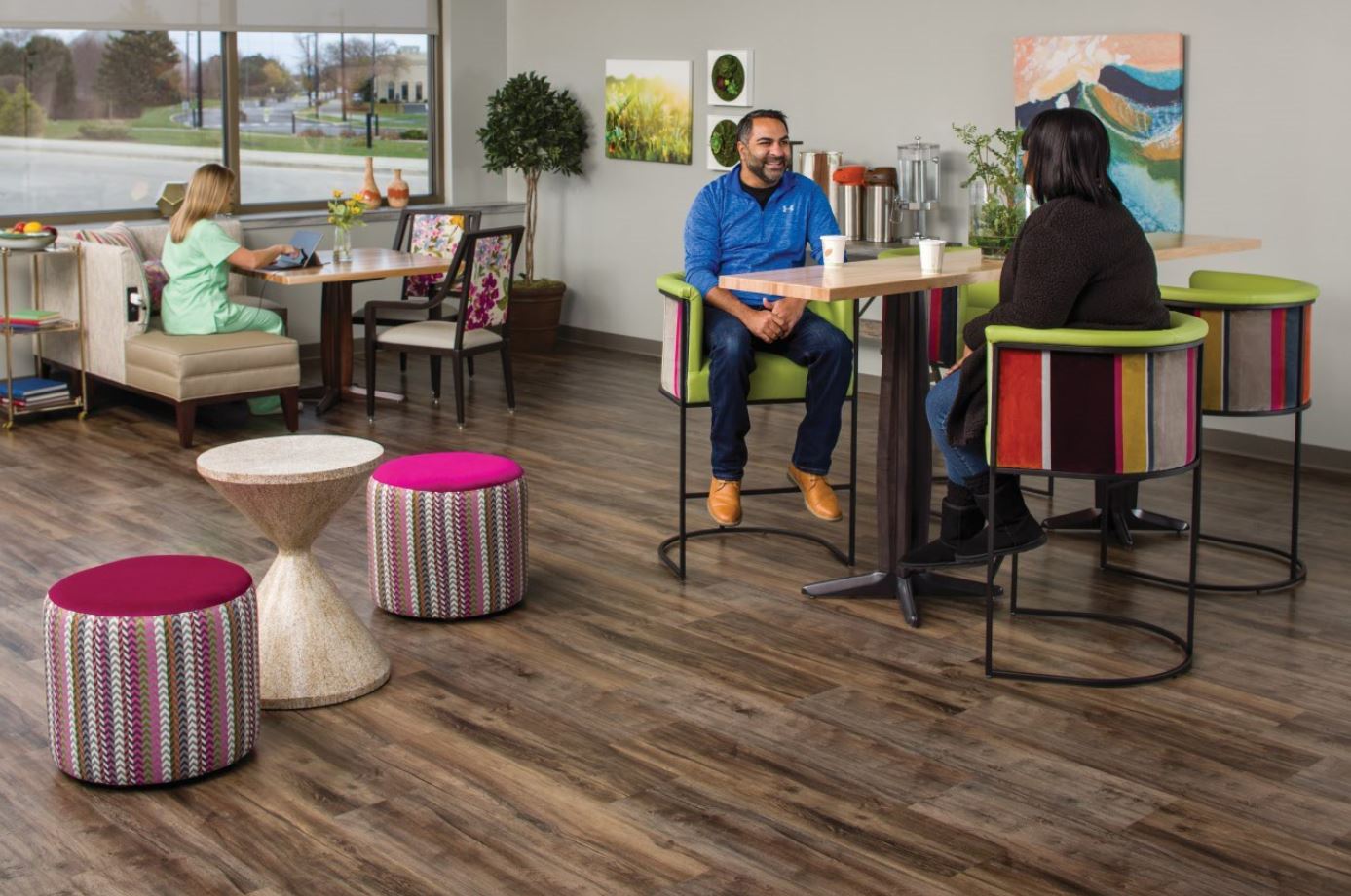 The Bottom Line: 4 Mental Health Interior Design Considerations
When designing spaces for mental health, leveraging these trends to enhance mental health interior design can help you create a more marketable, attractive space. Alleviate healthcare worker burnout and elevate patient wellbeing by infusing interior design and mental health.
Looking to revamp a space? Our project services team can help interior design and mental health coincide in your healthcare setting with paint and furnishing selection, delivery and installation, and project management. With over 12,000 projects completed every year, our design experts can aid you in alleviating burnout and creating optimal patient experiences. 
Request a free consultation to start your next Healthcare design project and see why 50,000 Healthcare professionals count on Direct Supply,
Learn how our team can help you get your healthcare project started.
1 E.O. Wilson, Biophilia, Harvard University Press, Harvard, USA, (1984).
2 T. Beatley, Biophilic Cities, Island Press, Washington DC, (2010).
3 Sturgeon, A., & Grable, J. (2017). Creating biophilic buildings. Ecotone Publishing, an imprint of International Living Future Institute.
4 W.D. Browning, C.O. Ryan, and J.O. Clancy, 14 Patterns of Biophilic Design, Terrapin Bright Green, LLC, New York, (2014).