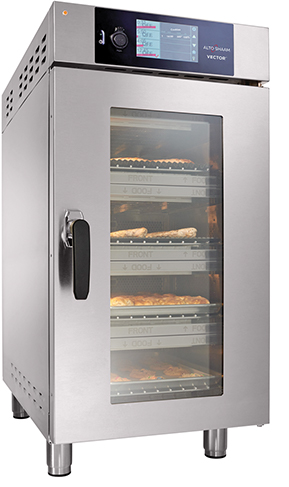 Creating pleasurable dining in Long Term Care for residents starts with having a kitchen that is both operationally efficient and well-equipped. Obviously, an efficient kitchen will not only help increase food safety and food quality, but equipment that can cook more food faster will also allow staff more time to engage with residents.
According to a study from the Academic Health Center at the University of Minnesota, a key factor in a resident's quality of life is engagement with staff. "By augmenting quality of care initiatives with efforts designed around increasing social and mentally stimulating activities, nursing homes can dramatically increase QOL for residents." 1
With so many new cutting-edge products on the market, it can be overwhelming to decide which options will work for your community. Induction cooking, low-water steamers and speed ovens are other products that can help you achieve different results and cook a variety of menu items, allowing you to easily flex your menu and introduce made-to-order service. Because the hood and the equipment underneath are big-ticket investments, optimizing your cook line to include items that don't need to be positioned under your hood is essential. To give you an idea of how to help you save time in your Senior Living kitchen with the right equipment, we've identified two innovative products that can reduce cooking times of everyday menu items by up to 50% versus a standard oven. And they don't need to be placed under the hood, either.
Alto-Shaam Vector Oven
The newest oven, a multi-compartment option, offers something unique, versatile and efficient for back-of-house operations. Instead of a rack, each oven chamber can be programmed to hold a specific temperature and cook to a desired time. Flavors do not transfer, giving you the chance to cook multiple items in the same oven at the same time and going a long way in creating pleasurable dining in Long Term Care.
Watch this video to see how the Vector works.
Just imagine the flexibility, variety and space-savings with four ovens in one, as seen in the new F Series Vector™ Multi-Cook Oven from Alto-Shaam. Its high-velocity, focused heat offers faster, more even cooking and can cook up to 2 times more food than a traditional convection oven.
Vulcan MiniJet CombiOven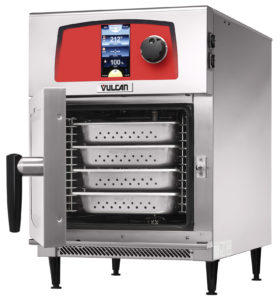 The MiniJet combines steam and convection technology to reduce cook times while maintaining the nutritional quality of the food. The intuitive controls feature both a knob and touchscreen option, and the unit stores recipes so food is prepared the same with the touch of a button. Programming is also easy with the MiniJet's algorithm, which automatically gives the maximum humidity level for the temperature you are cooking. The biggest benefit of this and other combi ovens is that it will cook 50% faster than a standard oven and 30% faster than a convection oven. With the extra time saved cooking, you and your staff will have more opportunities to engage with the seniors you serve.
Want to learn more how commercial foodservice products can improve your dining program? Contact your account manager or browse our 
great selection of products
.
1 https://www.healthtalk.umn.edu/2014/01/03/improving-quality-life-nursing-homes/