Insights from
Direct Supply
Partners: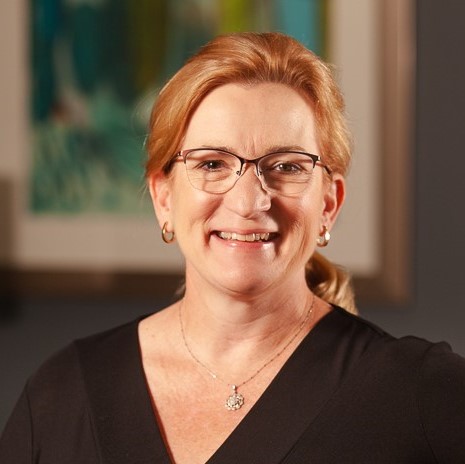 Liz Jensen
Clinical Director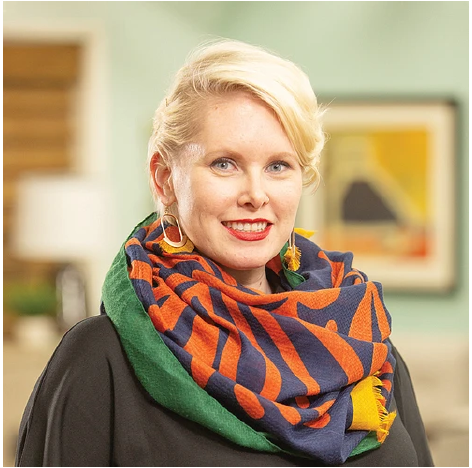 Erin Berry
Director of Interior Design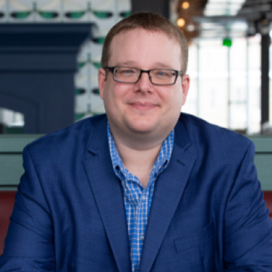 Justin Smith
Manager of Innovation & Technology
Are You Optimizing Design For Staff Efficiency?
While the fundamentals in Senior Living – economics, demographics, technology and consumerism – are continuing to drive change, we are also seeing a need to create environments that support enhanced, ongoing health and safety for staff and residents.
The Washington Post reported that as of January 2022, nursing homes and long-term care facilities have lost more than 420,000 employees. This is 12% of the total industry workforce.1
As a community's front line, the mental and physical health of Senior Living team members affects the overall health of residents. A healthy work environment is enhanced with amenities, like a relaxing lounge, to give staff a space to rest and recharge before returning to work. These amenities can help attract new staff as well as retain and support the productivity and efficiency of employees.
Attracting and retaining a competent workforce is the highest priority for Senior Living communities. Finding ways to make work easier and efficient through innovative technology and design can reduce the cognitive burden on staff.
As we consider how to marry efficiency, quality and safety to benefit staff and residents, we must start thinking of buildings themselves as part of the caregiving team.
The COVID-19 pandemic heightened the need to consider the role buildings play. As a result, Direct Supply assembled a multidisciplinary task force focused on emerging senior housing trends for Senior Living design, technology, and infection prevention and control (IPC). Experts in design, architecture, technology and building systems worked together to conduct a case study on one individual building and uncovered strategies to reduce caregiver cognitive burden and improve safety for residents and staff.
The following solutions show how the future of building design can improve safety and create efficiencies: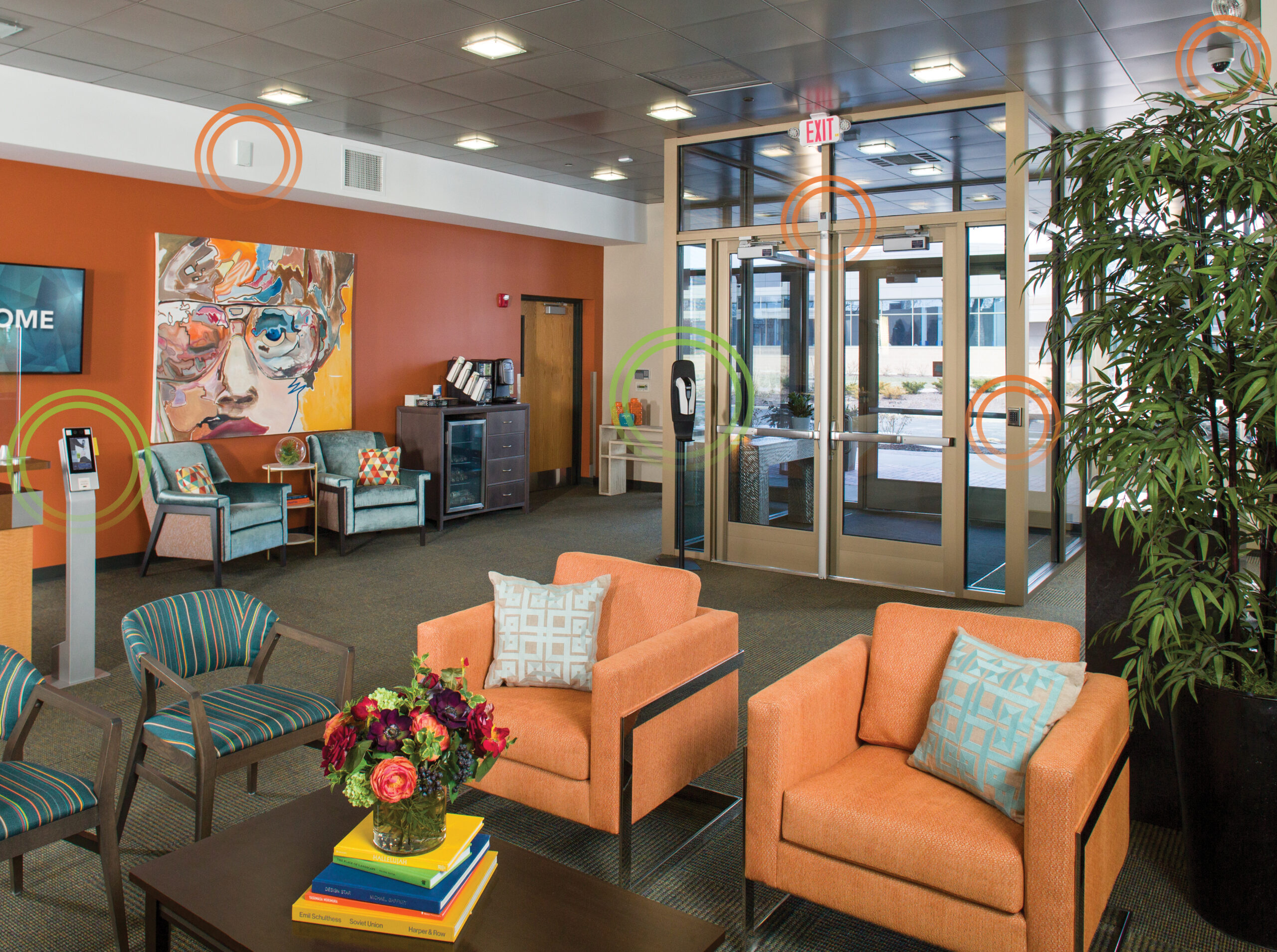 Technology Solutions for the Shortage of Healthcare Workers: Safe Gatherings in Senior Living Facilities
Who is entering the buildings needs to be considered, as well as what is coming into the buildings. Technology and design can allow residents to have loved ones visit while minimizing the spread of illness or disease. This starts with activating the entryway of a community.
Ideally, a visitation space would be located after the first set of doors in a building entryway or vestibule, and before the second. This space would allow for safety and protection of residents and staff. Visitors in this space would be completely separate from the rest of the facility.
Because this space does not require entry into the larger community, it can be utilized in times when precaution and distancing is necessary. It reduces the need for the type of restricted visitation we saw in 2020, through a window or virtual only. A space like this can be used with a reservation system to ensure proper time for cleaning and sanitation between visits. In more relaxed times, when risk is decreased, this space continues to serve the community as a rentable party room, visitation space or discovery room for potential residents and families.
Consider how technology supports the visitation experience and promotes staff efficiency, infection prevention and safety. Automated screening kiosks using temperature scanners or biometric screening devices allow visitors to passively have their temperature taken and complete required screening questions, minimizing the need for a staff member to conduct these checks.
With an aging population and staffing shortages, robotics is an up-and-coming solution. Technology can be used to fill gaps in staffing, like moving food between your kitchen and dining room. Food running can be done automatically using a robotic carrier. Staff in the kitchen can put food on the device and staff within the dining room can take it from the device and serve it to the residents. These futuristic technologies and robotics, a different caliber of dining staff, cut costs and dramatically reduce the burden on staff. 
Digital ordering, through kiosks, tablet or mobile devices, can also help with staff efficiency in the dining room. 
There are many futuristic solutions currently being implemented like technology to automate creating healthy meals like salads and grain bowls. This type of solution allows residents to have more autonomy and could be seen in a bistro area or café. The system consists of a refrigerated cabinet stocked with fresh produce and proteins that makes an on-demand, custom salad. 
Technology for the future and productivity tools in dining are heavily robotic. While these systems cannot replace everything that happens in a kitchen, they can complete simple tasks to fill in staffing gaps. Robotic systems are being used in the fast food industry for tasks like flipping burgers. These systems and others like it, for building salads or making pancakes, are being tested, and our experts predict they will soon be available for the healthcare industry as well. 
Learn more on technology trends for the future of Senior Living.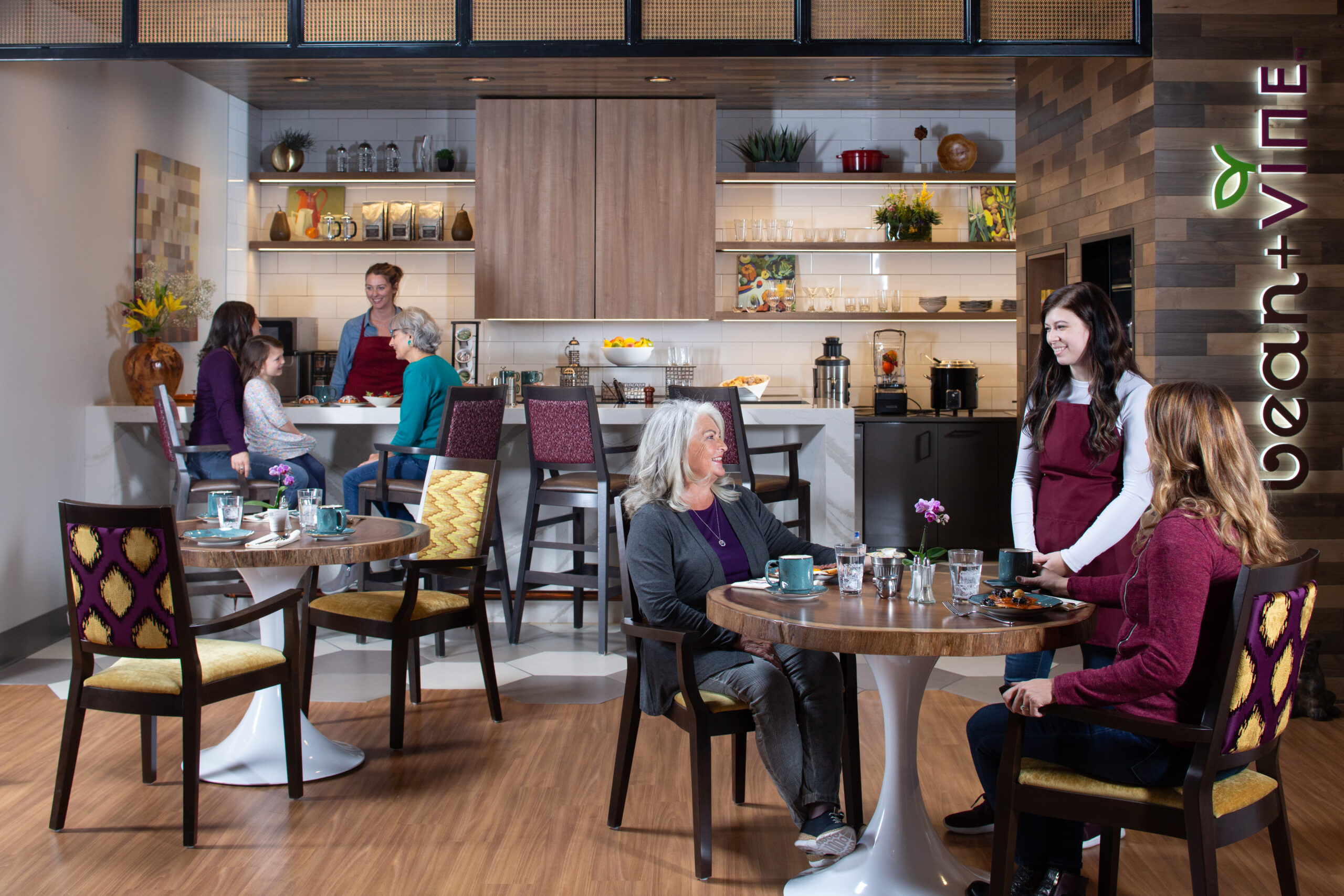 Optimize Staff Efficiencies
Starting with the front desk, be sure to equip staff with appropriate electronics to create efficiencies. Real-time locating systems (RTLS) allow visitors to pick up a badge at the front desk that only gives them access to pre-determined areas of the facility. RTLS also help determine where a person has gone in the facility, and therefore, who they have interacted with for contact tracing and sanitizing procedures. Knowing which rooms individuals have been in and with whom they've been in contact with can help minimize cleaning costs and processes.
Passive sanitation technology, such as far-UVC lighting, is not damaging to human skin, yet will kill germs on hard surfaces. In high-traffic areas like a reception desk, these lights are constantly working to ensure safety at a low cost.
Bistro areas or coffee bars give relief to dining spaces when occupancy needs to be monitored. A bistro allows residents to spread out while still enjoying a positive experience. Reservation-based systems, ordering kiosks and point-of-sale systems create a seamless experience for residents and increase staff efficiency. Staff efficiency is elevated even more when reception desks are connected to a bistro, allowing one staff member to complete both roles easily. Grab-and-Go capabilities in a bistro area allow staff to be well-fed in an efficient and enjoyable way while supporting best practices for infection control.
DS smart® technology allows caregivers to instantly capture, protect and connect data to EMR-connected equipment, such as wireless vital signs, monitors and scales. This highly efficient technology system is sure to create labor savings.
Create Small Households & Enhance Resident Units
Historically, facilities are divided into large wings or levels and residents engage with others within those areas. Alternatively, dividing the building into smaller cohorts offers residents a valuable sense of community while encouraging optimal safety and precaution. Each cohort can be equipped with their own elevator, dining space, multipurpose room, lounge area, laundry service and telehealth suite. The best way to promote safety is to separate the airflow in each cohort by utilizing an indoor air quality system like Needlepoint Bipolar Ionization.2
The cohort concept can be achieved on a smaller scale with emphasis on passive sanitation to maximize precaution. In addition to supporting infection prevention, research from health experts supports that better quality of life is experienced through smaller households within senior housing.3 There are staffing benefits to this concept as well, like stronger relationship building opportunities.
Staff Entries & Vestibules
As we examine Senior Living design trends that surfaced in the pandemic, we're seeing the need to reimagine the staff person journey through the building – starting at the entry. Updating the staff entry sequence can play an important role in helping to flex operations during a health crisis.
Separate staff entrances help promote contact tracing and prevent the spread of infections. If the staff entrance leads into a shared resident space, consider creating a separate entry for staff to allow employees to clean up before and after their shifts. Staff showers and locker rooms maximize safety for employees.
Touchless access control and security systems can be used in staff entryways. There is an array of touchless technologies that can be used in this space. For example, consider technology that allows someone to wave their hand in front of a sensor to open the door.
Separate staff entries and enhanced staff amenities can help with:
Infection prevention: By separating staff entries and adding showers and lockers, contaminated clothing and personal items are kept out of resident areas. This is important for employee health, as well as the health of residents – specifically higher acuity residents in

assisted living

and

skilled nursing facilities

.

Staff retention: Enhancing staff spaces and offering extra services can help boost caregiver satisfaction and lead to more meaningful interactions with residents.
Caregiver burnout: Beautiful and functional staff spaces can demonstrate commitment to improving staff well-being and reducing stress levels.
The Bottom Line: Better Care Environments for the Senior Living Staff Shortage
Our design experts can help you incorporate these strategies into existing spaces and scale solutions to meet your budget. Thinking about your next renovation or refresh? Explore our design services or fill out the form below to learn more. 
Not ready to start your technology design project just yet? Discover more Senior Living Design trends. 
If you are an interior designer, contact our Designer Link team for all your design and procurement needs.
¹ Bernstein, L.; Van Dam, A. (2022, January 7). Nursing Home staff shortages are worsening problems at overwhelmed hospitals. The Washington Post. https://www.washingtonpost.com/health/2021/12/28/nursing-home-hospital-staff-shortages/
²Inactivation results based on sensitivity testing conducted by an independent third-party testing laboratory using control chambers. Multiple data points are used to formulate performance validation statements. The technology is used in a wide range of applications across diverse environmental conditions. Results in non-lab environments will vary; clients should evaluate their individual application and environmental conditions when making an assessment regarding the technology's potential benefits. For all independent laboratory results, contact your TELS Representative at IndoorAirQuality@Directs.com. The use of this technology is not intended to take the place of reasonable precautions to prevent the transmission of pathogens (including COVID-19). Comply with all applicable public health laws and guidelines as well as CDC guidance.
3Waters, R. (2021, March). Leading To Health. Princeton, New Jersey; The Robert Wood Johnson Foundation.