Designing spectacular Senior Living spaces is about more than just choosing attractive furniture and décor – it's about creating memorable experiences for residents. After a long period of social isolation, residents are now craving a sense of community more than ever before. Prioritizing experiential design will increase marketability, community engagement and resident satisfaction. Restore fun and meaningful connections in a community for staff, families and residents alike. Here are five ideas to get you started:
1. Develop Captivating Environments
Infuse common spaces with activities for seniors. Get residents engaged through activities that spark conversation, laughter and memories. Offering a variety of activities can help improve companionship among staff and residents.
Appeal to the gamers with board games, shuffleboard and a poker table. Go tech-savvy with virtual reality headsets that can be easily sanitized, or attract the creatives with arts and crafts supplies, paints and blank canvases. Music is a great conversation starter and can help spark memories for residents. A recording studio to play music and record music or stories of loved ones could provide enjoyment for residents and their families. Use any blank wall to create an interactive art gallery featuring local artists. You could easily transition to interactive games as well.
Providing the right activities, like reading, gardening and more, can transform an attractive room into an engaging destination. Consider gathering feedback from residents about what activities interest them. This will help you find common themes to design a space around.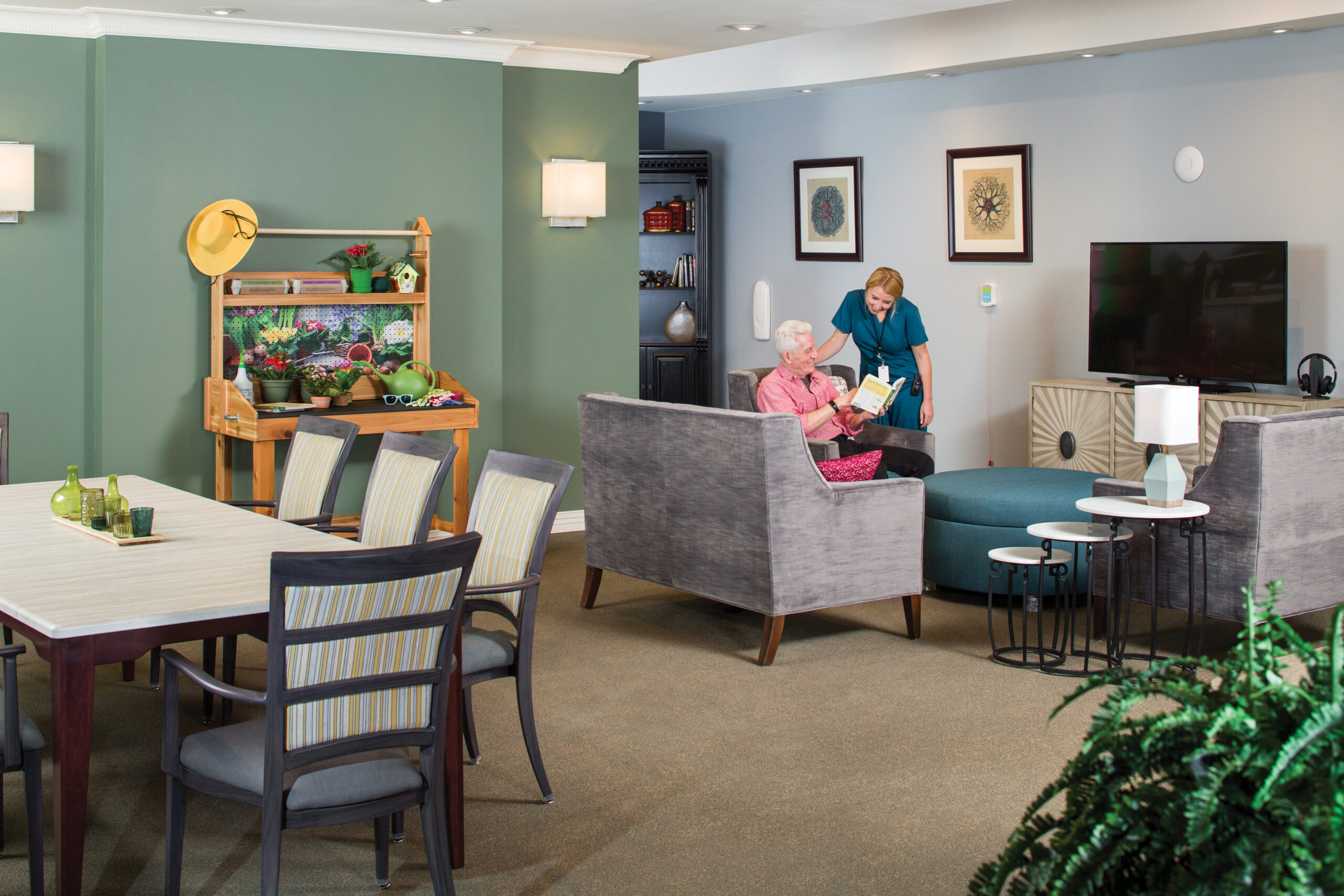 2. Design Attractive Engagement Spaces
Libraries provide spaces for residents to connect through book clubs, classes and conversations. Provide ample book shelving that's accessible for seniors. Include comfortable seating that's easy to clean to improve infection control practices and ideal for long periods of sitting. Also add bright lighting that facilitates easier reading. Consider using a mix of table sizes. Large reading tables allow residents to open a newspaper without bothering their neighbor. Small side tables provide a convenient place to set coffee.
Create the perfect environment for a relaxing spa day with high quality salon furniture and accessories. Residents deserve to look and feel their best. Create a modern boutique salon for a feminine twist or feature simple, straightforward design for a masculine barbershop. Professional salon equipment ensures residents receive stellar service, while comfortable waiting areas provide the perfect place to chat.
Consider designing visiting spaces — smaller spaces in the community that can be used to spend time with family. Allow residents to host their families in a space where they can all feel at home. Small seating areas and private dining spaces are ideal for gathering with visitors. Add little touches to create an at-home feeling, like throw pillows and artwork that sets the stage for memorable experiences.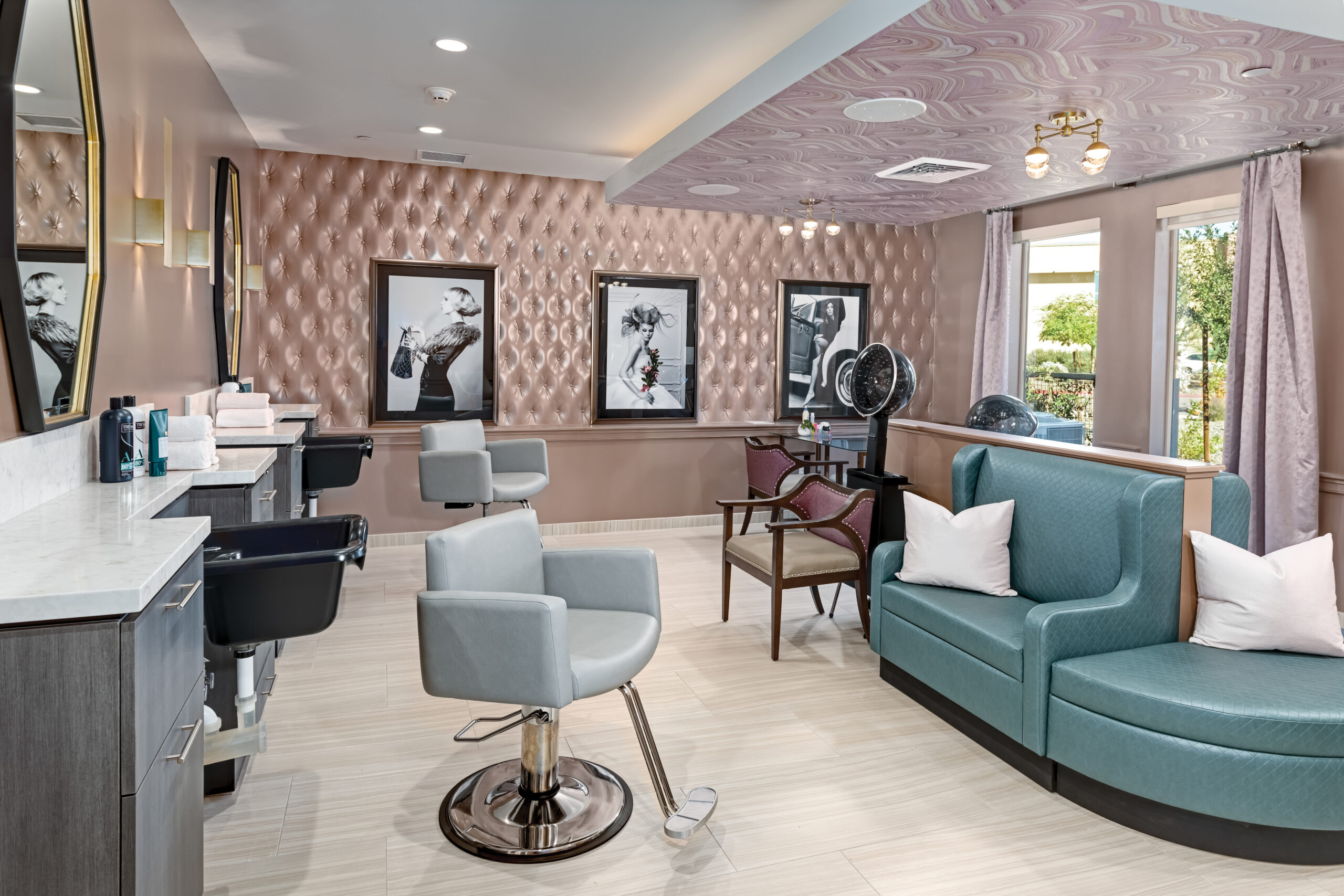 3. Create Outdoor Retreats
Don't forget outdoor living spaces when creating engaging destinations for residents! Take advantage of the open air outdoors to create a safe gathering place. Consider providing games that can easily be played with others
from a distance, like a putting green or cornhole bag boards. Adding a fire pit and comfortable seating can create the right atmosphere for safe, outdoor happy hours with added warmth for cooler nights! 
This outdoor space, no matter the size, offers ample opportunities to engage residents, encourage connection and improve wellness. Start a community garden by installing space-saving raised planter beds with accessible features. Provide interesting landscaping with a variety of plants and include some that attract butterflies. Hang bird feeders with different types of birdseed to attract a variety of birds. Consider starting a birdwatching club and inviting experts to teach residents about local birds. Wildlife, like plants and animals, can be a key part of making a community feel like home. 
In seasons when it's too cold to be outside, bring the outdoors in. Create reading nooks and provide seating in natural light by a window. Add live plants or a green wall in common spaces and include information like what each plant is and other fun facts. Ask residents to care for plants themselves.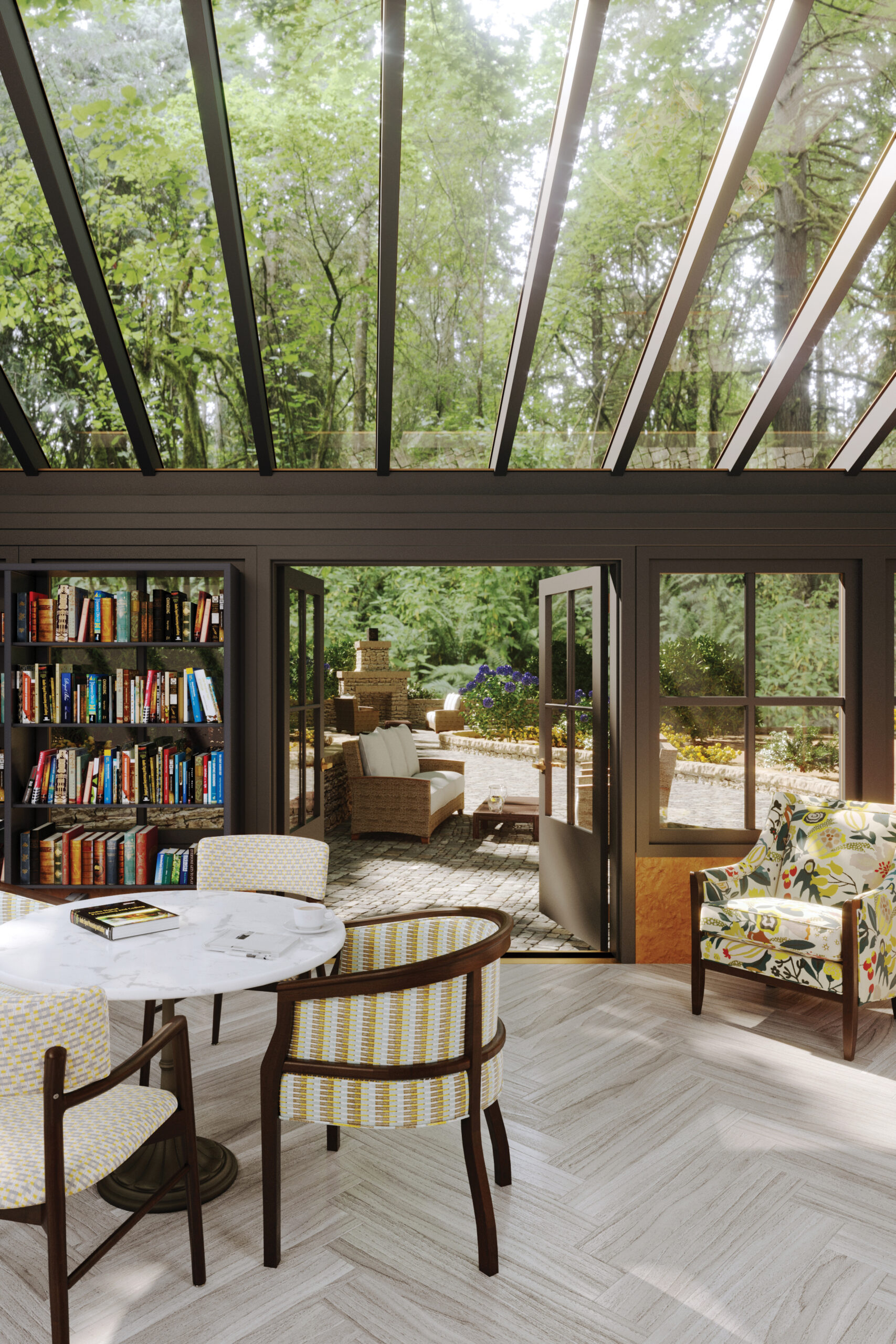 You can add an aviary to a common room to offer bird watching to residents indoors. Animals can help keep residents mentally and emotionally healthy. Studies show that pets calm anxiety and help stabilize intense emotions. Consider allowing residents to keep their own pets, or get a community pet.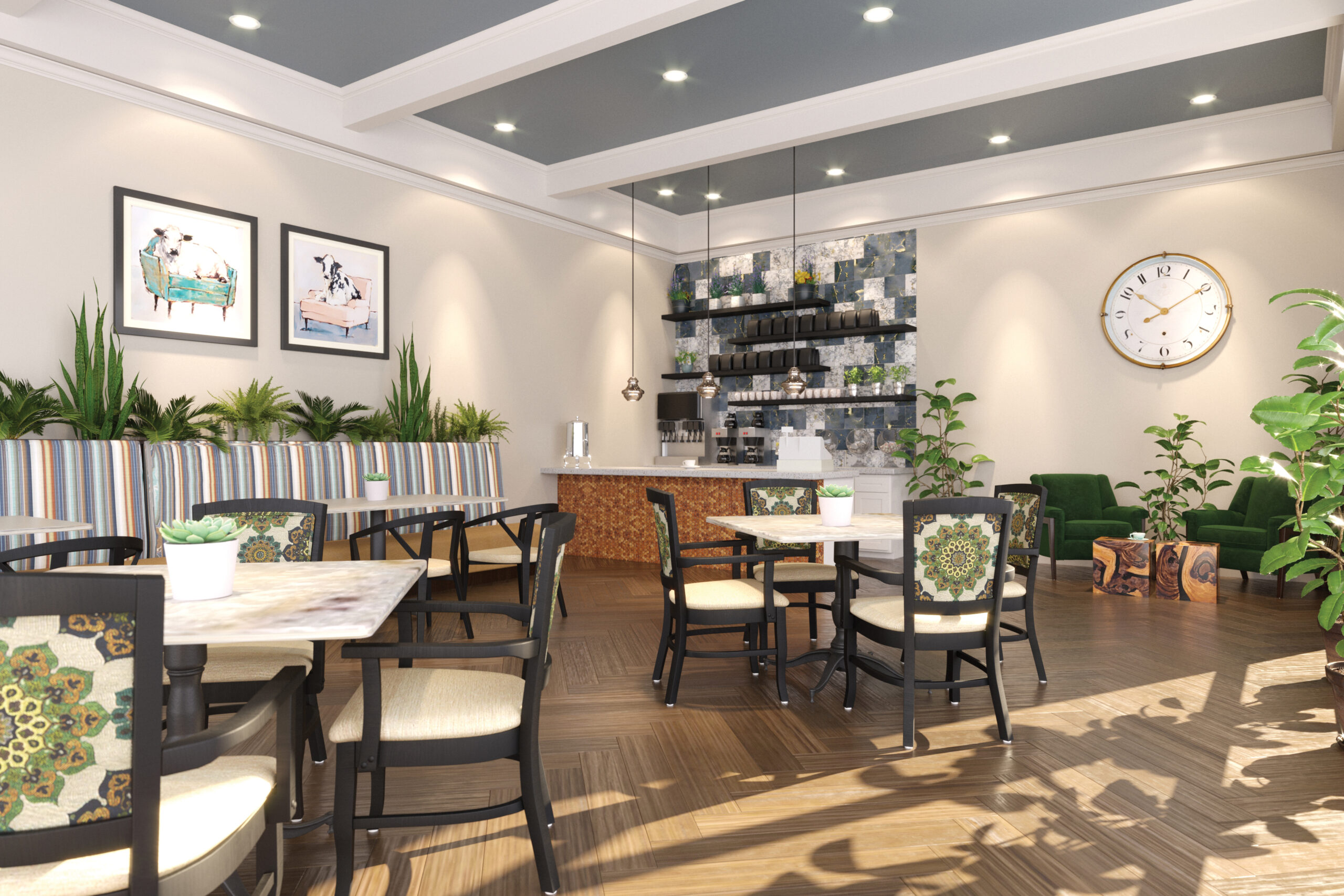 4. Form Resident Committees
Empower residents to be decision makers for their environment by forming resident committees. Consider creating a café committee that helps select menu items. Other committees may be devoted to setting up volunteer opportunities, planning themed outdoor happy hours or running the library. Giving residents an active role allows them to contribute their time, talents and opinions; they will feel more connected to their community.
5. Engage Community Partners
Get the outside community involved! Local artists and musicians, performing groups and creative instructors can bring meaningful engagement opportunities to the community. Consider inviting a volunteer yoga instructor to lead chair yoga for residents who need to prioritize physical activity and movement in their wellness plan. Involving outside organizations can help to mix up usual events, creating stronger bonds with the surrounding community.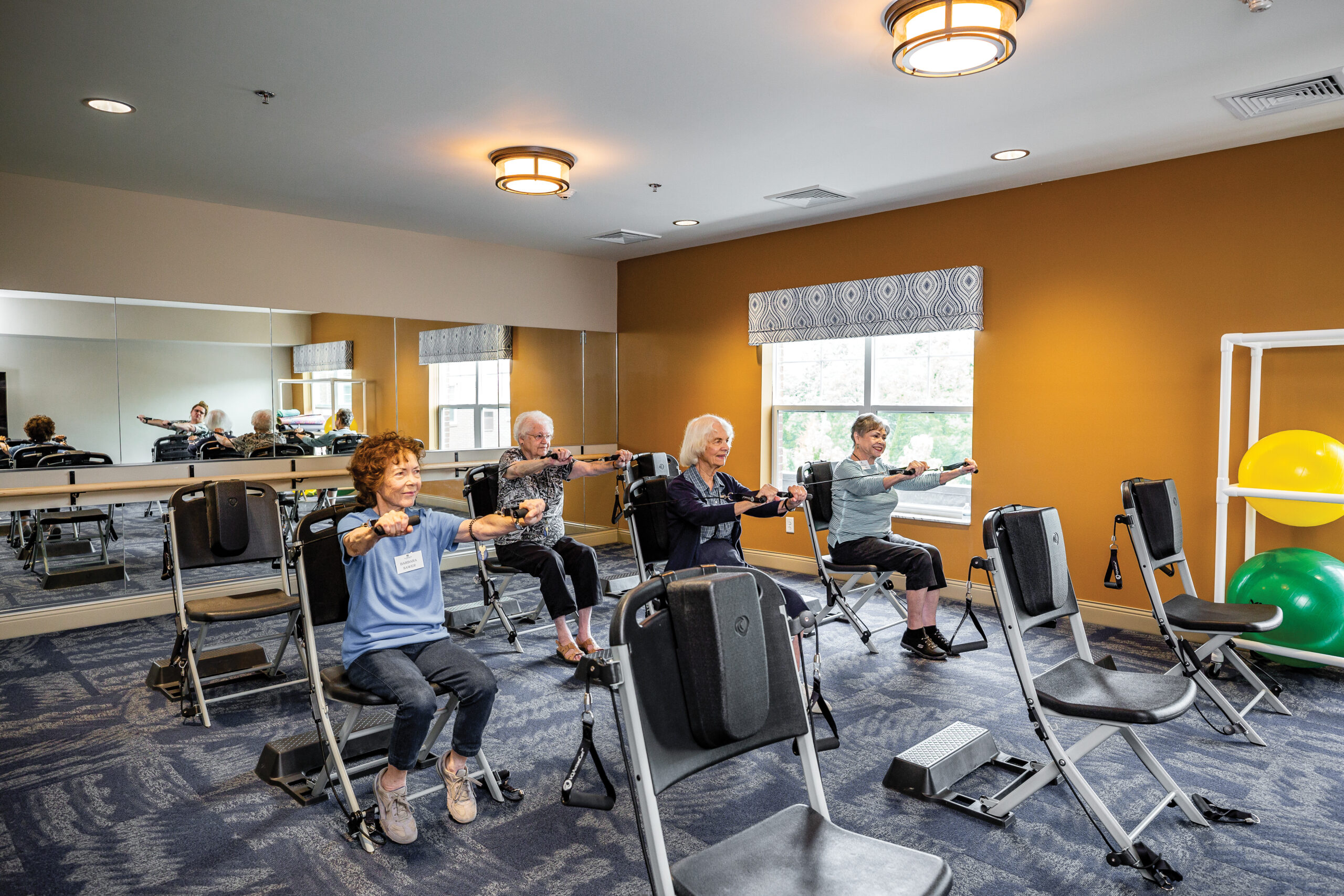 The Bottom Line: Design Can Foster Memorable Experiences
Our design experts can help you incorporate these strategies into existing spaces and scale solutions to meet your budget. Thinking about your next renovation or refresh? Explore our design services or fill out the form below to learn more. 
Not ready to start your technology design project just yet? Discover more Senior Living Design trends. 
If you are an interior designer, contact our Designer Link team for all your design and procurement needs.