Building maintenance spring tips & tricks for your HVAC system
Your residents count on you to keep their environments cozy in the winter and comfortable in the summer – and your HVAC equipment counts on you, too. With a few simple tasks, you can keep your assets running stronger, longer for happier residents and better peace of mind. Let's talk about some HVAC tips and tricks for spring.
A properly cleaned, maintained and balanced system as part of any Senior Living HVAC preventive maintenance plan is a necessity. Geographical location and climate may present certain challenges for your HVAC systems, as well as specific temperature and system requirements based on local, state or federal mandate.
HVAC system maintenance cold vs warm climates
Cooler northern climates: HVAC systems may need a more thorough inspection prior to the start of cooling season after collecting leaves and debris and sitting idly for several months during the winter
Warmer southern climates: cooling systems may have been utilized more during winter months than in cooler climates resulting in less idle time, but require the same depth of inspection
3 steps to help your springtime HVAC maintenance
Before getting started, be sure to clean up around the outside of the unit and clear away branches, leaves and overgrown grass or plants. Check back periodically during the season. Then, follow these 3 steps as part of a commercial HVAC maintenance program to help ensure year-round comfort and minimize costly downtime.
Clean condenser and evaporator coils
The condensing coil and evaporator coil in an HVAC unit should be cleaned at the start of each cooling season. Clean coils maximize heat transfer at the coil surface, so it's essential to keep them free of debris that can reduce efficiency. For condensing units, lawn mowing results in the need for frequent condenser coil washing due to blades of grass settling in the coils. If the condensing unit sits on the ground, trim brush and shrubbery around it to prevent airflow obstruction. Also, road and building construction causes excessive dust buildup on coils. For cooling towers, before filling with water, thoroughly clean the basin of leaves and debris. Perform an operating check on motors, pumps and other parts.
Change filters
Clean filters are important for efficiency and maintaining good indoor air quality. Begin the cooling season with clean filters, and be sure to clean or replace them twice a year to avoid dust buildup, which may lead to airflow restriction, reduced efficiency and dust recirculating into your building.
Inspect, seal and insulate ducts
According to the EPA, a deficiency in your duct system can cause 20 to 30 percent air loss in your system. When air leaks from the ducts, it causes the system to work harder and wastes energy. Check connections on all accessible ducts and make sure they are well-insulated and sealed with mastic sealant or metal tape.
Heating & Air Conditioning Maintenance Programs
Get started by loading seasonal HVAC Tasks within TELS Platform. Search for recommendations on Best Practices in Interactive Reporting to add Tasks to your community's work schedule. Don't have a TELS Platform account? Find out more about Senior Livings #1 choice for regulatory compliance, asset management and workflow optimization.
Don't forget to schedule your spring startup
Even with after taking these vitally important steps, it's recommended that your system be checked by a certified HVAC service technician at the beginning of each cooling season. The technician will perform a number of commercial HVAC maintenance tasks to make sure your unit is ready for peak operation.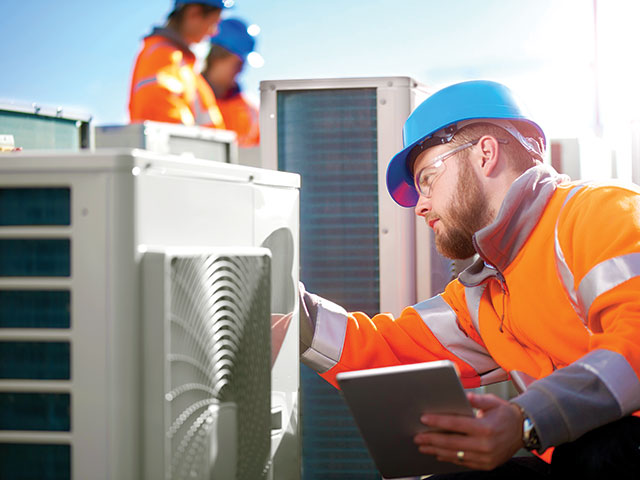 TELS® Building Services is Senior Living's source for local planned maintenance and emergency service. Contact us for service or to discuss an HVAC preventive maintenance plan for your community.