Create alluring outdoor Senior Living spaces with engaging design and fresh furnishings! Appealing outdoor spaces not only expose residents to mood-boosting fresh air and sunshine, but they can help the community promote socialization as well.
Senior Living communities often create robust outdoor activity plans to involve residents, so designing a space that accommodates these activities will help keep residents active and thriving. Consider spaces for outdoor games, lounges and dining activities that will inspire residents to go outside.
Here are a few design tips that will help communities get residents outdoors:
Infuse fresh furnishings
Incorporating outdoor furnishings made for seniors is key. There's nothing like sitting around a fire on a beautiful summer night, but a gas fire table that has extra safety features makes the experience Senior Living-friendly. Gas fire tables are an excellent choice because they're easier for the community to maintain and don't produce smoke that can cause breathing issues. Best suited for environments with independent seniors, fire pits can help foster community.
Including dedicated space for cornhole bags, a putting green, game tables and other lawn games in your design are all fun ways for a community to engage residents. The key to making them ideal for Senior Living is adding seating nearby so residents can rest in between turns. Positioning the games near a lounge area offers residents the option to take part or watch the activities.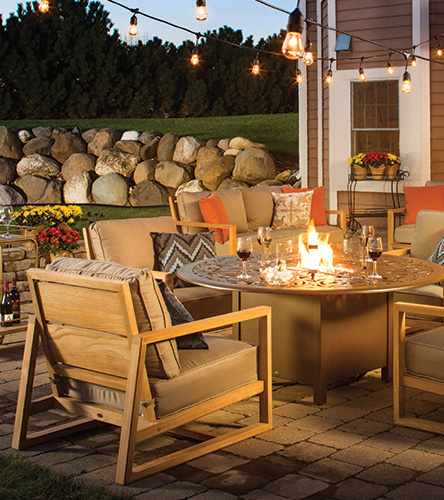 Think outside the box
Consider how communities will want to mix up the regular routine by moving activities outdoors! Taking meals outside is easy when there's a dedicated outdoor dining space with an appealing design. Add a pergola to the dining area for shade, or incorporate a grill or pizza oven for a fun dining experience.
Communities also offer health and wellness classes outside. Whether it's a walking group, therapy or tai chi class, exercising outside changes up the routine while allowing residents to benefit from fresh air and sunshine. Designing a walking path around the property can encourage exercise, while adding benches and shade structures offers residents a place to rest along the route.
Appeal to residents who love gardening with a community garden. Caring for plants is a great way for residents to get outdoors. Make the space ideal for seniors by adding benches and standing gardens, which reduce the need to bend or stoop.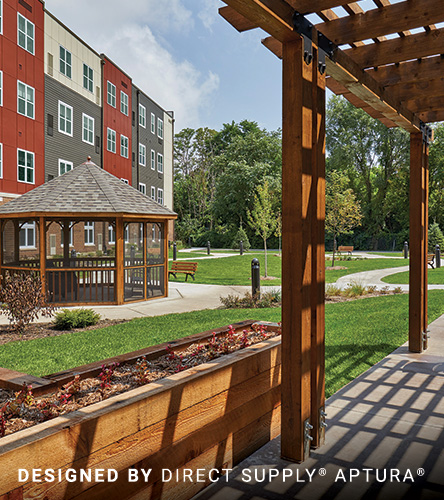 Make room for the surrounding neighborhood
Some Senior Living communities will invite the surrounding neighborhood to special events to encourage socialization. Whether it's an outdoor concert complete with speakers and easy-to-move chairs or an outdoor movie with a sheet as the screen and popcorn machine, residents will enjoy the special event and interacting with members of the neighborhood. It's important to learn which activities the community will host so you can design accordingly.
Create an amenity space that the resident's entire family is excited to visit by adding a playground. It's a fun way for grandkids to run around while grandparents watch. Or consider designing a dog park for four-legged friends. Not only will residents enjoy watching the pups play, but inviting neighbors to bring their dogs to the park promotes connection to the local area.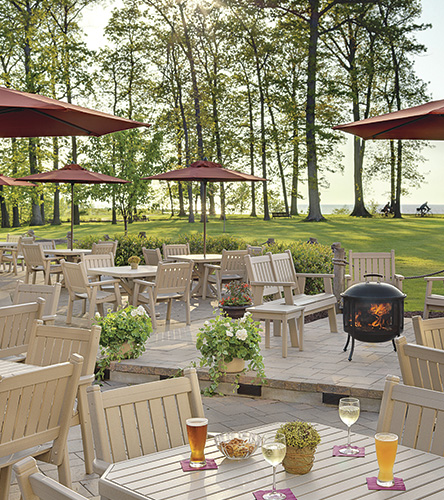 Designing an appealing outdoor living space doesn't have to be difficult. Implementing a few fresh furnishings and ideas can transform how a community uses the outdoors. When planning your design, order furnishings at least a couple months in advance so they arrive in time for residents to enjoy all season.     
For more design tips, check out how to create attractive rehabilitation gyms or contact us today to start your Senior Living project.