From innovative partnerships to advanced technology, there was something for everyone at the 2019 NIC Fall Conference. Located in Chicago on September 11 – 13 and hosted by the National Investment Center, the conference focused on investing in seniors housing and care properties. More than 3,000 attendees gathered to connect with peers, share perspectives and discuss what's next in Senior Living.
Session Highlights
Through a variety of general sessions, breakout sessions and TED-style presentations, attendees heard from a wide array of experts on the most prevalent issues facing Senior Living housing today.
Here's a brief look at some of the sessions our Direct Supply® Aptura® team attended:
The U.S. and Global Economic Landscape: A Conversation with Dr. Janet Yellen
The seniors housing industry isn't immune to the conditions of the economy, so it was encouraging to hear the former chair of the Federal Reserve report the economy is currently doing well and on track to sustain growth, and the global economic decline is sending more investment to the U.S. 
Demographics, Consumer Behaviors and the Longevity Economy with Joseph F. Coughlin, Ph.D.
Dr. Coughlin shared Baby Boomers are currently the buyers in seniors housing for their parents. As Boomers shop around, they're forming opinions about the available housing options – not only for their parents, but for themselves in the future. It's important for operators to market to the Boomers now.
Activating Consumer Insights: Lessons from Other Industries with Jennifer Windbeck (Capital One) and Heather Reavey (EPAM Continuum)
Windbeck and Reavey discussed how seniors housing should be based on human-centered design. If the industry were to start from scratch without any knowledge of current conditions, what would it look like? Capital One recently used this method with its retail café banks to differentiate itself from other online banking options.
NIC Talks
In the TED-style NIC Talks, thought leaders and experts shared how they are changing the future of aging.
David Inns, CEO of GreatCall, Inc., now part of Best Buy
Inns shared how predictive analytics can identify health issues before they become events. GreatCall's ADL monitoring technology is now installed by the Geek Squad and is less invasive, saves money and keeps residents in care locations longer – there have been 27% fewer move-outs in seven pilot communities.

Patricia Boyle, Ph.D., Professor of Behavioral Sciences and Neuropsychologist with the Rush Alzheimer's Disease Center at Rush University Medical Center
Dr. Boyle discussed how cognitive decline can be reduced through diet, exercise and mental challenges. Residents who engage in activities that energize them or help them meet personal goals can slow the rate of cognitive decline.
A Growing Opportunity: Partnerships Working Together for The Forgotten Middle with Dr. Rodney Harrell, Gaurie A. Rodman and David Watkins
In this session, panelists, including Aptura's own Gaurie Rodman, Director of Development Services, discussed practical solutions for seniors housing in relation to physical structure, operations, financing and resident impact. Topics included unbundling services, growing concerns about partnerships and regulatory inspections, new housing models, and the opportunity for residents and families to help provide services, like reception duties.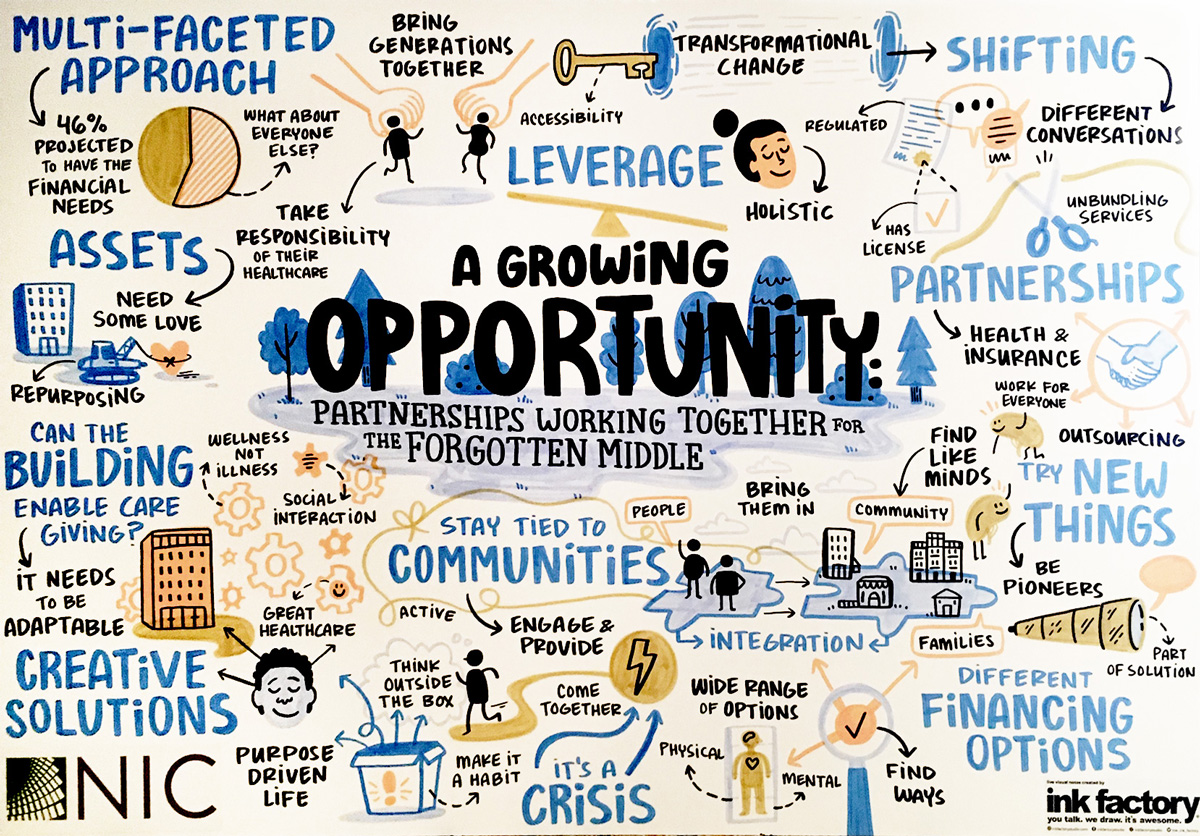 Key Takeaways 
While there was a wealth of valuable information presented at the conference, here were our team's key takeaways:
The Economy is in Good Health
The economy is considered to be in a healthy, sustainable place with expected controlled growth in the future. A recession is possible, but the seniors housing market will most likely be less impacted due to the influx of investment that is already slated for the sector. Capital is largely available for investment – as investors have become savvier in the sector in the past decade, they are competing for good deals.
Partnerships are Key to Moving Forward
The industry recognizes that what has worked in the past will not necessarily work in the future. Today, seniors come into a community and receive everything they need, but that won't always work. The industry needs to consider partnerships and unbundling services. This will help make Senior Living affordable while giving future residents more independence and choice.
New Platforms are Disrupting the Industry
Companies that build product and service platforms are starting to enter the market. As these companies delve deeper into consumer insights, they'll continue to create disruptive innovations. Companies that are newer to the industry include Best Buy, which uses its Geek Squad to install and monitor in-home care; Uber Eats, which provides meals to seniors already living in communities where food is served; and Phillips, which created a mirror that can perform a daily health check based on the user's capillaries.
Smart Home Features are on the Rise
The Senior Living industry can leverage the technology that is available in today's appliances, like smart assistants to order services. We can use the sharing economy to provide services seniors need to stay in their homes longer. In addition, telehealth in individual homes and congregate living is changing the healthcare setting. Longevity is driving our ability to stay healthy enough to remain in home longer than ever.
Mixed Living is the Preferred Model
Intergenerational living is the norm in many countries – how can the industry in the U.S. build to accommodate this norm? Mixed-use, mixed-income and mixed-age environments are seen as a preferred model moving forward and appear to have positive health and financial outcomes. We will need regulatory change for this to occur, and the sector will need to be financed differently than in the past.
Chock-full of useful insights, the NIC Fall Conference was a great way to network with industry leaders. Our team is looking forward to continuing partnerships at future NIC events! Learn more about Aptura, or follow along on Instagram, Twitter or LinkedIn for more Senior Living insights.