Illness-causing germs and viruses like SARS-CoV-2 (the virus that causes COVID-19) can quickly spread on surfaces leaving your residents, staff and visitors at risk. Manual cleaning methods and traditional disinfecting tools aren't designed to effectively reach all areas. Enhanced disinfection solutions like electrostatic cleaning can help protect residents and increase staff efficiency by eliminating germs on high-touch surfaces in a fraction of the time.
Included below are five common questions about electrostatic cleaning and tips for how to elevate cleaning and disinfecting in your Senior Living facilities.
1. How does an electrostatic disinfectant sprayer work?
Most surfaces in your community are neutral or negatively charged. This is not important in relation to manual disinfection application. But electrostatic disinfectant sprayers positively charge an antimicrobial liquid as it passes through the nozzle. These positively charged antimicrobial droplets are then attracted to those surfaces and wrap around the application surface allowing for improved coverage on hard, nonporous environmental surfaces. This helps ensure full coverage and avoids liquid pooling, saving you time, solution and money.

2. Why do healthcare and Senior Living facilities benefit from electrostatic cleaning?
According to a recent study: after minimal manual precleaning of areas with visible soiling, application of a dilute sodium hypochlorite disinfectant using an electrostatic sprayer provided rapid and effective decontamination.1
As with other healthcare settings, Senior Living facilities benefit from the ease and effectiveness of electrostatic cleaning because of:
Large spaces

– electrostatic disinfectant sprayers can apply more disinfectant solution in less time than traditional cleaning methods

Vulnerable population

– the need to protect high-risk seniors from potentially deadly viruses like SARS-CoV-2 is great

Human error – even the best-trained cleaning staff occasionally miss a spot or inadequately disinfect a surface, and an electrostatic disinfectant sprayer makes up for those natural human mistakes
3: Where do I apply electrostatic cleaning in my community?
Electrostatic disinfection is applicable for hard nonporous surfaces anywhere residents, staff and visitors congregate and germs can manifest. Examples include the following:
Resident Room and High-Touch Areas
Light switches

Nurse call cords

Railings/handrails

Door handles

Wheelchairs

Bedrails

Tables and chairs
Common Areas
Reception areas

Dining rooms

Activity spaces

Elevators

Fitness centers

Hallways

Salons
4. What types of different electrostatic disinfectant sprayers are available?
Many styles of electrostatic disinfectant sprayers are out there in a variety of brands and models. These include:
Rolling cart

Handheld

Backpack

Plugged

Battery operated 
5. What are the most effective electrostatic sprayers?
The Clorox® Total 360® Electrostatic Sprayer, with the patented PowerWrap™ nozzle, is an efficient, reliable and powerful method to help ensure all surfaces — front, back and sides — can be properly disinfected and sanitized. Exceptional wraparound coverage versus other sprayers delivers more uniform coverage to the targeted surfaces than current sprayers on the market today.2
Paired with a portfolio of Clorox disinfectants and sanitizers to ensure all surfaces are properly treated, the Clorox T360 system: 
Takes less time and is up to 75% faster versus a trigger sprayer
Covers more surface by treating up to 18,000 square feet per hour
Reduces cost by using 65% less solution than a trigger sprayer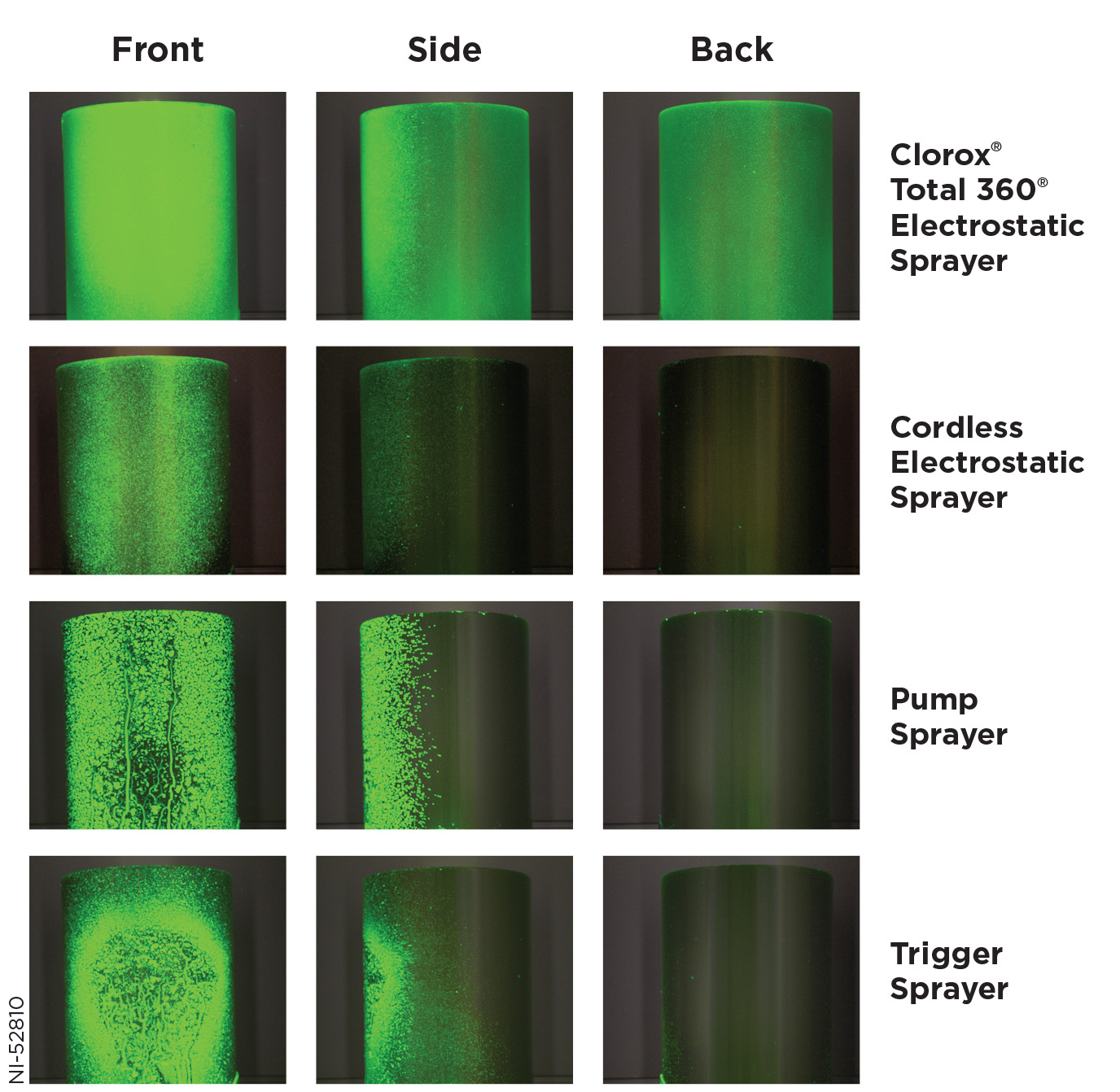 Sources
Stone, P. (2009, October). Economic burden of healthcare-associated infections: An American perspective. Retrieved February 04, 2021, from https://www.ncbi.nlm.nih.gov/pmc/articles/PMC2827870/

Results were determined in a single spray study conducted on metal trash cans (7.5 inches in diameter). Testing protocol established by using average of manufacturer suggested spray distances. Cordless electrostatic sprayer disinfection nozzle setting used.