Capital planning software, strategy and processes to help improve your capital budgeting
When it comes to the capital planning needs of a Senior Living organization, there's no magic button. You're responsible for a lot of moving parts that haven't gotten any easier as you simultaneously face staffing shortages and supply chain challenges. And throughout the process, you've probably asked yourself questions like:
Do I need to hire someone to do this, or does my team have the skillset necessary to manage this in-house?

Can I complete this project to budget?

Does my team have the time to manage this project in-house?

How long will this project take? Will I be able to do other needed projects at the same time?
Will this project help us get new residents or improve the care of our current residents?

Where do I even begin planning my large projects?

How do I keep track of my planned vs actual spend?
Capital planning strategy: the pros and cons of staying in-house or outsourcing
Regardless of the type of project, a lot of the decisions on a capital project revolve around the answer you give to the first two questions: "Do I need to hire someone to do this?" and "Do I have the budget to make that choice?"
Projects done entirely in-house are called self-performed projects. When building staff perform a project completely internally, they usually save a lot of money. And money talks. But there's also risk, as you can miss an opportunity for expertise on the project. And on big-ticket projects, the last thing you want is to realize your maintenance director doesn't always double as Mr. Fix-It.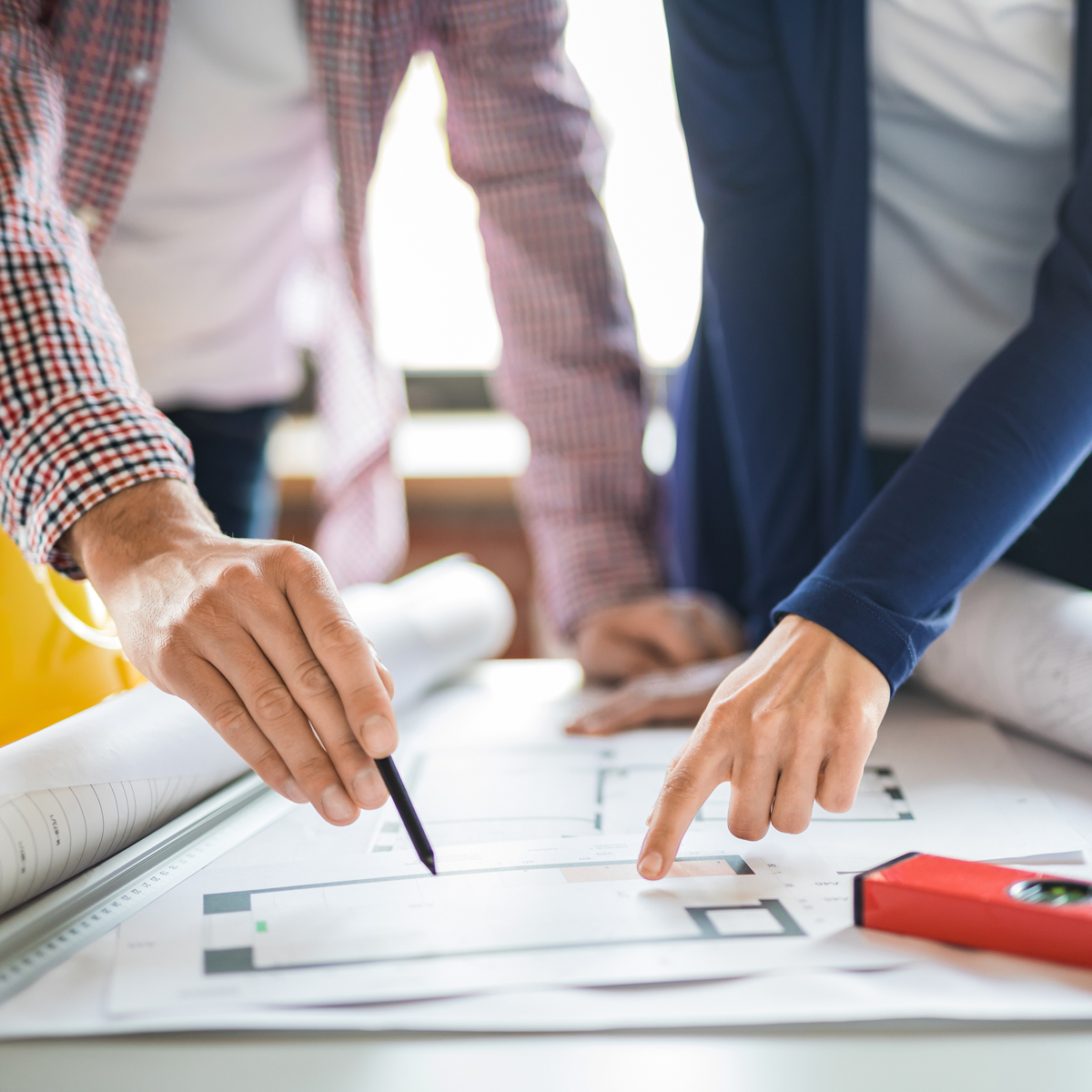 And that brings us to
professional service projects.
 You could probably guess by now, but they are just the opposite of self-performed, and they tend to have opposite risks as well. When you hire outside service providers, you're paying for the job as well as the expertise. Whether it's a consultant for interior design or a contractor for additions and renovations, this route will often provide a finished project that's on time and within scope. But, there's always a risk to contracting as well, namely around budget.
So, you're usually left deciding between an emphasis on budget or results, and with a lot riding on it.
How data can impact your capital planning strategy
There isn't a magic equation that leads to the right choice. Flipping a coin obviously won't cut it, and going with a gut feeling leads more often to nausea than success. What leads to better, more-informed capital spend decisions is accurate, timely data.
Whether you manage two buildings or 200, data is critical to creating your capital planning strategy making informed decisions. Things like:
Asset replacement costs: internal versus contracted

Timelines, time to completion and number of phases

Scope of work: how time-, labor- and capital-intensive the project is
Once you have this data, the insight it provides can help you predict future project spend and timeline based off of past projects.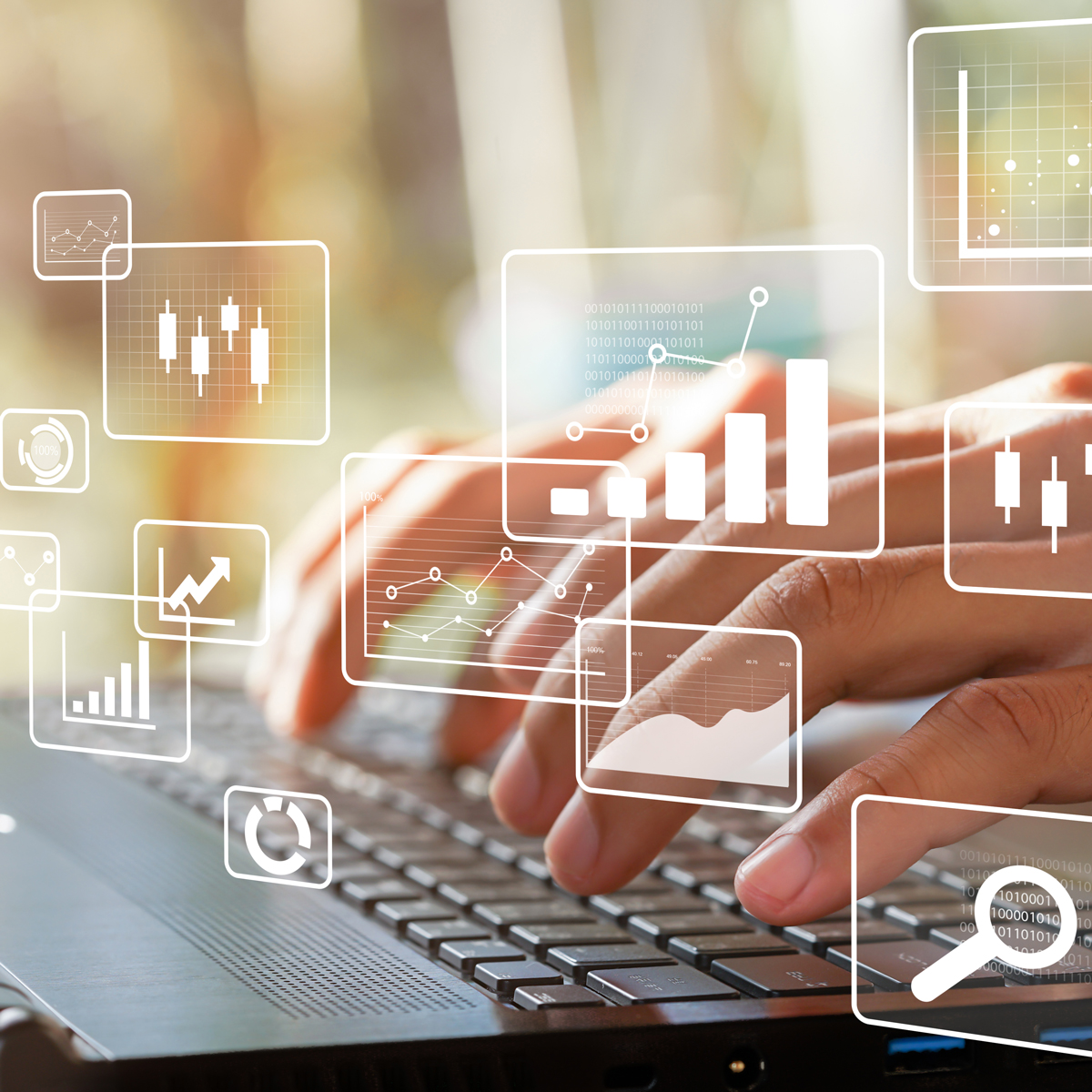 Capital planning software to centralize your information and communicate more effectively
While important, data is half the battle. The other half is planning it out and making it work for you, not the other way around. A lot of data can be housed in Microsoft Excel documents, but these can be time-consuming and potentially out of date or inaccurate and can therefore lead to miscommunication as documents get lost or misplaced.
Plus, as data is recorded at the facility level and moves its way up to a corporate office, multiple documents and multiple levels of feedback and prioritization occur, which can be difficult to track and maintain. Add to that the potential of receiving a capital budget for a whole year as late as March or April, and you've found yourself in a time crunch.
This is why communities struggling with strategizing, communicating and tracking their capital planning may want to consider a capital planning technology platform.
 As the leading Senior Living technology platform, Direct Supply® TELS® works hand in hand with senior care facilities to develop and maintain the TELS Capital Planning Tool to help:
Improve approval lead times by:
Streamlining the planning process
Consolidating your information into a single platform
Enabling swift response times through transparent communication
Identifying local vendors near you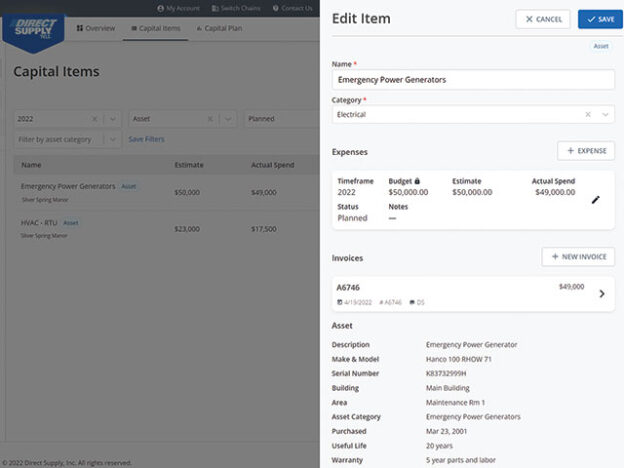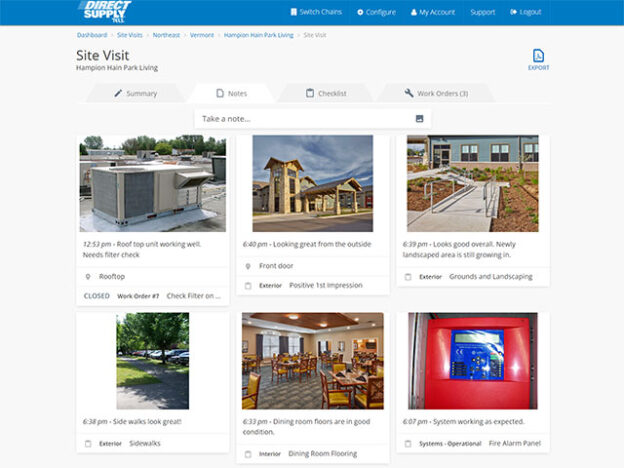 Increase visibility into capital spend
Because project requests can't get lost
Keep track of what's going on in your buildings with Site Visit & Asset Management tools
You define your own categories, roles, and assets

You keep up-to-date information such as useful life, repair need and history on all assets
Improve overall operating budgets of facilities
With clear visibility into past and current projects
With easy management of approved capital projects
By monitoring planned vs actual capital spend in your community
With capabilities that include segmenting capital history

 by building, region or owner group

By pre-distributing items and projects into different capital buckets as well as submit, review and approve capital items simultaneously.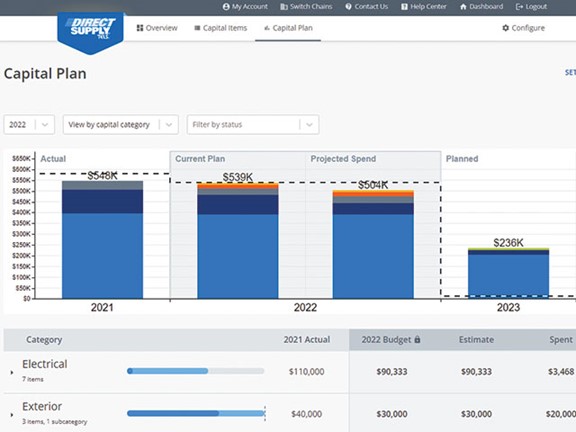 Capital planning software for your organization
In short, having a platform where up-to-date information can be viewed by any level of an organization allows more-informed, better capital decisions, smoother facility operations and happier residents. Best of all, TELS Capital Planning is completely free for TELS Platform customers! See more of what TELS Capital Planning has to offer or call 800-667-3880 with any questions.
Current TELS Platform Customers can learn more in the TELS Help Center
Already signed up for TELS Platform? Check out the TELS Help Center, where you can find video tutorials on how to configure your TELS Capital Planning tool, review items, track performance and much more!