Hosted by Seniors Housing Business magazine, the InterFace Seniors Housing West Conference offered an opportunity for West Coast-based seniors housing professionals to hear the latest on Senior Living development, share ideas and network with industry leaders.
Key Takeaways
From Senior Living investment opportunities to demographic trends on the West Coast, there was a wealth of valuable information and new insights presented at the conference. Here were our team's key takeaways:
Urban Design is On-Trend
Now more than ever, suburban communities are looking for an urban feel. Residents desire a location that is easily walkable to amenities, like restaurants, shopping and entertainment, to help foster stronger ties to the surrounding area. More communities are incorporating trendier designs, like open-concept spaces and mixed materials, that are more commonly found in urban locations. 
Community Layouts are Changing
It's not just suburban communities that are looking for a communal, social atmosphere. One of the most popular building layout trends is larger multipurpose rooms and smaller resident bedrooms. This layout helps encourage socialization among residents and increase your ROI.
Personalized Communities are In Demand
Today there's an increased desire for niche communities based on specific values, culture and interests, like art or animals. These specialty communities will attract residents who share common traits, creating a more communal atmosphere.
The Future is Digital
More communities are investing in the latest technology systems to help them prepare for the future. In-demand systems include those that can help improve safety, increase staff efficiencies and boost overall quality of life for residents. These technologies, like modern nurse call systems, can even help improve your bottom line.
Construction Costs are Rising
A concern facing the industry is the rising costs to construct new communities. This means it is even more important to find methods that will increase efficiency during the construction process and innovate ways to boost ROI.
Modular Construction Reduces Costs
One answer to rising construction costs is modular construction, which could help revolutionize how Senior Living communities are built. Not only can this construction style offer significant cost savings and shorter timelines, but the latest modular options can produce attractive spaces that appeal to prospective residents as well.
Staff Retention is Key
The number of seniors in America is increasing while the number of caregiving staff is decreasing. Creating a strong culture in your community is key to employee retention. Some tips for doing this include:
Creating core values and rallying around the community's mission
Identifying and developing future leaders
Conducting ongoing staff and resident surveys
Forming a core team to implement survey results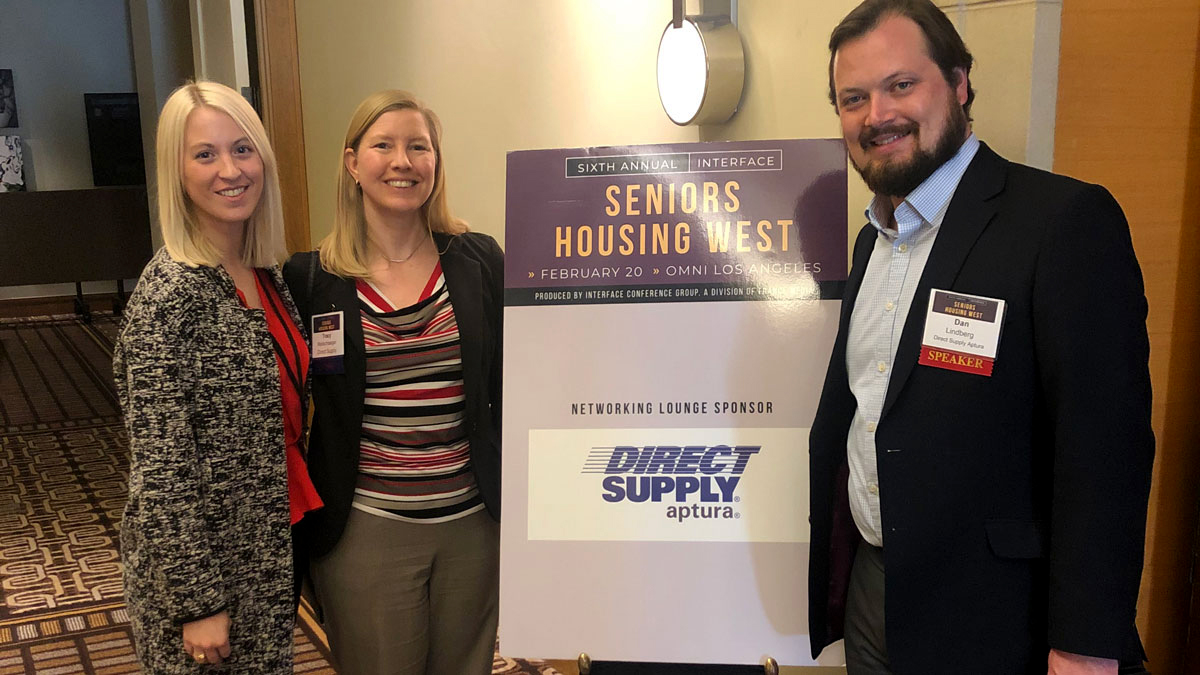 Calie Blanke – Marketing Manager, Aptura and Technology Solutions; Tracy Wallschlaeger – Senior Studio Lead, Aptura; Dan Lindberg – Senior Market Analyst, Aptura.
Direct Supply® Aptura® was a Gold Sponsor of this year's event, and Dan Lindberg, our Senior Market Analyst, participated on a panel about the importance of good data for development projects.
Our team had a great time connecting with clients and industry leaders at the InterFace Seniors Housing West Conference, and we're looking forward to continuing partnerships at future events! Learn more about Aptura, or follow along on Instagram, Twitter, Facebook or LinkedIn for more Senior Living insights.