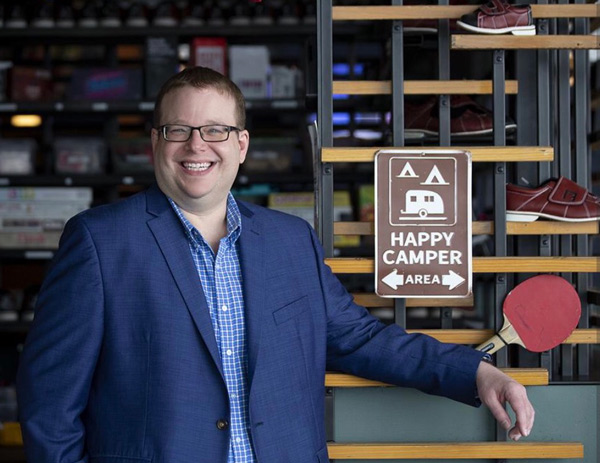 By Justin Smith
Manager, Innovation & Technology
As we enter 2020, it's important to look back on 2019 and celebrate our accomplishments, including the Grand Opening of our Innovation and Technology Center (ITC) in October. At the same time, we must quickly shift our attention to how we can best utilize our resources to continue the forward momentum of our industry and support Direct Supply's mission of helping to solve the hard problems for our customers.
In the past year, we've had thousands of customers visit us in Milwaukee, spending time at both our headquarters and the ITC. In the conversations we've had with these groups, one very evident concern has been around the shifting acuity of residents and the physical, emotional and financial impact that falls have on the residents, staff and facilities of our industry. It's for these reasons that in 2020 we will embark on an Action Research Project to understand, quantify and bring forward the best solutions to reliably and affordably reduce falls in Senior Living centers across the U.S.
So what is an Action Research Project? Action Research is a model to quickly ask questions, research solution strategies, test your solutions and determine if they're making the impact you expected. We believe with this approach, we will be able to take on the MASSIVE scale of the falls problem in Senior Living and start to make some rapid incremental improvements to improve resident outcomes, reduce the cost to serve these residents and attract a new generation of residents with modern facilities that keep them safer and healthier for longer.
How big of an issue are falls in the U.S.? From a human impact perspective, the CDC reports that about 25% of seniors report at least 1 fall per year1, resulting in almost 3 million emergency department visits annually2 with almost 1 million seniors requiring hospitalization and more than 27,000 resulting in death1,2. And as seniors age, co-morbidities mount and the likelihood of falls increase exponentially. As for the financial cost, as of 2015, the CDC estimated the cost of senior fall injuries in the U.S. was over $50 billion, with 75% of those costs falling to Medicare and Medicaid3. In 2020, that cost is expected to balloon to over $65 billion3. With this acuity shift, more and more fall-related claims are occurring in Assisted Living and the total dollars being paid in those claims is rising by almost 8% per year.
At Direct Supply, we believe that we're uniquely suited to bridge the gap between technology and our customers for this problem set. Our goal is to jump past individual products and pull together holistic solutions to solve the largest problems of the industry. As part of this year-long journey we are partnering with Senior Living providers, technology and research organizations, startups, private insurers and government agencies to test, learn and create new solutions. 
If you'd like to follow along, we'll be publishing updates throughout the process. If you'd like to get engaged, just reach out and we'll find the right opportunities.
Here's to 2020!
1. Bergen G, Stevens MR, Burns ER. Falls and Fall Injuries Among Adults Aged ≥65 Years — United States, 2014.MMWR Morb Mortal Wkly Rep 2016;65:993–998. DOI: http://dx.doi.org/10.15585/mmwr.mm6537a2
2. Centers for Disease Control and Prevention, National Center for Injury Prevention and Control. Web–based Injury Statistics Query and Reporting System (WISQARS)[online]. Accessed August 5, 2016.
3. Florence CS, Bergen G, Atherly A, Burns ER, Stevens JA, Drake C. Medical Costs of Fatal and Nonfatal Falls in Older Adults. Journal of the American Geriatrics Society, 2018 March, DOI:10.1111/jgs.15304