When it comes to Senior Living technology, there have been great strides in advancing nurse call and eCall systems. Gone are the days of nurse calls equipped only with lights and buzzers – today's models are much more sophisticated and streamlined. With 83% of Senior Living corporations believing they are underinvested in technology1, it's the perfect time to explore modern nurse call systems.
Today's systems provide complete community situational awareness across clinical, environmental and operational disciplines. And they can do it in real time, sending alerts to mobile apps, text messages, computers, tablets and more. They can also integrate information from other systems, such as wander management, door security and video cameras, into one simple end-user experience.
A nurse call system can improve conditions for staff, residents and families as well as boost your bottom line. Here are just a few ways nurse call systems can help streamline processes, enhance marketability and increase overall satisfaction:
Revamp your check-in procedure. Instead of using wooden flippers on resident room doors, try an automated system that uses a push button, door contact or motion sensor. The amount of time saved by simply running a report versus traversing hallways will pay for the technology add-on in no time.

Lighten the load on your staff. Combining a pager, radio and cell phone into a single smartphone equipped with an integrated mobile app not only reduces the amount of devices your staff has to carry, it also cuts down noise, expense and the inefficiency of having every responder running to every call.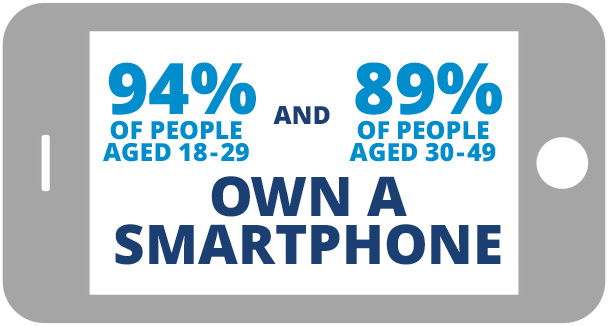 In today's Senior Living workforce, 28% are under 30 and 38% are between 30 – 49 years old2. And since 94% of people aged 18 – 29 and 89% of people aged 30 – 49 own a smartphone3, it's likely that many of your staff members are familiar with using a smartphone. That means you can seamlessly integrate a new, more efficient nurse call system with technology your staff already understands. Just make sure your Wi-Fi system is data-grade, has no gaps in coverage and partitions business use from social use.
Avoid costly maintenance emergencies. Consider including temperature sensors, water detectors and smoke detectors in your nurse call package. A simple $150 – $250 sensor can save thousands of dollars due to washer malfunction or refrigerator doors being left open.
Integrate your door monitoring and wander management systems. With today's nurse call systems, it's easy to integrate multiple processes. Dangerous events at a door, such as elopement, can be sent to phones and tracked in reporting for faster responses and potential changes to security policies.
Monitor residents at night. By putting a motion sensor in a resident's bathroom, you can monitor nighttime toileting needs or the potential for a fall, respond in real time to a potentially dangerous situation, or track information over time to see if greater care intervention is needed.
Promote your technology to prospective families and residents. They will appreciate knowing their loved ones are in an environment free of stressful alarms where they can call for help anytime and well-informed staff members are able to assist.
Take time to evaluate your current technology situation. Ask yourself questions like:
Are your systems optimizing staff time or causing you to spend more in labor?

Do they promote a quiet, peaceful environment that's ideal for promoting a healthy lifestyle, or do they detract from your company vision and principles?

Could you attract more residents to your community by investing in highly marketable advanced sensor and communication technology?
It's never too late to start investing in new technology for your residents, staff and guests. Direct Supply offers a variety of nurse call systems that can meet the needs of your community. 
Contact us today to schedule a free consultation to find the right nurse call system, or learn how we can help with any of your technology needs!
Award-winning technology improves safety
Direct Supply's Technology Solutions team designed and implemented RCare's wireless nurse call solution at Hunters Woods at Trails Edge, earning Gold in McKnight's 2019 Excellence in Technology Awards!