Do you have renovation projects to complete in multiple buildings? 
Managing multiple renovation projects simultaneously is complex, cumbersome and time-consuming. Each project requires some level of scope, plan, design, budget, construction and procurement. On top of that, each market, community, building and project has different needs and regulatory requirements – multiply that by the number of projects in a portfolio, and it's no wonder why concerns arise. When discussing this with our portfolio clients, they have expressed three common hurdles when delivering on multiple renovation projects: visibility to project status, speed to market and driving project efficiency savings.
Reimagine the Future of Senior Living Design and Construction
Aptura works exclusively with Senior Living clients to manage their real estate projects to optimize ROI while enhancing resident and staff satisfaction. Whether your project is a renovation, reposition or addition, we augment your team as a trusted partner to execute on your portfolio of projects.
Our strategic approach to portfolio renovations provides you with accountability and execution efficiency while driving enhanced savings through project aggregation. We know how to get renovation projects done on time and within budget to meet your project goals. Our main priorities when managing your portfolio renovation:
Accountability

–

Meeting project goals and expectations with dedicated program resources and real-time progress dashboards.
Speed

–

Accelerating project execution with site walk technology and integrated design and construction delivery.
Savings

–

Aggregating efficiencies and risk management with budget control, value engineering and more. 

We have seen this approach to managing portfolio renovations lead to transformed spaces that achieve intended outcomes, on time, within budget and with full transparency through every phase of the process. With this method, customers have experienced up to 24% faster completion of projects.*
Getting capital deployed and used properly is a massive undertaking – especially across multiple projects. Our team can help manage planning, design, procurement and construction, so you can take on multiple projects nationwide without adding to your in-house staff. When working with Aptura, you have a single point of contact – a program resource who orchestrates communication between your project stakeholders and Aptura's interior designers, architects, construction managers, and procurement specialists.
Our interdisciplinary team of professionals works in lockstep with your team on several projects, each in a different phase of completion. Choreographing this work in parallel allows you to efficiently allocate dollars and resources to different projects across multiple states simultaneously, as was the case with our recent portfolio renovation project.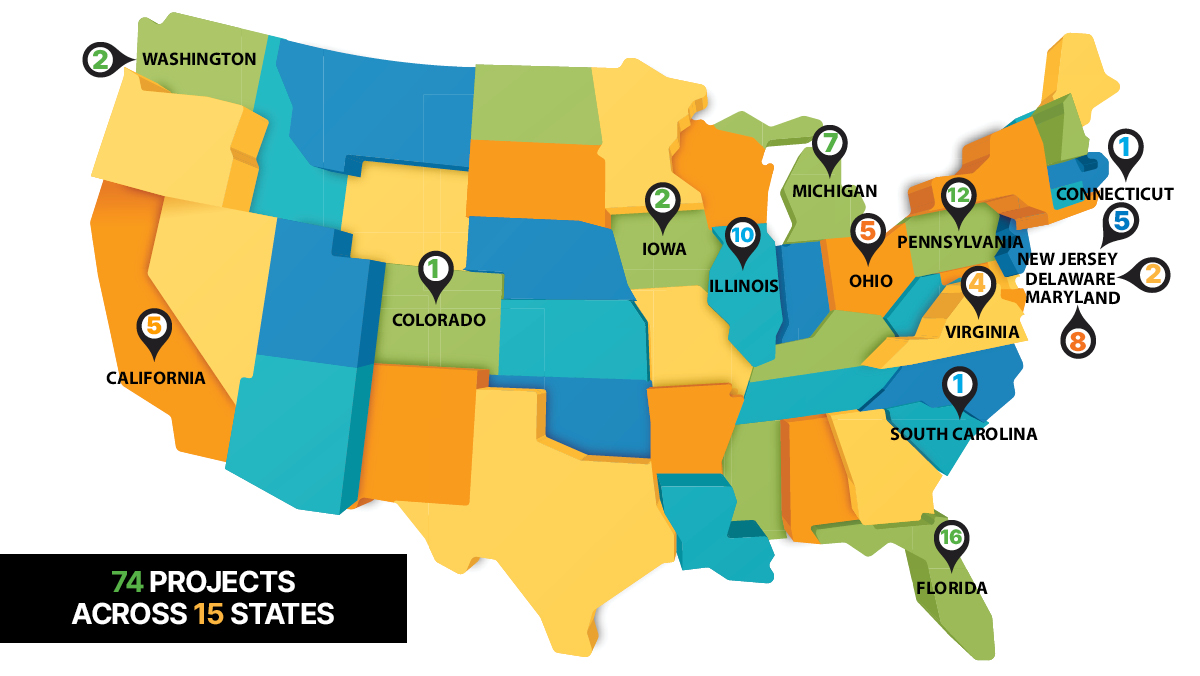 Strategic partnerships help execute 74 interior design projects nationwide
ProMedica recognized the potential synergies between acute and post-acute care and acquired HCR ManorCare to bring those synergies to life. But to realize that vision, there was a lot of work to do to renovate and rebrand 74 Long Term Care and Memory Care buildings across the country. Partnering with Aptura allowed ProMedica to get these projects underway quickly while maximizing their return on investment. 
"Working with Aptura helps fill a gap in our business that allow us to renovate buildings in need, without us having to hire new staff. Aptura really is a one-stop-shop for design, construction, purchasing and architecture.

The renovation work that has been completed, like a refreshed lobby or nurse station, has made our buildings a better place for residents, staff and visitors. We have seen these projects improve moral for staff especially. They see us investing money in the spaces they use everyday and it impacts their overall well-being." – Rich, ProMedica
In care settings, interior design needs to not only serve the desired aesthetics and reinforce the brand, it also needs to serve the function of the space. Our team has been able to quickly execute on ProMedica's operational model to create functional and engaging interiors that best serve their unique operational needs.
By looking at the whole portfolio of properties, we can implement consistent changes that support ProMedica's operations and branding, while also considering the unique needs of each building. As a result, we've become an extension of ProMedica's team not only because of our large, multifaceted staff, but also because of our understanding of Senior Living and healthcare programming needs.
"My client views me as a part of their team. Over time, we have tailored our processes based on learnings to help drive efficiencies and savings. It's a win-win situation. As owners and operators, they are accelerating the speed of project completion and receiving greater project outcomes.
And as a Project Manager, I have gained invaluable insight into all areas of the renovation process. After overseeing 74 projects at once with ProMedica, I feel confident I can help this and future clients navigate any possible situation that arises and guide them towards the most effective solution."
Our 360 Promise 
The success of our partnership with clients like ProMedica is directly related to our holistic design approach. Our experts design with our 360 Promise – we focus on five key pillars of building design to help you create a safe and sustainable space for residents and those who care for them.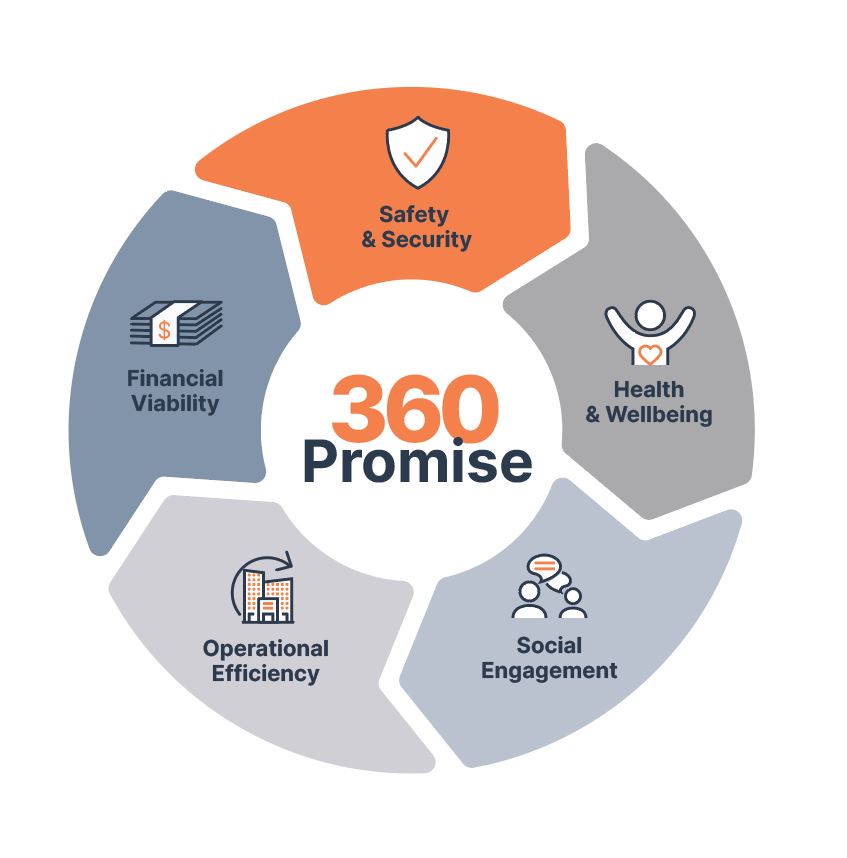 Safety & Security
Create a secure, residential environment for residents and staff that encourages resident independence.

Health & Wellbeing
Create an environment that supports and improves the health and lifestyle choices of residents.
Social Engagement
Create a community where residents are encouraged to stimulate their mind, body and spirit.
4. Operational Efficiency
Reduce the cost to serve, optimizing building operations and staffing.
5. Financial Viability
Position the community to drive census, staff retention and profitability.
Looking to drive efficiencies in your next project?
Streamline your next design project with Aptura, your strategic partner in Senior Living and healthcare renovations. Contact our team today or fill out the form below for a FREE consultation!
*Time to completion based on completed portfolio renovation projects $300K or less, conducted through Aptura in 2019, comparing the average timeline of the first three projects and the last three projects for the same corporation. Results not guaranteed; unforeseen delays such as pandemic restrictions and supply chain constraints may impact project timelines.