In a healthcare environment with acuity on the rise, many facilities are enhancing their lifting sling programs. With this comes the need to rethink the approach to slings. While proper medical procedures and manufacturer guidelines should be followed at all times, our experts have put together a few tips to  demystify a few common questions about slings and lifts. Proper patient positioning through lifting slings can play a critical role in improving respiratory exchange and encouraging patient stimulation. 
Read on to learn how to choose an elderly lift sling and how to use lift slings for optimal patient care in your healthcare setting.
How to Choose Lifting Slings
First, identify how many patient lift slings slings your healthcare setting needs. While there isn't one right answer to this question and the quantity will depend greatly on the patient population in a building, below is a general starting point. These per-lift recommendations will change based on the acuity level of patients and body type.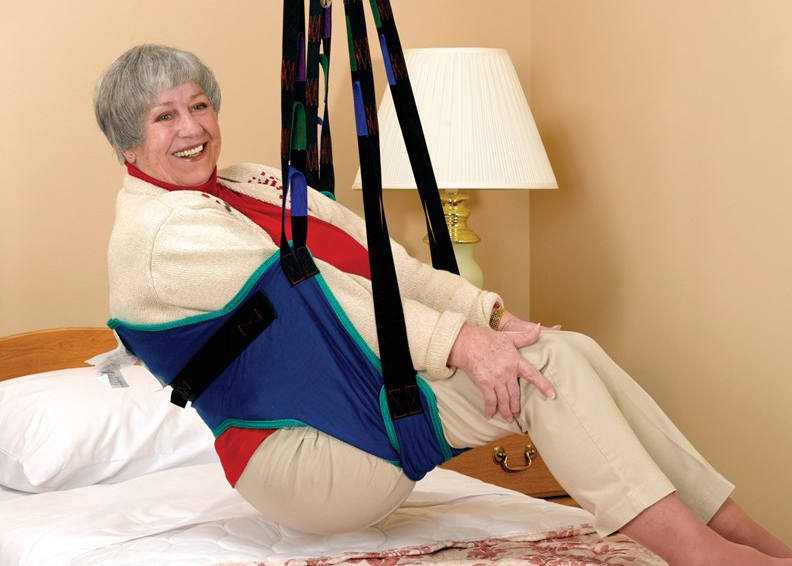 Floor Lifts:
Floor lifts help caregivers transport high acuity patients who have limited mobility. Floor lifts can be used to move patients from beds to wheelchairs or help with bathing and toileting. Below are a few floor lifting sling considerations:
Divided Leg Slings: 3 medium, 1 – 2 large and 1 extra large
Divided leg slings provide patient support from the back and underneath the thighs.
Full Body Slings: 1 medium and 1 large
Full body lifting slings support a patient's entire body and contain their arms in the sling straps. Patient's legs will hang outside of the sling during transport.
Hygiene Slings: 1 medium
Hygiene or toileting lift slings support the patient during the toileting process to provide safe and comfortable transfers while considering their dignity.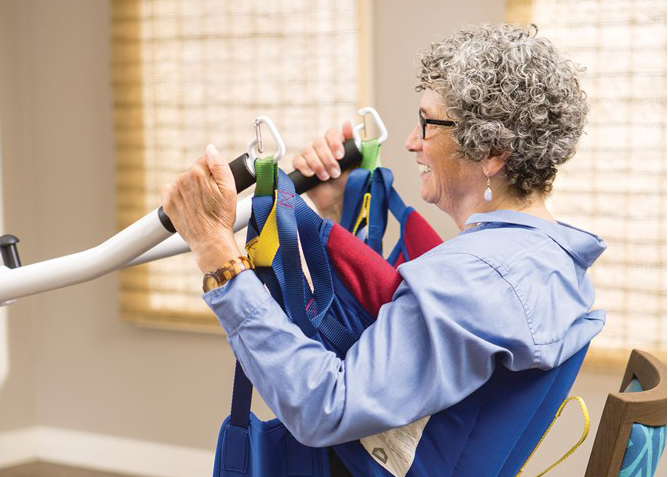 Sit-To-Stand Lifts:
Sit-to-stand lifts help patients who have some mobility, but need assistance rising from a sitting position. Sit-to-stand lifts allow caregivers to comfortably and safely assist mobility patients with sitting and standing. Below are a few sit to stand lift sling considerations:
Standing Slings: 2 medium and 1 large
Standing slings are ideal for patients who can bear half or more of their own weight and have sufficient head and neck control. These types of sit-to-stand lift slings can take patients from a seated to standing position.
Transport Slings: 1 medium and 1 large
Transport slings provide back support up to a patient's shoulder area and underneath their thighs. Transport sit-to-stand lift slings can be used for seated transports, such as bed to chair or in room transport.
What Are Specialty Patient Slings?
Keep in mind that you may have patients who, based on weight, shape or specific health needs, require other sizes or sling types (hygiene, walking, gait training, repositioning, etc.)
A few examples of patient-specific slings include:
Bariatric Sling
Repositioning Sling
Harness
What materials are slings made from?
Patient lift slings can also be customized to meet specific needs through their sling material. Common lifting lift material includes:
Poly. Poly slings are the standard lift sling material and are strong and durable.

Mesh. Mesh slings are commonly used for bathing, as they dry and let go of water easily.

Padded. Padded Sit-to-Stand sling material offers added comfort for patients.
Lifting Slings Chart: Multi-Brand Compatible Slings
Direct Supply offers a variety of sling and lift solutions for your healthcare setting. Discover our multi-brand compatible sling selection and learn more about this versatile offering in this Multi Brand Sling Vlog.
Direct Supply's multi-brand slings have passed compatibility testing and are appropriate to use with leading brands of lift equipment. The lifting slings compatibility charts below contain our Direct Supply multi brand compatible sling models, material and size options:
Floor Lift Slings Chart:
Sling Model
Material Options
Size Options

Full Body Floor Lift Slings:

Offers support for the head and neck, while providing comfort and security for patients during transfer

Poly and Mesh

X-Small, Small, Medium, Large, X-Large

Full Body with Commode Opening Floor Lift Slings:

Commode opening allows for easy toileting access while maintaining the comfort and security of residents

Mesh

Medium, Large, X-Large

Divided Floor Lift Slings:

Easy to use, versatile design can be attached in a variety of ways for different applications

Poly

Small, Medium, Large, X-Large

Toileting Floor Lift Slings:

Design allows for easy toileting and hygiene access

Poly

Small, Large, X-Large
Sit-to-Stand Lift Slings Chart:
Sling Model
Material Options
Size Options

Transfer Sit-to-Stand Lift Sling:

Offers additional leg support during seated transfers

Poly

Small, Medium, Large

Padded Standing Sit-to-Stand Lift Sling:

Padded design helps increase resident comfort while supporting patients with some weight-bearing ability

Poly

X-Small, Small, Medium, Large

Gluteal*:

Sit-to-stand strap for added stability during the use of the padded standing sling

*Gluteal to be used in conjunction with Padded Standing Slings ONLY

Poly

One Size Fits All
Shop the full collection of Direct Supply's multi-brand slings to standardize and save on slings in your healthcare setting.
A best practice is to assess the needs of each individual patient to determine the lift and sling mix you should purchase. Some benefits of purchasing patient-specific slings include:
Operational Efficiency
You will have to launder each sling less often and your slings will last longer.
Patient Satisfaction
In some instances, residents prefer their own sling as opposed to one that is moved from resident to resident.
Safety & Compliance
Staff does not have to take time to look for the appropriate sling. By having enough of them available, you promote compliance.
How Do I Determine What Sling My Resident Needs?
While fit and comfort are important assessment factors when choosing the correct sling, there are other essential considerations to take into account. The determination of the correct sling model and size must be done by a licensed clinician. That designated licensed clinician should:
Assess the resident and determine that the resident actually requires a lift/assist device

Determine the correct lift/assist device and sling based on the resident assessment and the manufacturer's instructions. Follow manufacturer's recommendations to determine the appropriate sling based on the desired function.

Document the specific recommended lift/assist device (make, model and weight capacity) and sling (make, model and size – including any specific attachment instructions). Remember, slings can be made of mesh, breathable fabric, nylon, quilted, padded and may have parts that can be plastic or metal. Be specific.
How Do I Ensure Proper Usage?
Having the proper equipment is an excellent start, but making sure your staff and residents know how to use them is absolutely essential. Be sure to follow any and all manufacturer instructions and safety compliance instructions. Additionally, consider these tips:
Communicate with Caregivers
Make sure your multi-disciplinary team knows exactly what equipment and what procedures are being used for each resident. Changes in a resident's condition may influence the type of care they receive and which sling is appropriate for use.
Perform Regular Inspections
Look for signs of wear, fading, loose or broken stitching, or discoloration. If you find any of these or have a question about the sling, talk to the charge nurse. Slings should NEVER be repaired.

Connect with Residents
Before any lift of transfer, introduce yourself and verify their physical capabilities and mental status. Even let them know step-by-step what you will do and how they can help. Be sure to center the patient in the sling BEFORE starting to lift the resident to make the transfer.
Discover Lift Slings for Your Healthcare Environment
As many healthcare environments revamp their lift and transfer programs, now is a great time to begin thinking seriously about the slings you use. From caregiver efficiency and compliance to resident safety and comfort, there are many aspects to consider as you shop for slings. Explore our selection, including slings for the customer favorite Direct Supply® Atlas Sit-To-Stand Lift or contact us for more information on finding the right slings for your unique patient population.
NEW!

Request a Virtual Product Demo
Connect with one of our product experts for a one-on-one product demo. Help us understand your environment and use case. We'll help match just the right product to suit your needs, show you how it works and answer any questions!
Fill out the form below to request a virtual demo.