The COVID-19 pandemic has drastically affected Senior Living dining. Many Senior Living providers are looking for ways to adapt their dining and foodservice programs to future-proof their communities. Hospitality-inspired strategies that were popular the past several years need to be modified in order to prioritize the health and safety of residents and staff. Yet, you can still create desirable dining experiences.
As we look at trends in Senior Living design during COVID-19, we're forecasting the need for flexible foodservice processes to continue. Here are four dining trends we're seeing:
Innovative Food & Dining Trends in Senior Living
1. Flexible Dining Rooms 
One of the emerging senior housing trends during COVID-19 that we expect to continue is developing multiple smaller ecosystems throughout your community to help with population health management. 
Each ecosystem would feature a smaller satellite dining space to support residents during a health emergency. These adaptable spaces allow resident socialization while being able to easily separate or convert spaces in a crisis. During an emergency, any room can serve as a dining room, including a chapel, theater or library. In new construction projects, intentionally designing amenity spaces that can be used as dining rooms can help you adapt to unforeseen situations. If renovating existing systems, incorporate flexibility into design and furnishings selections for adaptable spaces.
Smaller ecosystems can also allow for special senior dining programming. For instance, communities can use mobile kitchen carts and have a chef prepare a meal in front of a small group of residents in the satellite dining space.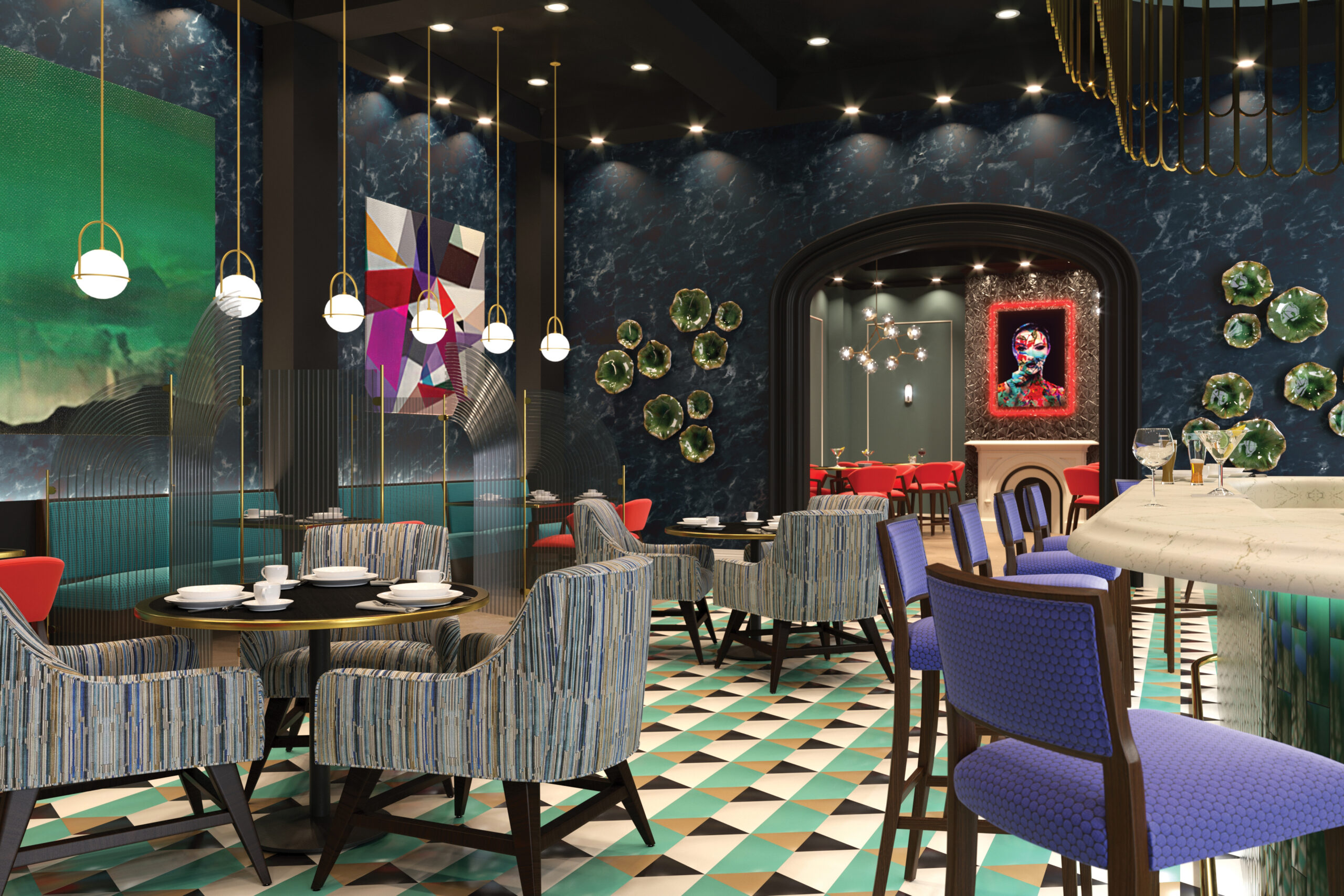 2. Adapting Existing Dining Spaces 
In existing Senior Living dining rooms, we recommend adding dividers to help create intimacy and safety while still offering residents a positive experience. There are many dividers to choose from. We offer decorative and mobile full-height panels that divide tables when strict safety measures are necessary and can easily be removed. You can also select smaller clear, acrylic tabletop dividers that provide protection for residents sharing a table. 
In addition to separating groups, it's important to control the flow of people. If a current dining room has a pre-function space, residents could enter there and exit through a second door to help reduce interactions. This one-way flow helps minimize the risk of transmitting harmful pathogens. 
We're also seeing communities implement staggered mealtimes to support social distancing practices and allow staff to thoroughly disinfect the space between each seating. Resident surveys can help provide insights on how comfortable residents are with congregate dining. You may want to introduce reservation-based service in your dining program. This allows residents to reserve a table or order a meal online before picking it up at the bistro.
No matter your dining area set up, you can invest in safety by incorporating easy-to-clean dining furniture. Consider faux-wood metal dining chairs that are ultra-durable and bleach cleanable. Identify your furniture materials and ensure best cleaning practices for maximum precaution.
3. Maximizing Outdoor Space
Converting a patio into an extra dining area is a great way to take advantage of outdoor space and natural air circulation. Adding outdoor kitchens, including a grill, cooler and mobile bar, can offer a unique dining experience. It also takes the burden off of staff and boosts operational efficiency by avoiding ongoing trips back to your main kitchen. 
Hosting a safe, socially distanced food truck night on a regular basis is another option to help maximize outdoor space. Not only will it help draw residents outside, but it can also foster a greater connection to the local community.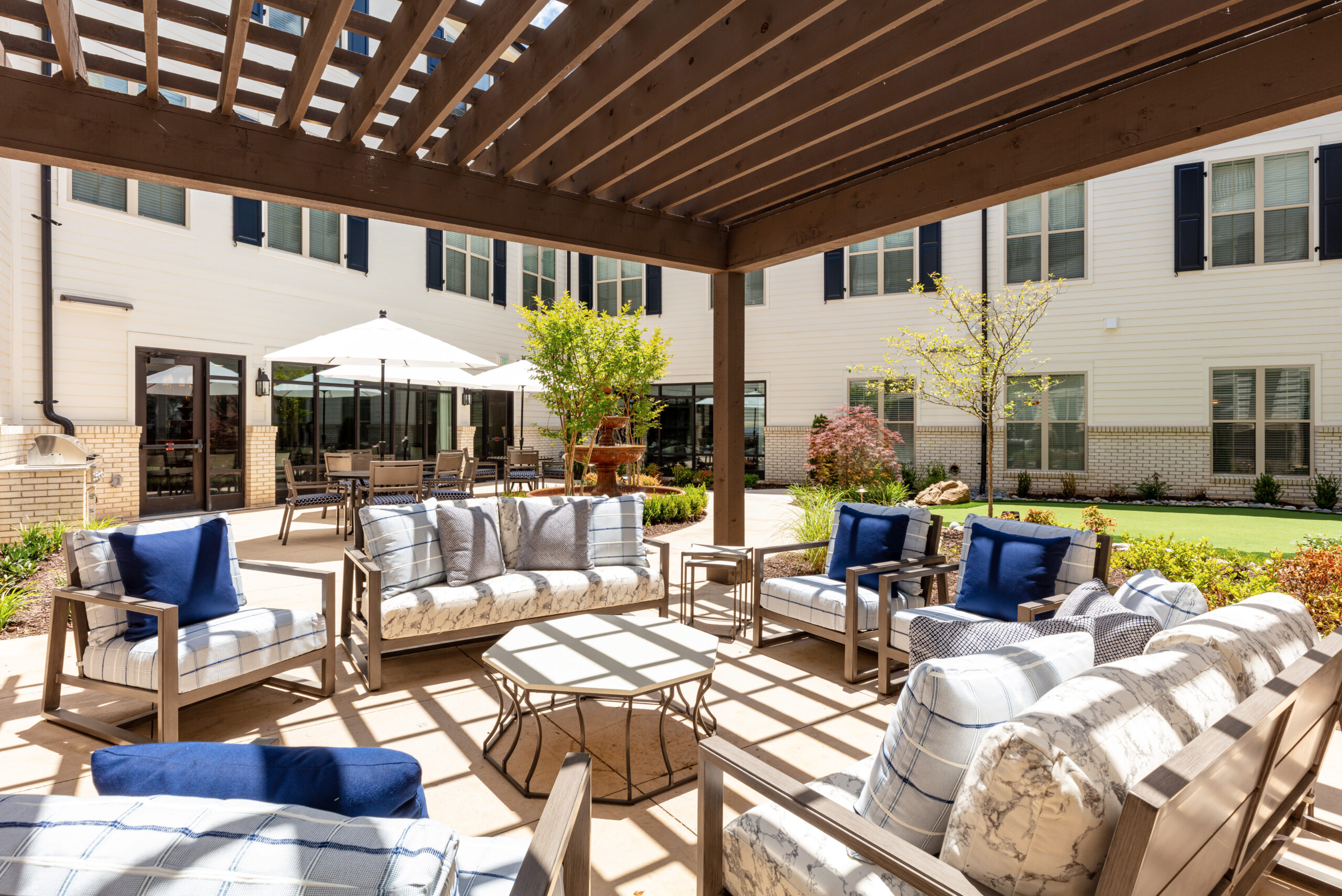 4. Enhanced In-Unit Dining
Some Senior Living communities had to fully pivot to in-unit dining during the peak of the pandemic. As we look to be more prepared in the event of future outbreaks, we encourage providers to take cues from the hospitality industry and mimic the room-service experience.
Almost any amenity can be brought to a resident. Providers can offer a coffee cart in the morning or a happy hour cart in the evening. You can also curate grab-and-go meals from existing bistros in resident rooms. 
Providers are also planning safe dining events to balance the social needs of residents with their health and safety. Themed events, like Casino Night, Pizza Party or Breakfast for Dinner, can inspire excitement in a community. As the happy hour or meal cart rolls down the hallway, residents can order from their doorways and participate in the event — staying socially distanced and included in the fun!
Not only can communities offer in-unit dining, but they can also translate some of their most popular dining programming to in-unit entertainment. For example, chefs can livestream cooking demonstrations from an exhibition kitchen so residents can still engage with the community.