Microfiber vs Cotton: Which is the Better Choice for Healthcare Maintenance?
Cleaning with microfiber vs cotton can help create labor savings for your facility. When choosing the right cleaning materials for your buildings, there are certain aspects you may want to consider: cost, efficiency, safety and cross-contamination risk. Here are the top 5 benefits of using microfiber mops and cloths to clean your buildings. 
Labor time

: workers don't need to empty and refill buckets or wring out mops with microfiber vs using cotton mops. The ergonomic handles also help reduce strain on staff, which can reduce employee burnout.

Cross-contamination

: microfiber lowers the risk of cross-contamination by dedicating one pad per room vs. one mop head used repeatedly in  multiple rooms; a color-coded system can also aid in limiting the spread of germs.

Spending:

microfiber pads usually withstand 250 – 500 standard washes, whereas traditional mop heads only last around 50 to 60 washes.

Chemical and water usage

: microfiber traps dirt, dust and bacteria at microscopic level, reducing the usage of water and chemicals all around.

Environmental impact: the decreased consumption of water and chemicals also helps reduce environmental impact as well.
Is microfiber better than cotton?
Microfiber usually does help with labor savings over cotton. If you're considering using microfiber for your facility then you'll need to know a few key aspects on how microfiber works:
How microfiber works

How to take care of it properly

What surfaces to clean with it

Impact of microfiber in healthcare
How does microfiber work?
Microfiber contains tiny fibers made up of synthetic materials. Knit together, these fibers are able to access small grooves and crevices as you clean that larger fibers can't; trapping bacteria, viruses and particles with its static-charged fibers. Due to how microfiber is created, they also have a high absorbency level, which means you can clean more frequently and faster using a microfiber mop or cloth than if you were using a regular cotton or polyester mop or cloth.
How effective is microfiber vs cotton?
The tiny fibers of microfiber effectively pick up and trap 99.54% of dirt, dust and bacteria at the microscopic level using water alone, reducing the amount of chemicals your facility needs for maintenance. Standard cotton mops only pick up 67% of dirt and will re-deposit 33% of that back onto your floors1."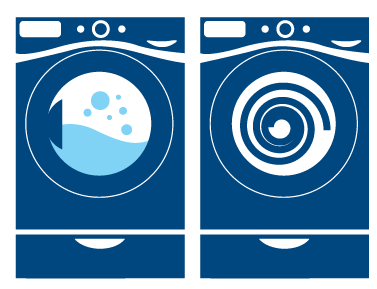 According to the CDC...
 "Launder mop heads, floor cloths, and soiled cleaning cloths at least daily (e.g., at the end of the day) and allow them to fully dry before storage and reuse2."
There are four main types of useful microfiber tools in healthcare maintenance, including:
Dry mops

. Dry mops remove all loose particles on the floor prior to the damp mop. Use on any hard floor such as wood, tile, ceramic, vinyl and linoleum.

Dust mops. Used to remove dust and small particles from hard surfaces.
Damp mops

. Damp mop after dust mopping for disinfection. Like the dust mops, you can use on any hard flooring.

Cloths

. Used to dust, disinfect, and clean anywhere you typically would use a regular cloth or paper towel. This includes any non-carpeted areas such as baseboards, bathroom surfaces, countertops, flooring, door handles, etc.
Microfiber benefits: cleaning labor efficiencies in healthcare spaces
Staffing shortages and budget concerns are creating turmoil in healthcare, costing precious time and resources as facilities attempt to create more efficiencies. Identifying time, money and labor savings is critical, and microfiber is one solution we see healthcare maintenance turning to.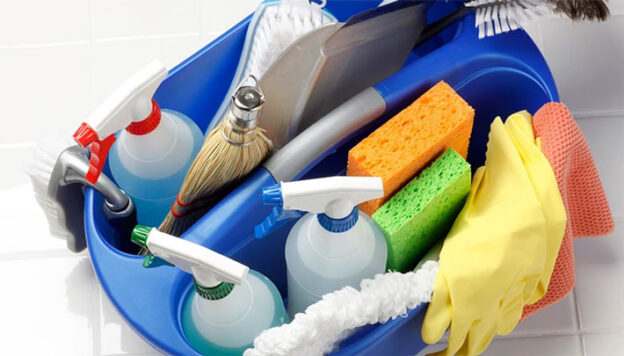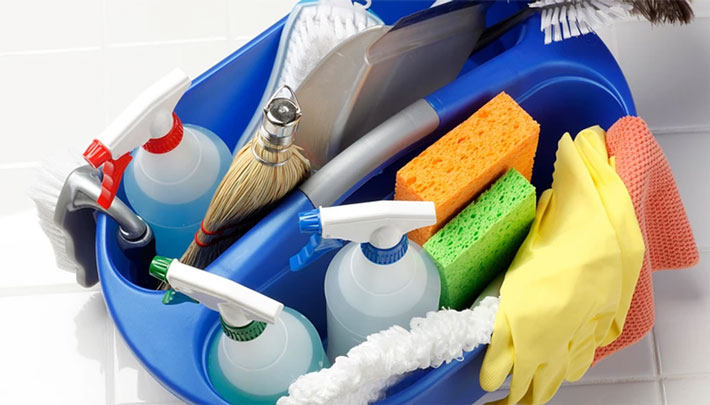 Takeaway tip: reduce cross-contamination risk by using a fresh microfiber pad for each room, eliminating the need to empty and refill water buckets.
Does microfiber cost less than cotton?
Labor savings is an overwhelming need in the healthcare industry – now more than ever before. That's why researching and purchasing the correct tools is absolutely essential. Switching to microfiber mops and cloths may not only help you save time but also help to reduce strain on your staff and even save you money in the long run. We are here to answer three essential questions in terms of microfiber savings:
How much time will microfiber save me vs cotton?
Addressing common issues with microfiber
What microfiber brands should I choose?
Microfiber vs cotton comparison
| Benefits and Costs | Cotton Damp Mops | Microfiber Damp Mops |
| --- | --- | --- |
| Washings Per Mop w/out Bleach | 50 | 500 |
| Chemical Costs | $1.32/day* | $.055/day |
| Water Costs | $.48/day** | $.02/day |
| Labor Efficiency (sq ft/hour) | 5,000 | 23,000 |
| Overall Cleanliness | 67.75% Microbe Removal | 99.9% Microbe Removal (w/ detergent cleaner) |
Shop Microfiber Brands at Direct Supply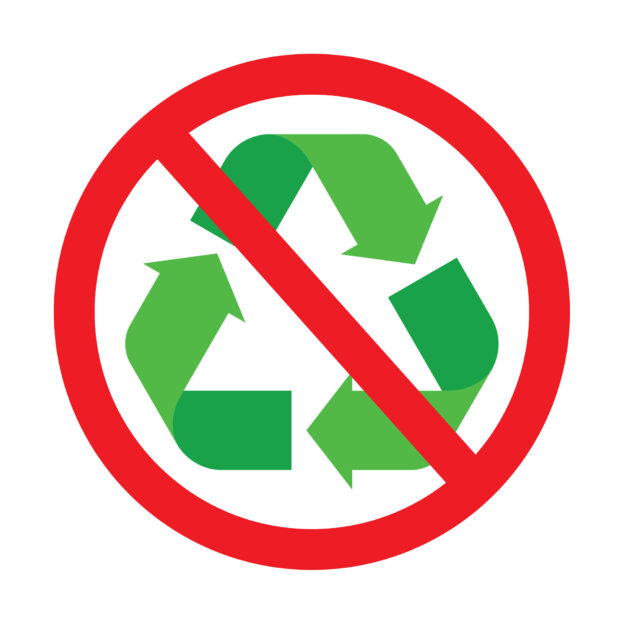 Microfiber pollution problems to consider
We wish there was a one-cloth-fixes-all solution to your cleaning needs, but it is important to consider all the facets of utilizing microfiber, and that means addressing microfiber problems. So, we've told you what's great about them, now it's time to determine whether or not they are the right fit for you and your facility. This type of cloth, while taking the industry by storm, is not without its disadvantages.
The table below outlines what microfiber problems you may want to consider before making the switch from cotton to microfiber.
| Common negatives of microfiber | Common solutions to microfiber issues |
| --- | --- |
| Environmental: most microfiber isn't recyclable | Microfiber reduces water and chemical consumption by up to 95%3, which drastically reduces environmental impact |
| Pollution: plastic threads come off in the washing machine and potentially ends up in the ocean | Fibers can add to pollution, but less water is used to wash it |
| Aesthetics: Microfiber can leave streaks when reaching end-of-life | This serves as a great way to know when it's time to order more |
| Efficiency: Microfiber stops working as efficiently when reaching end-of-life | This is a common problem with all cleaning tools, and there isn't a true "fix" other than to replace the failing item |
Microfiber brand comparisons: what are the best brands to use?
We have already discussed the effectiveness of microfiber vs  cotton cleaning materials. However, not all microfiber is alike.
Direct Supply offers three different brands for you to choose from, such as our own
Direct Supply
®
brand
as well as
PerfectClean
® and
Rubbermaid
®. Other microfiber brands you may want to investigate include:
Golden Star

®

Boardwalk

®

Impact

® Products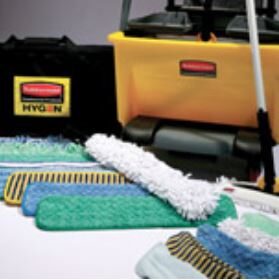 If you are interested in
learning more about the pros and cons of microfiber vs cotton and which brands to use
then we encourage you to reach out to your Direct Supply representative.
Microfiber Brand Usage and Style Comparison
| Product feature | Direct Supply | PerfectClean | Rubbermaid |
| --- | --- | --- | --- |
| Coloring scheme | Each color has its own function | Each product comes in multiple colors | Each color has its own function |
| Wet mop product size | 18", 24", and 36" flat mops | 12", 18", and 36" flat mop | 11", 18", 24", 36", and 48" flat mops |
| Dust mop product size | 18", 24", and 36" flat mops | 12", 18", and 36" flat mop | 11", 18", 24", 36", and 48" flat mops |
| Cleaning cloths product size | 12" x 12" and 16" x 16" wipes | 12" x 12" and 16" x 16" wipes | 12" x 12" and 16" x 16" wipes |
| # of laundry cycles without Bleach | 500 – 600 washes | 500 washes | 500 washes |
| # of laundry cycles with Bleach | 250 – 300 washes | 500 washes | 200 washes |
| Folded-over edge mop pads? | Yes | No | No |
| Antimicrobial? | No | Yes | No |
| Bucketless system option? | No | Yes – SDX 50 or SDX 60 | Yes - Pulse |
| Lifetime warranty (hardware)? | No | Yes | No |
Top microfiber products for healthcare maintenance
There are tons of different microfiber options floating around in the industry, so it can be difficult trying to figure out where to start. If you're looking to get your building set up with microfiber products, we suggest checking out these top microfiber products for healthcare maintenance.
Floorcare microfiber products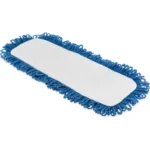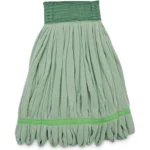 Microfiber looped-end mops
Microfiber hard surface cleaning products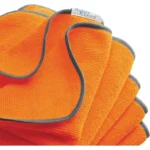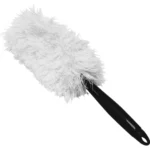 Microfiber accessories & cleaning buckets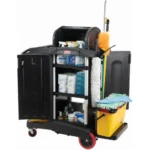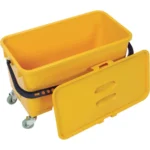 Find more labor savings solutions for healthcare!
For over 40 years, Direct Supply has been the one source of solution-driven platforms, products and services that address the unique needs of seniors across all care settings. Now, as more and more seniors make up the majority of your patient base, it's essential you address their unique care demands.
With access to over a million products, Direct Supply is your single source for healthcare maintenance needs, including microfiber, EVS products and more.
 See how at DirectSupply.com
Sources
Related notes:
*Assuming diluted chemical cost of $.055/gallon, filling 4 gallons/bucket and changing bucket every three resident rooms
**Assuming water cost of $.02/gallon, filling 4 gallons/bucket and changing bucket every three resident rooms
***Assuming 10 minutes/mop bucket change and the bucket is changed every three resident rooms