Optimize Memory Care Design for Resident Well-being

With the demand for Memory Care communities on the rise, incorporating innovative design tricks will be key to supporting the needs of residents. In addition to reduced mobility, strength and visual acuity, residents may have added concerns, like wandering or psychological symptoms. It is important to consider integrating long-term infection control and prevention initiatives in Memory Care design and holistic Senior Living design.
When necessary due to the health climate, consider the effects of isolation within a Memory Care environment and learn proper engagement tips for this care type. 
1. Innovative Memory Care Interior Design
When choosing fabrics, stick to lighter colorways – dark fabrics may appear as a missing space or hole. Similarly, keep the patterns simple. Complex patterns, specifically those with dots, could be mistaken for bugs or debris, while textured fabrics could encourage residents to pick at the fabric. Like in all Senior Living environments, vinyl fabrics are a great choice for Memory Care spaces because they're moisture resistant and easy to wipe down. Find out more fabric and color palette Senior Living interior design tips.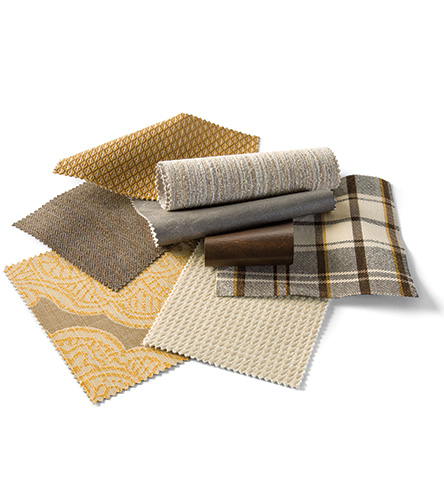 3. Memory Care Design for Intimate Dining Spaces
Consider table sizes that seat two to four residents. This can create a more comfortable setting for residents to converse with each other, stimulating social interaction. Plus, a more intimate setting will help minimize distractions for residents trying to complete one specific task. Create the ideal dining space for Memory Care residents with tables and chairs from our dining furniture selection. Intimate memory care dining and living space designs also promote safe distancing and consistent interactions, which are important for infection prevention tactics.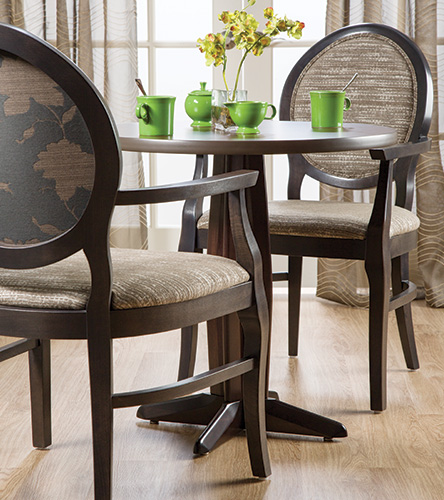 Create a dementia-friendly environment by using memory aids to remind residents about mealtimes. Try a clock with large numbers, an easy-to-read appointment calendar with large letters and numbers, or even a daily schedule or menu board.
In Memory Care dining spaces be consistent with furniture placement, so residents know what to expect. Play classical or soothing music for a calming effect. It's equally important for Memory Care residents to avoid over stimulation caused by television, excessive noise or too many people.
A separate service time for Memory Care residents gives them a calmer, dementia-friendly dining experience. When several care types are in the dining space at once, seat Memory Care residents facing away from other diners to help prevent distractions.
When caring for dementia patients, keep the table setting basic, and only offer the utensils they will need. That also means avoiding patterned plates and tablecloths as well as minimizing decorations and condiments on the table that might cause unnecessary distraction.
However, creating contrast is still a critical part of Memory Care dining room design. Many residents suffer from visual impairment so distinction between the food, the plate and tablecloth should be considered. Use brightly colored dinnerware, which will help residents identify where the food is on the plate. In fact, a Boston University study found that "older adults dining from red plates ate 25% more than those dining from white plates."
What Memory Care residents eat with can also improve their overall dining experience. Increase independence by substituting a bowl for a plate, a spoon for a fork, or choosing from assistive dinnerware, mugs and flatware that address some physical issues associated with aging. For example, large handles offer a more comfortable grip, weighted utensils keep things steady, coated utensils protect lips and teeth and two-handed mugs with lids help reduce spills. Shop all of our dining utensil offerings. 
Just like anyone, feeling involved and part of the conversation can make a big emotional impact on Memory Care residents. With that in mind, encourage staff to greet residents and engage with them in conversation before, during and after meals – even if residents are not able to respond verbally. When possible, sit and eat with residents and offer assistance throughout the meal. Just keep in mind that while staff may be joining the meal, their focus should remain on the residents.
While residents with Alzheimer's, dementia or other Memory Care concerns may need extra attention, staff and caregivers can utilize several strategies to help improve their overall dining experience.
Learn more about Memory Care dining from our Senior Living experts.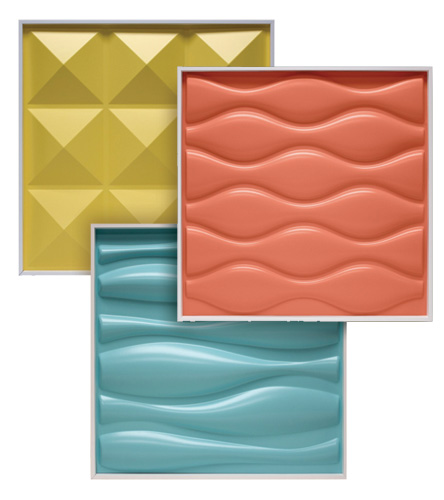 4. Encourage Proper Wayfinding in
Memory Care Design
Create a personalized entryway outside the resident's room by using recognizable décor from home. It'll help the resident find their way and feel more comfortable. Start by including photos, and consider adding memory boxes, so residents can add personal mementos.
Color recognition can help guide residents throughout the building. Clear signage and way finding materials, like 3D texture panels, are a good place to start. By combining color and texture into a way finding material, the panels help guide residents as well as boost mood, improve behavior and increase calmness. 
5. Support Physical Stimulation and Well-being for Memory Care Residents
Movement is an important part of keeping residents healthy. Not only can movement help generate a calming effect, it can also improve circulation and prevent pressure ulcers. Consider using rocking chairs to give residents a chance to move and stimulate different areas of the brain. Innovative stationary rockers are a great option because they feature a seat and backrest that rock while the leg and arm assembly stays in place for increased safety.
Fresh air in the open outdoors is an essential part of personal care. Consider outfitting outdoor spaces with activities for the elderly, like a putting green and cornhole bag boards, or a Memory Care garden.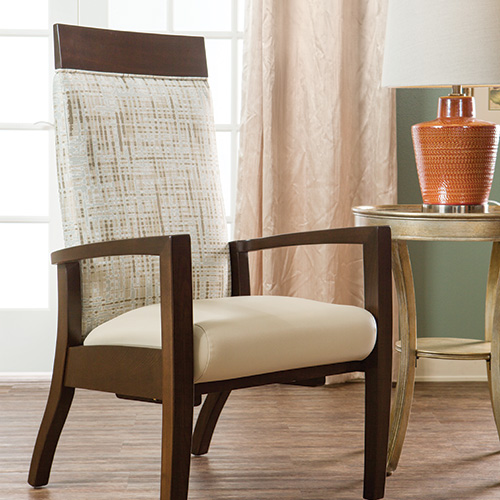 Maxwell Thomas Galveston Stationary Rocker
Memory care garden designs should emphasize the cycle of planting, nurturing and harvesting. This cyclical pattern reminds Memory Care residents of common cycles like seasons and days of the week. Connections like this help early stages of memory loss and decreases the risk of cognitive impairment.  Involvement in a community garden improves resident wellness and engagement by prompting communications with peers, stimulating memory and offering opportunities for individual expression. 
Make sure an outdoor space, no matter the size, offers ample opportunities to engage residents and visiting family members, encourage connection and improve wellness.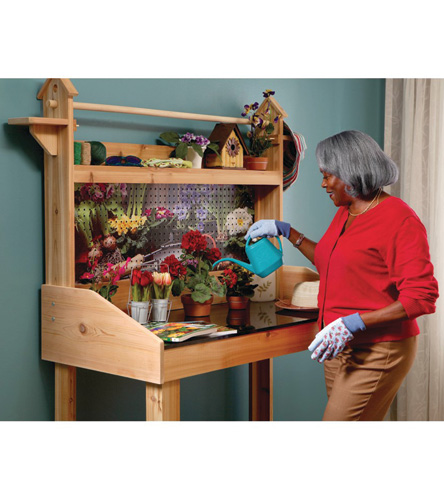 6. Activities for Elderly in Senior Living 
Appeal to residents' hobbies and foster an environment that promotes choice, fun and socialization by including dedicated spaces for art, woodworking, exercise, board games and other activities. For example, incorporate furnishings and equipment that accommodate a recording studio for loved ones or residents themselves to record messages or songs. Sing-alongs and performances by local musical groups are great activities for seniors. Music sparks memories and conversation among residents living in Memory Care facilities or who live with Alzheimer's disease. 
7. Weave Smart Accessories into
Memory Care Design
When putting together an accessories package, look for innovative products designed specifically for Memory Care environments. From interactive video games to "exergaming," which combines immersive entertainment and therapy, there are an array of tech-savvy accessories that foster engagement and fun. Consider adding in companion pets, which provide happiness and intergenerational play for seniors by responding to a resident's presence, voice and touch.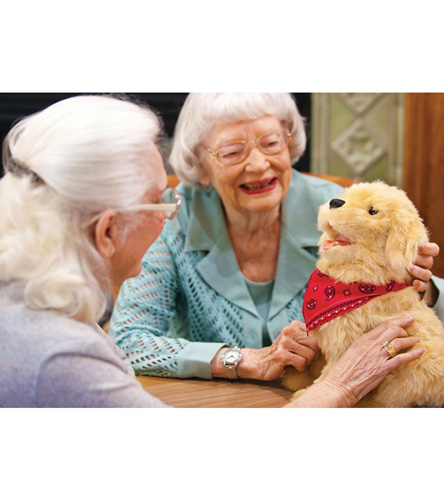 The Bottom Line: Memory Care Design 
We can support your Senior Living design projects with a complimentary selections service to coordinate fabrics and finishes that are Memory Care-friendly.
As you create your next Memory Care space, use these tips for calming, supportive environments for residents. Read more on​ improving dining for Memory Care or contact us for a FREE consult today to start your Senior Living project by filling out the form below. 
Are you an interior designer? See how we can help with your Senior Living design »
Not ready to start your design project just yet? Discover more Senior Living Design trends.
120% increase based on comparison of two four-week periods, one before COVID-19 and one when COVID-19 distancing protocols were in effect. Data based on detected falls in 23 communities using the SafelyYou solution.
2Aggregated data from facilities prior to and after implementing the SafelyYou solution during a 32 week period in 2019-2020. Individual and community results will vary based on a variety of factors.
3Xiong GL, Bayen E, Nickels S, et al. Real-time video detection of falls in dementia care facility and reduced emergency care. Am J Manag Care. 2019;25(7):314-315.
4$100,000 in revenue for a 30-bed memory care unit in only six months if charging $7,000 per month for memory care. Includes the following assumptions: 68% starting occupancy, 480-day average length of stay before SafelyYou, 85% opt-in with SafelyYou, 3-month average ramp-time with SafelyYou, and no additional investments in quality of care. Learn more via the white paper.