If you are like me, your phone is probably always on and never far away… and whether we want to admit it or not, the same is true for our staff. In fact, according to the Pew Reach Center, a staggering 97% of Americans now own a cellphone of some kind. Even further, of that percentage, 85% own a smart phone.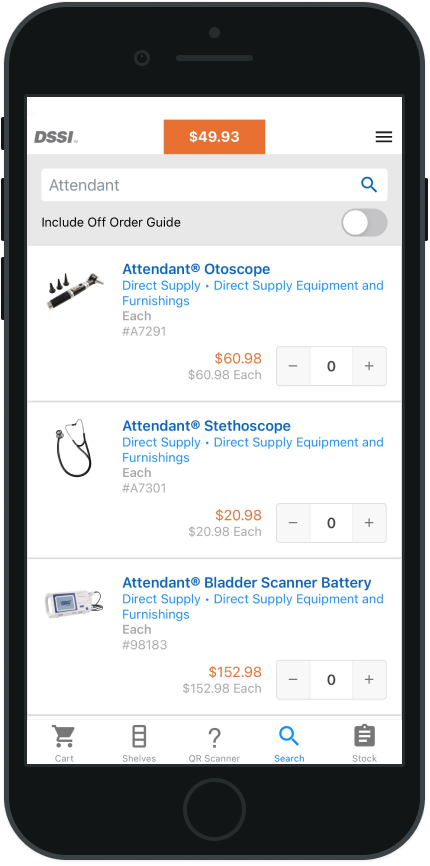 Which is why, in today's age of fingertip technology, it's always important to know what new features are available, and how you can best use them.
With that in mind, I wanted to call to your attention once again, the DSSI Mobile App and DSSI Mobile approvals.
The DSSI Mobile App was launched in 2018 to provide order placement on the go with shelf-to-sheet simplicity.  It continues to evolve and improve, adding off order guide searching and cutoff times. With DSSI Mobile, you can now use your phone or iPad as an inventory tool.
That's right, as a response to the pandemic, we added the ability to set par levels and to switch the mobile app out of ordering mode and into "Stock" mode. Once in stock mode, you and your users will be able to develop inventory reporting, which can be downloaded out of the desktop application to use within your processes, however you see fit. We can even account for products from outside your integrated supply chain partners!
With the DSSI Mobile app and Mobile ordering, we are seeing you, our provider customers, placing your orders 5-6X faster than those who have yet to embrace the technology and future. That's a lot of time back in your user's day; time that they can use to better serve your residents and their families.
On the other hand, DSSI Mobile Approvals have been around forever, but do you remember that they are there? I'd wager a guess that with all the staffing issues that we are seeing in our industry and others, the ability to streamline our personal processes will be more important than ever. Logging into DSSI right from your smart device, wherever and whenever you need to, can be a game changer. With DSSI Mobile approvals, you can do just that.
If you are interested in learning more or receiving a refresher on either of these two features, please take the next step and reach out to your DSSI Customer Success Manager. Our team is ready to step in and not only help you take the cost out of healthcare, but also to take the extra time out of your day, so that you can get back to taking care of our nation's fantastic residents.
Download DSSI Mobile today on the App Store or Google Play