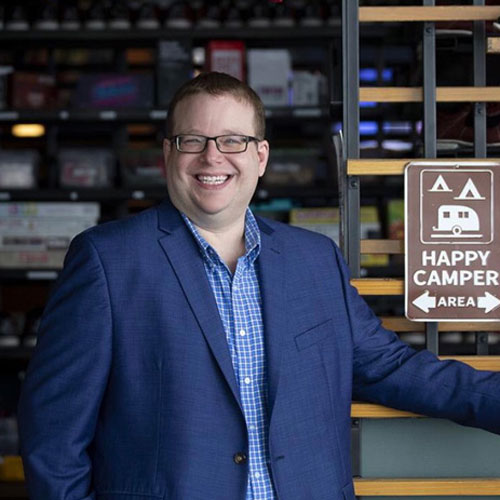 By Justin Smith,
Innovation & Technology Manager
In a previous post, we introduced you to our 2020 Falls Action Research Project, a yearlong initiative with the sole focus of significantly moving the needle on fall prevention in Assisted Living. A lot has since changed in our world, and while COVID-19 has forced its way to the top of the list of concerns for our customers, falls are still a significant – even growing – issue during these times of social isolation. 
In this post, we will detail the path of one of those solutions, SafelyYou, and how its journey to market included involvement from a variety of the ITC's friends and partners.
Our Mindset from the Start:
No Senior Health Challenge is Too Big
Even before our Innovation & Technology team was formed, we had a grand idea to bring together the smartest people focused on senior health from around the world and apply all that brainpower to solving the toughest problems for our industry, which is even more important with the current challenges we are facing. But at the same time, we knew we couldn't do it alone and would need strategic partners. That's why we work with customers, researchers, students, startups and nonprofit organizations to help us solve these really big problems. 
Our team first learned about the concept behind SafelyYou about four years ago when it was still in the research phase inside Berkeley's Artificial Intelligence Research Lab. At that time, we heard a small group of students and researchers were focusing on using the latest in Machine Vision technology to prevent falls for seniors. Intrigued, we immediately reached out to learn more about the solution and the impact they were hoping to have on a very vulnerable population. 
Part of our group's excitement was to learn how this lab took their ideas and built out a model to automatically monitor high-risk residents and use the data collected to give insights never before seen about how and why falls occur in congregate care. We knew right away that the potential to make a big impact on senior care was evident. We began regular communications as well as facilitated a number of introductions to local senior health providers to help provide real user feedback throughout the solution's development process.
A Visit to SafelyYou & a Game-Changing Solution
In November of 2017, a small group of Direct Supply Partners made a trip to San Francisco to spend some face-to-face time with SafelyYou founder and CEO, George Netscher. With his help, we were able to dig deeper into the technology, his vision for the future and the very personal reason why he chose this problem set. For George, seeing the effects of Alzheimer's firsthand within his own family inspired him to use his education and the latest technology available to help give insights into a world where communication can often be difficult.
While we can all agree preventing all falls is a noble goal, it ultimately comes with incredible complexities. For many residents battling dementia, falls occur at twice the rate of non-dementia residents and are usually unwitnessed, making it almost impossible to determine how a fall happened. 
SafelyYou's goal is to give clinical staff immediate visibility into the falls that happened within their walls, and to help communities put in place the appropriate protection to keep their residents safe when falls do occur. Their innovative system includes placing a camera within private rooms and allowing an artificial intelligence algorithm to continuously monitor the resident, day and night. Because the algorithm is trained to identify when a person is on the ground, it's able to protect resident privacy by only retaining detected video and discarding any other video. 
After the clinicians are alerted of the fall and have cared for the resident, they work with SafelyYou to analyze the video to see exactly what transpired. From there, they can start planning how to put preventive measures in place tailored specifically to each resident's needs.
In short, we believed SafelyYou was a game-changing solution, but we had to prove that the product had the impact potential we all believed it could. So the ITC turned to our customer and industry relationships for help. 
Toronto's Center for Aging and Brain Health Innovation (CABHI) is both an ITC strategic partner and a solution accelerator, focusing almost exclusively on solutions for those affected by cognitive decline. By putting SafelyYou through the CABHI accelerator program in Canada, as well as through additional pilot sites throughout the U.S., they gathered a tremendous amount of falls data while quantifying the direct impact of this information.
Through dozens of pilot sites and observing thousands of elderly falls with current customers, SafelyYou concluded that their solution had proven its ability to reduce falls by up to 40% and reduce post-fall ER visits by up to 80%!*
This outcome was so impressive that not only did it gain the attention of senior health providers around the world, but also the insurance companies who support them. The massive amount of data collected from the initial pilot and SafelyYou's current customers has proven such a significant impact on fall prevention that insurers started offering premium breaks for customers who implemented the solution. This was truly a game-changing revelation how a solution could not only impact resident well-being, but also the bottom line for our customers.
Working Toward Fall Prevention Solutions & Beyond
When staff is stretched to the extreme, the need for innovative solutions to help keep your residents safe takes on even higher importance. With that said, the two major goals of the ITC's 2020 Falls Program are:
Demonstrably improving resident outcomes through proven solutions to reduce the number of falls within a community

Identifying ways to reduce the financial burden of falls for providers across the country 
And while our research project continues, there was no sense in waiting until the end of the program to bring SafelyYou to our customers as the first major piece of the puzzle. We are all passionate about senior care and driven to push this industry forward into the future of caring. Our partners at SafelyYou share this vision and we are incredibly honored to bring this fall prevention solution to all of our customers across the senior health industry. 
*Data according to SafelyYou's proprietary research. Individual results may vary.