​The need for quality communication between staff and residents, increased staff efficiencies and safety, and driving out costs is vitally important to delivering optimal care in Senior Living communities. New and trending Senior Living technology, such as workflow management technology and real-time location systems, can help improve infection control practices. Through the integration of technology into the Senior Living industry, staff and residents' experiences can be enhanced. In a post-COVID world, technology is a new normal for Senior Living and can increase marketability for communities.
Here's a look at some of the newest Senior Living technology systems on the market:
Jeron Offers Better Performance at an Affordable Price
Jeron's new 700 Hardwired Nurse Call System is the latest addition to the Jeron nurse call lineup and offers improved performance at a lower price. Modern Skilled Nursing nurse call systems can even help you improve your bottom line. Using the latest in IP infrastructure, Jeron developed a hardwired nurse call platform that:
Improves system processing power and configuration options

Adds new features, such as a mobile app for staff alerting and networked system reporting

Offers a robust set of integration tools

Does all of this at a competitive price point that is lower than their flagship Provider 680 system
Jeron's workflow management station allows staff members to indicate where they are in a community with a press of a button. It can also be used to set reminders, like medication pass, or indicate resident needs – all through a color indicator on the dome light, which helps preserve privacy while still sharing valuable information quickly and visually with staff.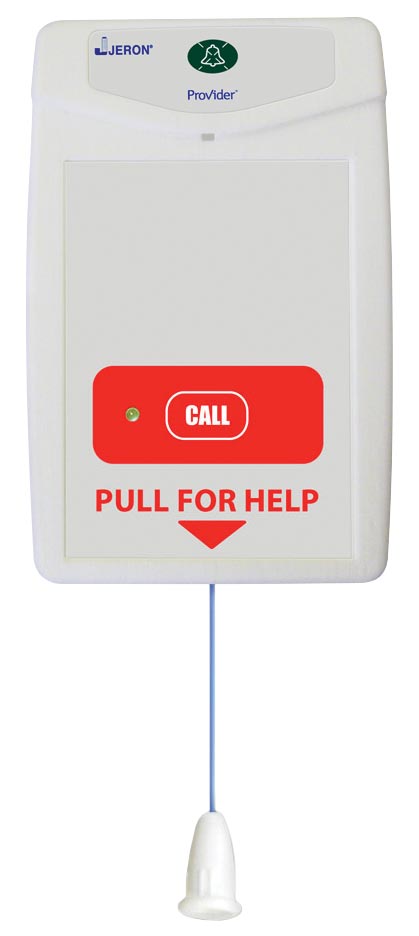 The new Jeron mobile application replaces the traditional pager and allows staff to receive system alerts to a tablet or smartphone. Staff can also accept incoming alerts to let their coworkers know they are accepting the request for help. This helps prevent a situation where multiple staff members respond to the same call.
Discover more time-saving technology to help increase staff efficiency.
New Real-Time Location System Boosts Safety
Real-time location systems are used to passively identify and track the location of people and assets throughout a building or campus setting with room-level or sub-room-level accuracy. 
With the launch of the new CenTrak® TruView™ RTLS solution, Senior Living communities are able to take advantage of tangible solutions for today's latest challenges all in one system, including:
Contact tracing

ADL tracking

Workflow management and staff efficiency

Emergency response

Door security

Elopement prevention

EMR integration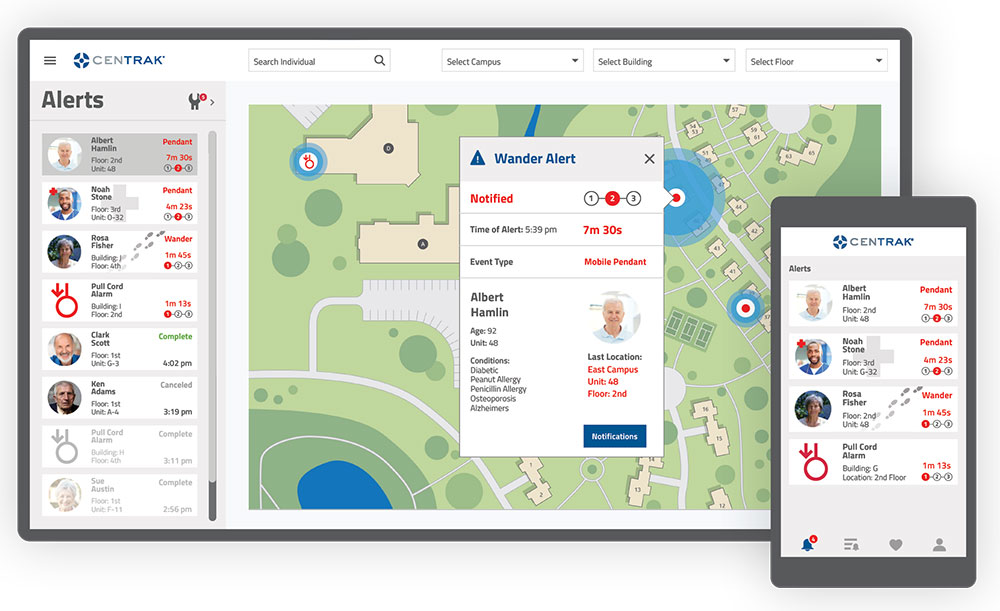 TruView's advanced IR-based location technology can help shed light on unscheduled resident emergency calls to help with proper care delivery and staff efficiency. This can help staff: 
Improve Responsiveness
With an RTLS system, staff can know the specific location of a resident as soon as he or she calls for help, reducing time spent searching multiple rooms or floors and increasing resident safety.
Manage Communications
Using TruView's mobile application, staff can receive calls for assistance while remaining on the floor. They can also accept or decline calls based on their availability, or escalate calls if assistance is needed. Calls can also be assigned to specific staff by wing or care level to avoid over-response to a call for assistance. 
Automate Records
TruView's advanced location capabilities also allow staff to see resident activity and the time spent in various locations, such as rehabilitation or dining. Beyond this ability to passively identify resident activity, staff can also indicate the type of care provided by incident through the ADL tracking feature on the mobile application. These events can be integrated with PointClickCare and other EMRs to streamline the documentation process, saving valuable time for staff.
This meaningful data can help providers better understand staffing challenges, the level of care needed for each resident, billable and reimbursable time, and more.
Learn more about how a real-time location system can help you boost infection prevention and community efficiency.
Technology that improves communication and productivity is critically important for today's Senior Living staff and the residents they serve. Staying up-to-date on senior living technology trends can provide peace of mind, increased staff efficiency, as well as enhanced resident safety. If you need help budgeting for Long Term Care technology, read our tips and tricks.
Contact our team for more information about these and other Senior Living technology solutions that can help improve quality of life in your community.