As we enter the new year and a post COVID-19 pandemic world, the need for innovative Senior Living technology solutions is greater than ever. New senior care technology, like real-time location systems and artificial intelligence-enabled cameras, can help providers solve some of the top challenges that will continue to affect the industry in 2022, including:  
1. Connectivity and social engagement
2. Infection prevention
3. Fall prevention 
Following the rising trend of high-tech in Senior Living, here are three Senior Living technology trends that can help solve these challenges: 
1. Boost Connectivity & Social Engagement 
The COVID-19 pandemic has increased the likelihood of social isolation in Senior Living communities. This challenge is worrisome for providers, as living with loneliness can increase the odds of dying early by up to 45%. 
Now more than ever, Senior Living residents are relying on personal electronics and video streaming to connect with family and friends. To help support this tech for seniors, communities need to have a robust network and WiFi connectivity.
Ample bandwidth, intentional network partitions and complete WiFi coverage areas have gone from a nice-to-have to a need-to-have requirement for network infrastructure.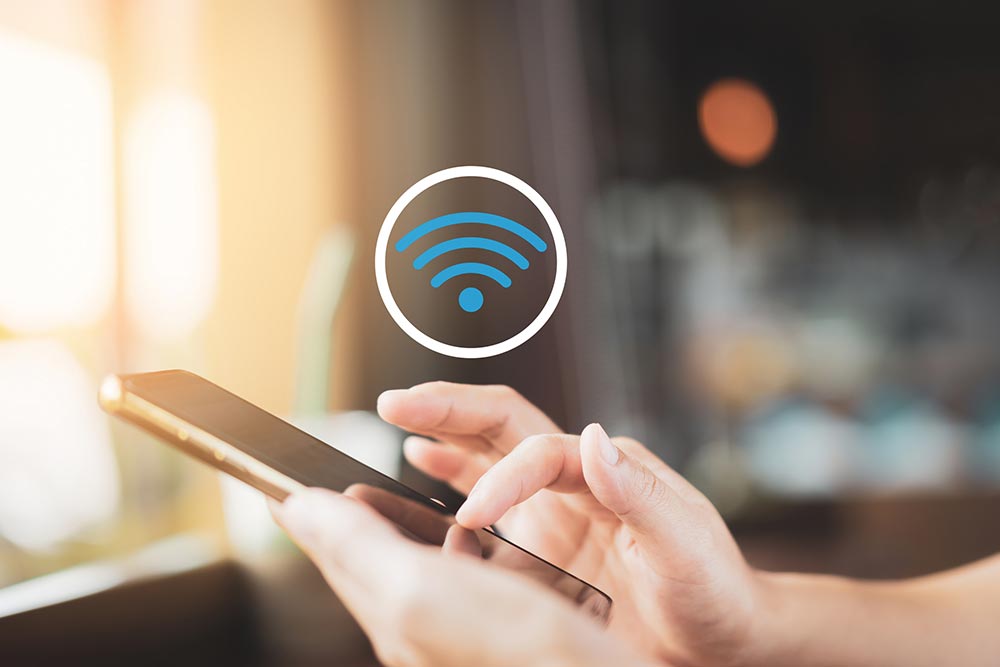 Many communities today have spotty WiFi coverage that doesn't extend to resident rooms. But as residents continue to use their personal electronics throughout the building, high-tech Senior Living communities will need to provide coverage for the whole facility. In the post-pandemic world, WiFi is becoming a needed asset to support technology in Senior Living facilities.
Key considerations as you update your network and WiFi infrastructure include: 
Improved Bandwidth
To keep up with the demand for high-speed connectivity,  communities will need to increase their bandwidth, which could be a combination of hardware and service. Evaluate your internet usage, bandwidth and connection speeds to determine if an upgrade is needed. 
In most cases, communities could stand to increase their bandwidth to support the ever-growing technology footprint in their buildings. Newer networking and WiFi hardware, such as WiFi 6 access points, are capable of transmitting data faster than prior generation models, and communities need to ensure the hardware deployed can handle the connection speeds and data transfer rates.
Cabling
Not all cables are created equal. As you upgrade your network and WiFi, you may also need to upgrade your cables to support increased bandwidth. If you upgrade to the latest WiFi transmitters but your cables are outdated, the new access points won't perform as expected. Learn more about selecting the right data cables.
WiFi Coverage
People need to stay connected no matter where they are – indoors and most likely select outdoor locations as well. Eliminating dead spots is critical to ensure high-speed connectivity. And as data speeds increase, the WiFi access point coverage area shrinks, so you will likely need more access points for higher connection speeds to cover the same area in your building as you are with lower connection speeds. 
Partitioning Your Network
The more your residents and guests are using WiFi for personal use, the greater the strain on your network. That's why it's imperative to partition your internet into business use and social use to ensure you have dedicated bandwidth to operate your building systems.
Network connectivity and WiFi coverage provides the backbone of your technology ecosystem. Without good WiFi, your new technology investments may not function as expected, leading to operational issues, frustrated residents and staff, and decreased marketability.
Curious to see how your community's bandwidth and WiFi coverage performs? Connect with our technology team today for a network and access point heat mapping analysis. 
Find more COVID-safe social engagement ideas for your residents. 
2. Improve Your Infection Prevention Plan
The impact of COVID-19 has highlighted the need for new and better technology in Senior Living facilities to manage staff and visitor presence, emergency communication, and contact tracing. We expect this trend to continue well into 2022 and beyond.  The Senior Living technologies below can help support infection prevention and emergency responses in your community.
Real-Time Location Systems
One way to increase visibility in your Senior Living community is by incorporating a real-time location system (RTLS), like the new CenTrak® TruView™ RTLS solution. TruView offers an automated way to track and document key metrics – all in an elegant design that's highly impactful for Senior Living operators and easy for staff to use.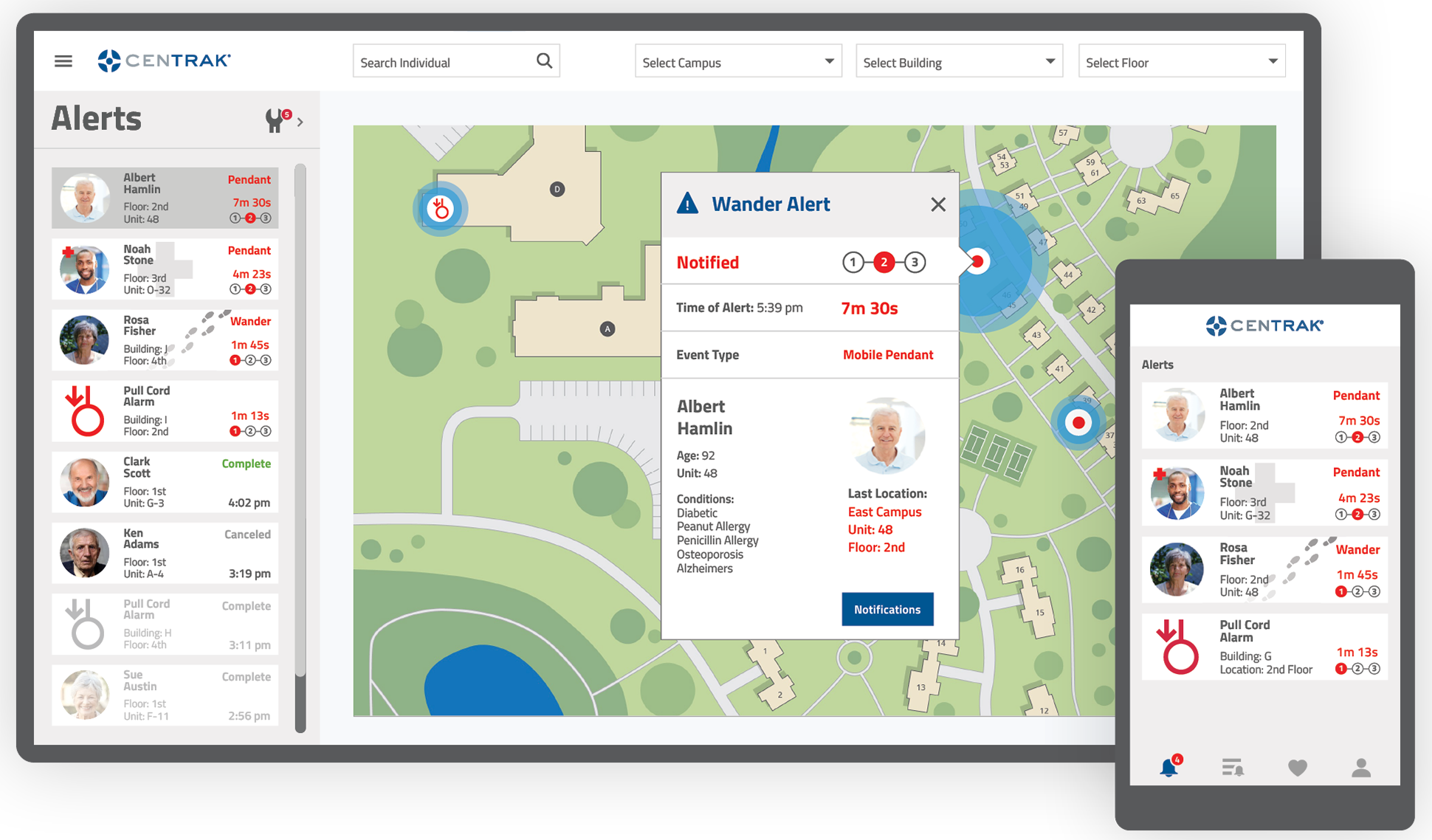 During the pandemic, or any time there's risk of infection or illness transmission, real-time location systems can provide an array of services to help providers manage the spread of the coronavirus and other infectious diseases:
Contact Tracing
Gain historical insight into the locations, duration and interactions between residents, staff and visitors through simple contact tracing reports. This detailed information can help providers identify individuals who had close contact with infected persons for proper communication and response. It can also limit cleaning and disinfection to impacted areas rather than costly building-wide treatments. 
Asset Tracking
TruView can also help staff identify where vital equipment is located throughout a community. This helps staff work in the safest manner possible because they are able to track used equipment that needs to be disinfected before its next use.
GeoLocation
With TruView's GeoFencing technology, providers can create a safer campus-wide environment through the creation of safe zones and off-limit areas. Staff members get real-time alerts when a quarantined individual – or other at-risk individuals based on care needs – leaves a designated wing or location, allowing them to respond quickly.
Learn more about how real-time location systems can help boost safety and efficiency in your community. 
Thermal Temperature Scanners 
Thermal temperature scanners¹ can also help support your infection prevention plan. They detect a person's temperature without contact or need for human intervention. If an elevated temperature is detected, the device alerts the individual with audible and visual confirmation. Some solutions have also recently added COVID-19 screening questions and badge printing, like our Goodview Thermal Temperature Scanner, to help automate the entire building entry process for visitors and staff.
This technology can help lower staffing expenses, reduce risk of exposure, provide immediate data for staff and demonstrate that safety is a top priority. Learn more about additional technology that can help you fight COVID-19.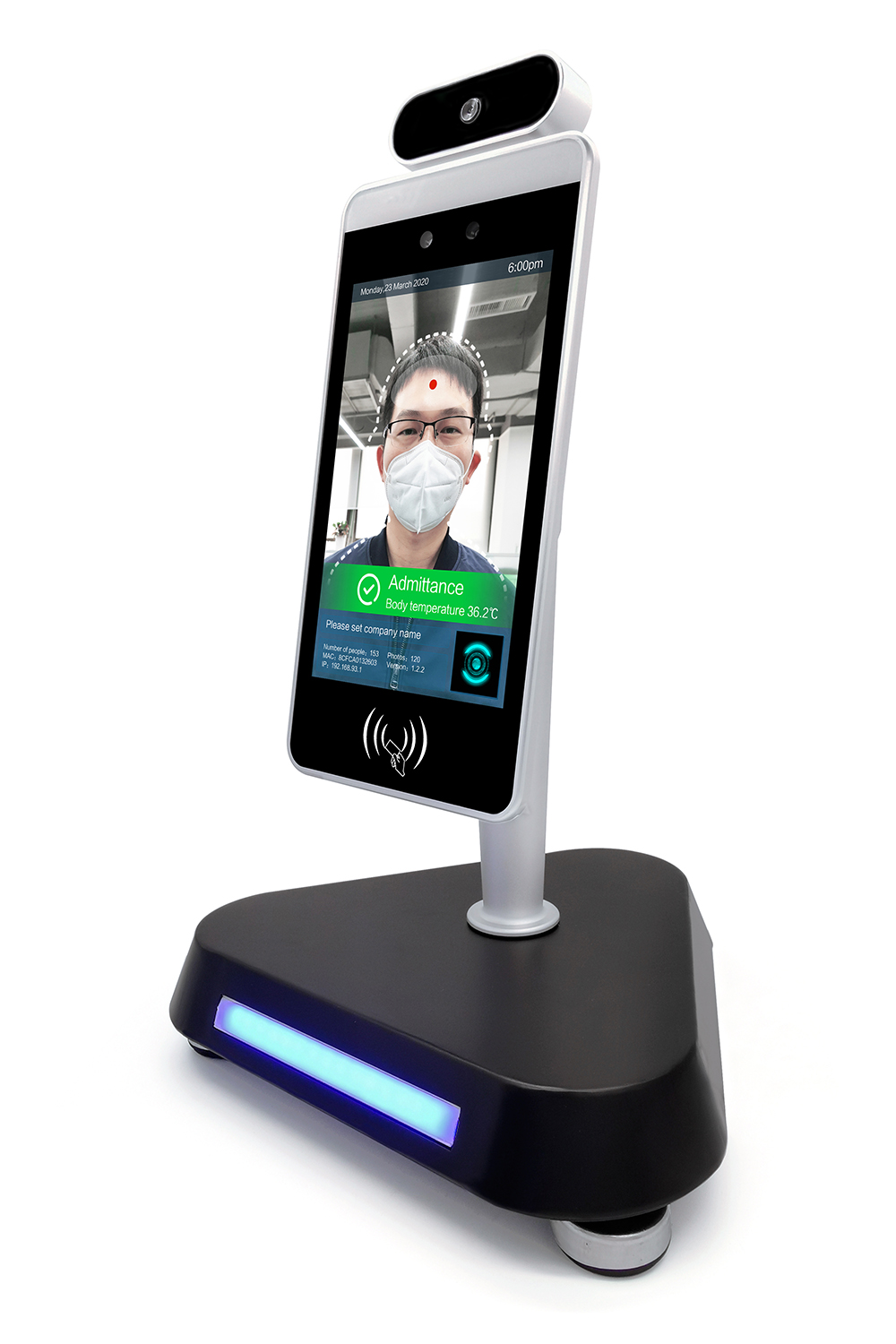 Building Security Systems
It's also a great time to evaluate overall building security systems, including access control and video surveillance. Security systems help support infection prevention plans by allowing screened people into the building and preventing others, who may have COVID-19, from entering. Access control systems provide door locking as well as an audit trail of who used a door for easier contact tracing. Video cameras can help validate these systems as well.
3. Enhance Your Fall Prevention Strategy
Since the start of the pandemic, there has been a 20% increase in falls² for Memory Care residents. In the events of isolation units or visitor limits, residents are spending more time alone and unsupervised in their rooms. This is especially problematic for Memory Care residents, who were already falling twice as often as seniors without dementia.³
As we look ahead to 2022, fall prevention will continue to be a top concern in Senior Living. To help solve this challenge, the Direct Supply Innovation and Technology Center partnered with SafelyYou to bring an artificial intelligence-based solution to senior care.
SafelyYou, an AI-enabled camera system, detects falls of individuals with dementia in real time. Communities that have piloted SafelyYou have seen up to 40% fewer falls and up to a 80% reduction in fall-related ER visits.4 
Once the SafelyYou system detects a fall, it notifies care staff, who can view the video immediately after the fall. Viewing the recordings can help caregivers make adjustments to help prevent falls in the future. High-tech Senior Living solutions like SafelyYou can help improve the quality of care in your community.
Learn more about how SafelyYou can help you prevent falls.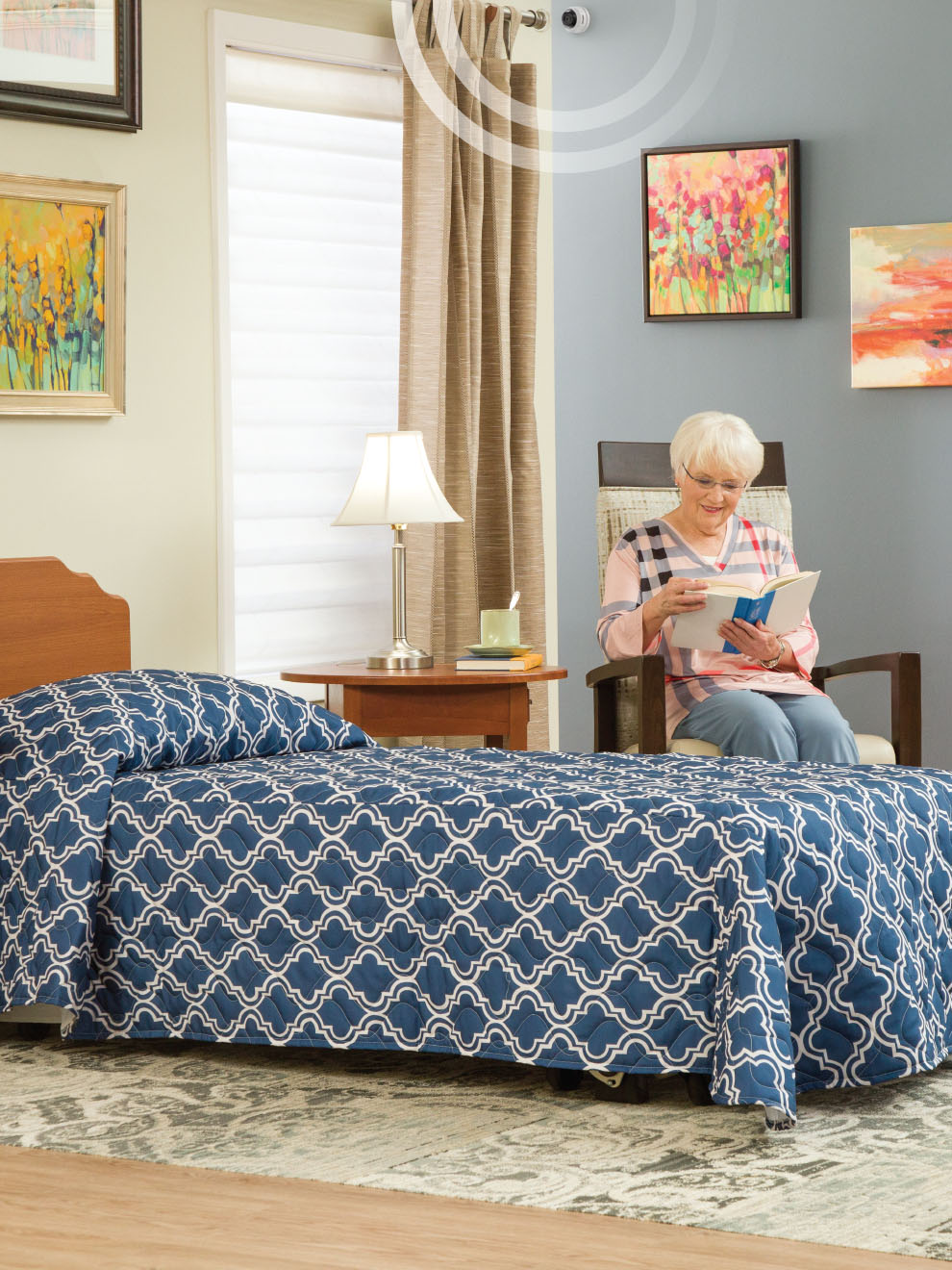 ​As the COVID-19 pandemic continues into 2022, senior tech can help you keep residents safe, reduce operational costs, and increase marketability and resident services to improve revenue. Learn more about maximizing your technology budget for the new year so you can implement new technology solutions in your community. 
If you have any questions or would like help selecting the right technology for your community, connect with our Senior Living technology experts. Focused exclusively on Senior Living, our team will help deliver the right solutions from Senior Living technology companies to meet your unique needs. 
¹This is not a medical device. Statements regarding this temperature device have not been evaluated by the FDA. This temperature device should not be solely or primarily relied upon to diagnose or exclude a diagnosis of COVID-19, or any other disease or health condition. Elevated body temperature in the context of use should be confirmed with secondary evaluation methods.
²20% increase based on comparison of two four-week periods, one before COVID-19 and one when COVID-19 distancing protocols were in effect. Data based on detected falls in 23 communities using the SafelyYou solution.
³Van Doorn C, Gruber-Baldini AL, Zimmerman S, et al; Epidemiology of Dementia in Nursing Homes Research Group. Dementia as a risk factor for falls and fall injuries among nursing home residents. J Am Geriatr Soc. 2003;51(9):1213-1218.
4Aggregated data from facilities prior to and after implementing the SafelyYou solution during a 32 week period in 2019-2020. Individual and community results will vary based on a variety of factors.