The impact of COVID-19 has highlighted the need for new and better technology in Senior Living facilities to manage staff and visitor presence, emergency communication, and contact tracing. One way to increase visibility in your Senior Living community is by incorporating a real-time location system (RTLS). An RTLS solution offers an automated way to track and document key metrics – all in an elegant design that's highly impactful for Senior Living operators and easy for staff to use. 
​What is a real-time location system (RTLS)?
Real-time location systems are used to passively identify and track the location of people and assets throughout a building or campus setting with room-level or sub-room-level accuracy. Historically, this type of technology has been reserved for acute care settings due to associated hardware, software and deployment costs.
With the launch of the new CenTrak® TruView™ RTLS solution, Senior Living communities are now able to take advantage of this exciting senior care technology at a price point that's within reach of traditional systems. This real-time location tracking technology features tangible solutions for today's latest challenges all in one system, including:
Contact tracing

ADL tracking

Workflow management and staff efficiency

Emergency response

Door security

Elopement prevention

EMR integration

  
How does CenTrak's TruView real-time location system work?
CenTrak uses mapping technology to visually indicate where people and things are located throughout a Senior Living community. Through the use of various technology, including infrared and wireless mesh networks, TruView is able to track badges to a sub-room level of granularity and share that information with staff via a mobile application.
The system is also capable of using low-frequency (LF) technology to provide multiple levels of door security, ranging from elopement prevention to access control. Additionally, the TruView platform uses pull cords, call cords, mobile duress pendants and other resident monitoring devices to provide a comprehensive resident and staff safety solution.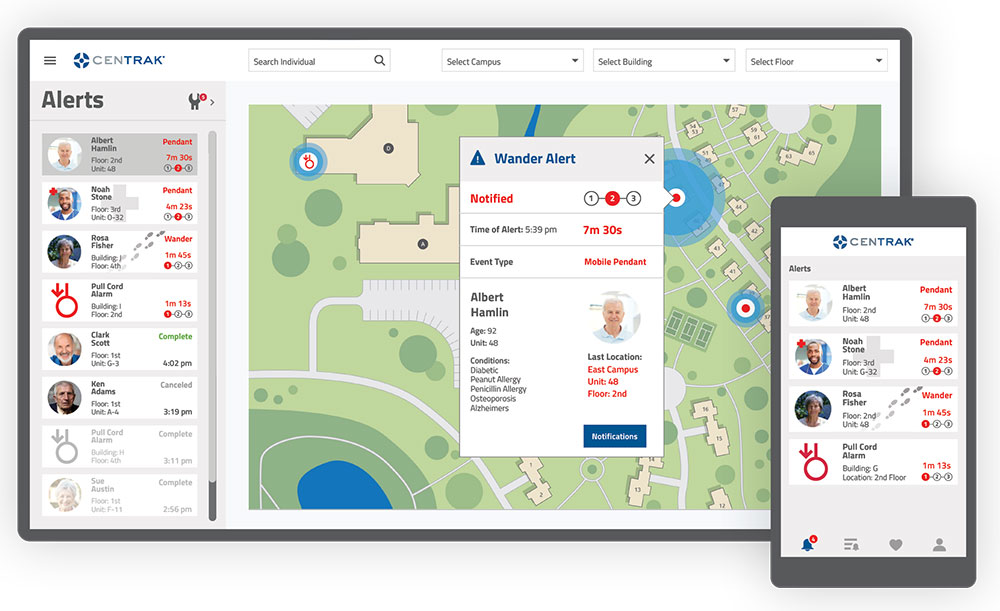 How can a real-time location system improve infection control practices?
Following the pandemic, real-time location systems can provide an array of services to help providers better practice infection control and prevention.
Contact Tracing
Gain historical insight into the locations, duration and interactions between residents, staff and visitors through simple contact tracing reports. This detailed information can:
Limit cleaning and disinfection to impacted areas rather than costly building-wide treatments

Identify individuals who had close contact with infected persons for proper communication and response

Be easily accessed through intuitive, network-based reporting
Asset Tracking
An RTLS can help staff identify where vital equipment is located throughout a community. This helps staff work in the safest manner possible because they are able to: 
Search for equipment in case of an emergency, such as a lift after a resident fall

Track used equipment that needs to be disinfected before its next use
GeoLocation
With TruView's GeoFencing technology, providers can create a safer campus-wide environment through the creation of safe zones and off-limit areas. Get real-time alerts when: 
A quarantined individual leaves a designated wing or location

A resident who is prone to wander approaches a location that could be hazardous to his or her health, such as a pond, patio or building exit point
How can an RTLS help support staff efficiency and safety?
TruView's advanced IR-based location technology can help shed light on unscheduled resident emergency calls to help with proper care delivery and staff efficiency.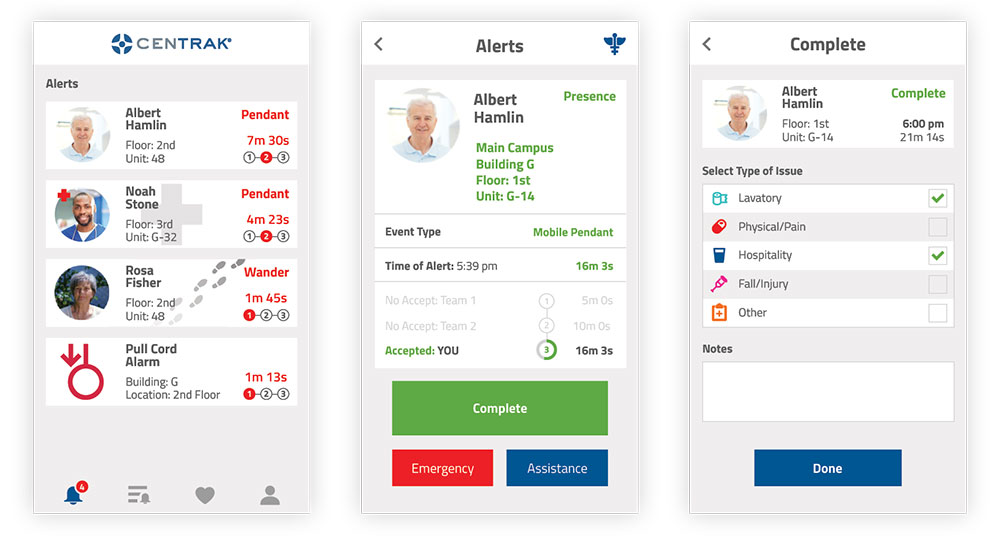 Improve Responsiveness
With an RTLS, staff can know the specific location of a resident as soon as he or she calls for help, reducing time spent searching multiple rooms or floors.
Manage Communications
Using TruView's mobile application, staff can receive calls for assistance while remaining on the floor. They can also accept or decline calls based on their availability, or escalate calls if assistance is needed. Calls can also be assigned to specific staff by wing or care level to avoid over-response to a call for assistance. 
Automate Records
TruView's advanced location capabilities also allow staff to see resident activity and the time spent in various locations, such as rehab or dining. Beyond this ability to passively identify resident activity, staff can also indicate the type of care provided by incident through the ADL tracking feature on the mobile application. These events can be integrated with PointClickCare and other EMRs to streamline the documentation process, saving valuable time for staff.
This meaningful data can help providers better understand staffing challenges, the level of care needed for each resident, billable and reimbursable time, and more.
Ready to learn more? 
Schedule a demo with our team today. 
As we look to the future of Senior Living technology trends, more and more high-tech Senior Living communities will be incorporating real-time tracking solutions into their technology ecosystems. Contact us to speak with a technology expert about how you could integrate an RTLS into your Senior Living technology solutions.
Discover more innovative technologies to help you combat COVID-19, or find additional helpful COVID-19 insights from our Senior Living experts.