Direct Supply TELS® is excited to bring Setpoint's indoor climate automation to Senior Living. This new Direct Supply and Setpoint partnership will help senior care facilities save money and increase staff productivity with Setpoint's innovative Climate as a Service solution.
Reducing spend through HVAC automation and Artificial Intelligence
Older buildings, older equipment, inefficient settings and high levels of peak consumption all contribute to massive utility bills. In fact, many facilities spend tens of thousands of dollars every year heating and cooling their buildings – money that could be directed elsewhere with the right equipment management tools. Direct Supply knows our customers are very aware of how much every dollar matters, so we sought out a partner that could help customers reduce these huge utility bills.
Setpoint's wireless climate node networks will allow maintenance directors to control, analyze and automate the management of an entire building's HVAC system all from a single dashboard. Setpoint's Climate Intelligence software will enable buildings to reduce their heating and cooling expenses by up to 45%*, often saving thousands of dollars over the course of the year. By setting defined temperature ranges, using occupancy sensors in common and office areas, and lowering peak energy consumption Setpoint offers facilities a variety of tools for lowering costs.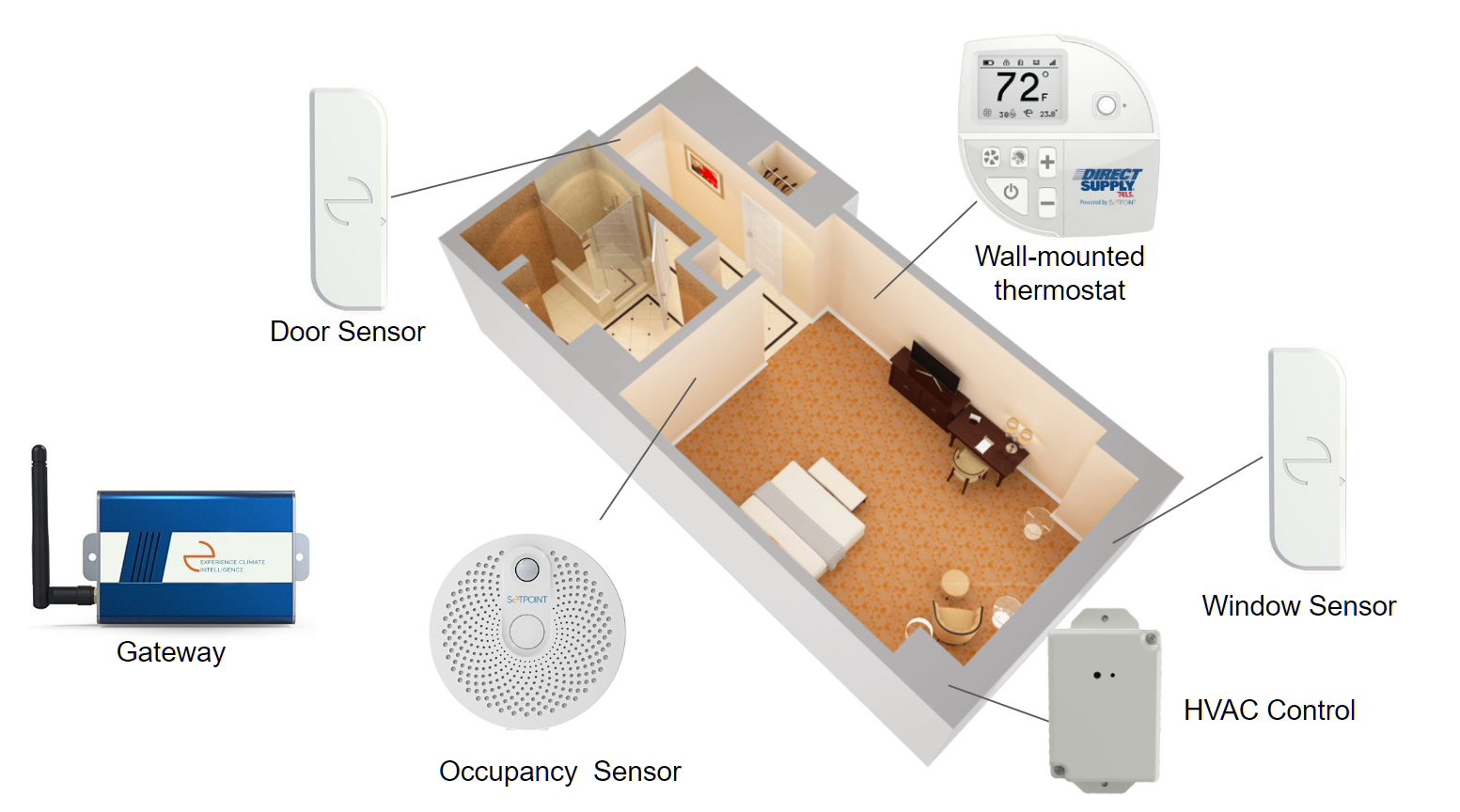 "A lot of customers assume utility bills are a big expense they have no control over, but that's really not true," says Justin Smith, Manager of Innovation and Technology at Direct Supply. "Setpoint's extremely innovative approach empowers facilities to see and control the climate settings in their building and supercharges that new power with artificial intelligence to save customers money. Setpoint will truly change the ways our customers manager their buildings by changing what's possible."
Direct Supply and Setpoint have integrated Setpoint's system with Direct Supply's TELS® Platform. Maintenance directors will be able to control the thermostat settings for their entire building, set temperature ranges, confirm HVAC systems are working properly, and more all from within the TELS Platform. This will allow building staff to save time by skipping building walks to check thermostats, quickly responding to staff and resident requests for temperature changes, and more quickly becoming aware of HVAC system issues.
"From where I sit, I think there's never been a better time to be a facility owner. While there are considerable challenges ahead, there are also countless opportunities to reduce energy costs by focusing on energy efficiency efforts," says Setpoint founder and CEO Iftach Cohen, "We're excited to be able to directly help Direct Supply's customers with our new partnership."
Setpoint's Climate as a Service solution will be available to customers soon. Stay tuned or reach out to your TELS account manager for more information, or learn more about it here.
*45% average saving based on analysis of existing contracted customers. Individual savings are not guaranteed and may vary.